One, of the many things the Pandemic has shown us is, there is a definite need to have a "Plan B" in place in case one loses their full time job or is threatened to lose their job due to things like lock downs or, the fact that business may scale down their work force. Affiliate marketing has always been a great opportunity for those of us who want to expand our possibilities for improvement, even in a climate that threatens the very fabric of our desires and dreams. The Colourpop Affiliate Program is a great way for an aspiring affiliate marketer to capitalize on the evergreen niches of cosmetics, makeup and beauty products.
In this Colourpop Affiliate Program review, I will cover in detail what Coloupop Cosmetics has done to make it possible for you to launch your own cosmetic business and even help you pay for the Colourpop cosmetics you are already purchasing. The decision for Colourpop to launch into an affiliate based customer acquisition is an intelligent one, as many retailers are learning the hard way that online and internet marketing are here to stay.
Why Should You Promote Cosmetics?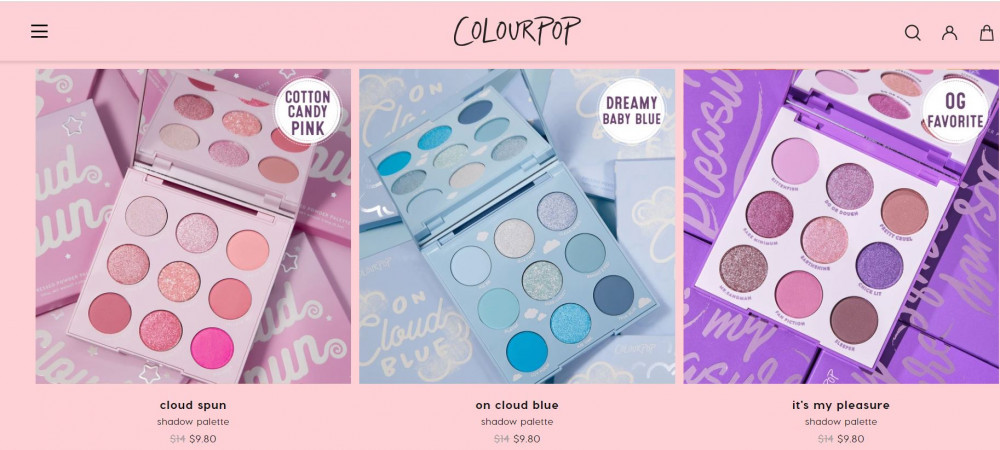 One of the man reasons you should consider promoting cosmetics is the industry's consistent and year round success. One of the challenges affiliate marketing face, especially when starting out, is choosing a niche. In fact, I have seen potential business owners quite because they cannot decide on a good niche to get into. Well, I believe the cosmetic, make up, and beauty niche are some of the best niches you can get involved with. Why?
According to Statista.com's Cosmetic Reports 2020, "the sales of cosmetics products in 2019 increased by 4.5% and reached US$90 billion". This number is not going to step trending upward anytime soon. Actually the market is expected to grow every year by at least 5.09%. The other important factor to consider is that cosmetics is not a seasonal product. These sales are happening all throughout the year. It does not depend on major shopping "holidays" such as Black Friday. This is good news for anyone who has ever considered creating a blog in this industry. One would be wise to consider this move.
Another thing about the Cosmetic niche, and other similar niches as well, and that is, you don't have to stick with one Affiliate Program. There are many cosmetic affiliate programs in place and can all be
One of the reasons for such massive growth in this industry is the trend towards natural and organic beauty products. This allows companies to expand their product lines to take advantage of this trend. Of course, this trend will also not end soon. Another trend that has occurred in this industry is to eliminate animal cruelty. More and more companys are considering human testing as apposed to animal testing on their products. This is one area Colourpop Cosmetics is well-known for. In fact, they pride themselves on "being wallet friendly and bunny approved" In fact, Colourpop Cosmetics tests their products on people at the Colourpop Headquarters.
What is Colourpop Cosmetics
Colourpop Cosmetics is a Cosmetic brand based in Oxnard California. The company was founded by Laura and John Nelson, who are siblings. Their primary focus is making products for the eyes, lips and face. Their parent company is Seed Beauty, also located in Oxnard California. The company is well-known for affordable pricing and are primarily promoted on current trends in social media, and, as mentioned before, they are cruelty-free.
Colourpops goals has always been to redefine what luxury products are and have amazing formulas at super affordable prices. One of the reasons they can deliver high value at such low prices is because they have all their formulators at their campuses manufacturing the products locally. They make the products as well as package and distribute. They cut out the middle man, so to speak, which decreases their overall overhead costs. Everything is done under one roof in Southern California. They are then allowed to pass this on to the customer.
Watch the video below to get an idea of their mission and hear from the Nelson siblings themselves.
Colourpop Affiliate Program Review
The Colourpop Affiliate Program is an awesome program for affiliate marketers to get involved with. Their commission rate is much better than the Amazon Associates program and doesn't change at the drop of a hat like Amazon. They offer a 6% Commission rate and a 7-day cookie length. This is really competitive for this industry. They offer payment via PayPal or ACH direct deposits into your bank.
Should You Own a Website or Blog for this Niche?
The short answer is YES. Do not let this hinder your desire to succeed in this niche, however. It is really easy these days to create a website in any niche that can be used to earn a great online income. I have created short video below showing you exactly how to build a website in the Beauty Niche in less than a minute. Plus, you can easily learn how to sell beauty products online once you have created your very own website. I will also show you how you can access completely free training on how to earn revenue from this website once it has been created.
Watch the video below:
Product promotion works best for website owners and bloggers in the beauty, cosmetic or make-up niche. Content marketing utilizing Search Engine Optimization (SEO) along YouTube always works best for affiliate programs like these and can be very lucrative and is certainly worth the effort of learning how to promote your blog using keywords that have a large search volume with low competition. These techniques are really easy to do with the right training. You then create good content based on your interest in beauty or cosmetic products and link to selected Colourpop products. This may sound difficult, but if you knew how easy it really is, you would jump right into this hot niche.
Another great platform that merges right into your content marketing is Pinterest. Pinterest supplements content marketing beautifully. I have access to training on how to do this step by step as well. You can also mix YouTube marketing into your content and Pinterest marketing as well. Women who are interested in Colourpop products really respond to Pinterest and this is a great combination of marketing skills that be easily learned. Check out our simple four step training that goes into detail of how to do this step by step.
How to Join The Colourpop Affiliate Program
It is fairly easy to join the Colourpop Affiliate Program. It is managed by a company called Impact. If you already have an Impact account, then you can simply request to join the Colourpop affiliate program here. If you are new to the platform, you just register with Impact here, and then request to join the affiliate program. It is free to join and is a matter of filling out an application and then waiting for an approval. It does help quite a bit if you already have a relevant blog or website. Relevant, meaning you are providing relevant content within the industry.
If you are wondering if it is difficult to create a niche website, think again, you can literally create one in less than a minute. Watch the video below to see how. This concept can be applied to any niche. You simply apply what is taught in the video below to the cosmetic industry. This can be a blog about make-up, beauty products, or anything related to the cosmetic industry. Plus, it is OK to think outside of the box and be creative. You can learn how to create a niche website and learn exactly how to earn a steady income from it with any niche. Check out this step by step training here.
Final Thoughts
As mentioned before, the cosmetic industry is quite lucrative and is certainly worth pursuing. Whether you are a seasoned affiliate marketer or someone who wants to learn how to make extra money selling cosmetics, I would highly recommend looking into the Colourpop Affiliate Program.
If you decide this is appealing to you and you want to pursue this venture, I would highly recommend creating a niche blog using the simple four step formula training here. This training will show you step by step how to create a niche blog. You have already determined the niche, so the hard part is already taken care of. As I mentioned before, many new affiliate marketers get hung up on choosing the niche. But, we have already done the homework for you. This is definitely a good, and profitable niche to get into. Don't worry if you are completely new to Affiliate Marketing. So, were a lot of successful marketers at one point.
When I started, I knew nothing at all about Affiliate Marketing and I certainly wasn't a techie by any stretch of the imagination. But, I stuck with the training, and now I have two niche websites that are getting great targeted traffic from the search engines and I am ranking on the first page of Google for many niche related keywords and driving tons of traffic. You can do it too.