You may have encountered a work from home type of job ad on the internet that seems quite legitimate. Especially if you see an ad associated with CareerBuilder, you would think that since it was from a credible source, that it would seem like a good idea to follow through and then "apply for the job". But, is it really a good idea in the long run. During this AOJ Work From Home Jobs Review, I would like to discuss whether this company is, in fact, what it claims to be and if it is possible for you to find a good work from home job from this source.
AOJ Work From Home Jobs does advertise in CareerBuilder.com as well as other job sites. They are very appealing, especially during these times when you may have been laid off from a job, and have found that the security of jobs in general, just are not what they used to be. People get very excited when they see a work from home job, but what happens when they answer the ad. Do they get what they think they are applying for? Well, let's take a closer look to find out.
What is AOJ Work From Home Jobs?
First of all AOJ stands for America Online Jobs. This is an old name that was used at some point. AOJ Work From Home Jobs is a website that supposedly helps you find work from home jobs. The Website https://www.aojonlinejobs.com/ appears to be a site that offers Paid Surveys Advice and tips and Web Marketing tips. When you review the site, you are able to see many surveys and associated offers. Many of the offers are disguised as online work opportunities, but in reality they are trial offers that, when you take a trial offer, whoever led you to the offer makes a commission if you take the offer. Usually these offers cost money or are free, but if you don't cancel over a period, they charge you a monthly fee.
They do seem to have a portal that allows you to search for different opportunities, but I wouldn't actually call them Work From Home Jobs. So, on the outset, this site seems to be misleading if you are expecting to see actual data entry jobs, and they certainly don't pay the hourly rates that the ads claim. So, what actually happens when you go through the application process. We will take a look at that next.
How Does AOJ Work?
To help us answer this question, let's take a closer look and see the application process flow starting from an ad online. I will attempt to show you the actually process flow and what happens when you answer an ad from start to finish. This will answer any questions you may have in regard to AOJ Work From Home Jobs.
So, the process, of course, starts with an ad. See below:

So, as you can see from the ad above, you see a work from home data Entry job offering $19.00 to $26.00 and hour. Quite a range, so let go ahead and find out what happens if we click on the green button to apply on the company site as detail in the image above. Note that this ad has been placed On CareerBuilder.com. I have seen similar ads on other job site including Craigslist.
So, once I click on the Green apply button, I get taken to the website mentioned below:
https://www.aojonlinejobs.com/
On this website, is a description telling me that there are over 3.3 million people in the US working from home, and they ask you if you would like to help fill the increasing demand for dependable telecommuting workers. Under this description is a pre-screening survey with 7 basic questions. See the image below for detail of the questions: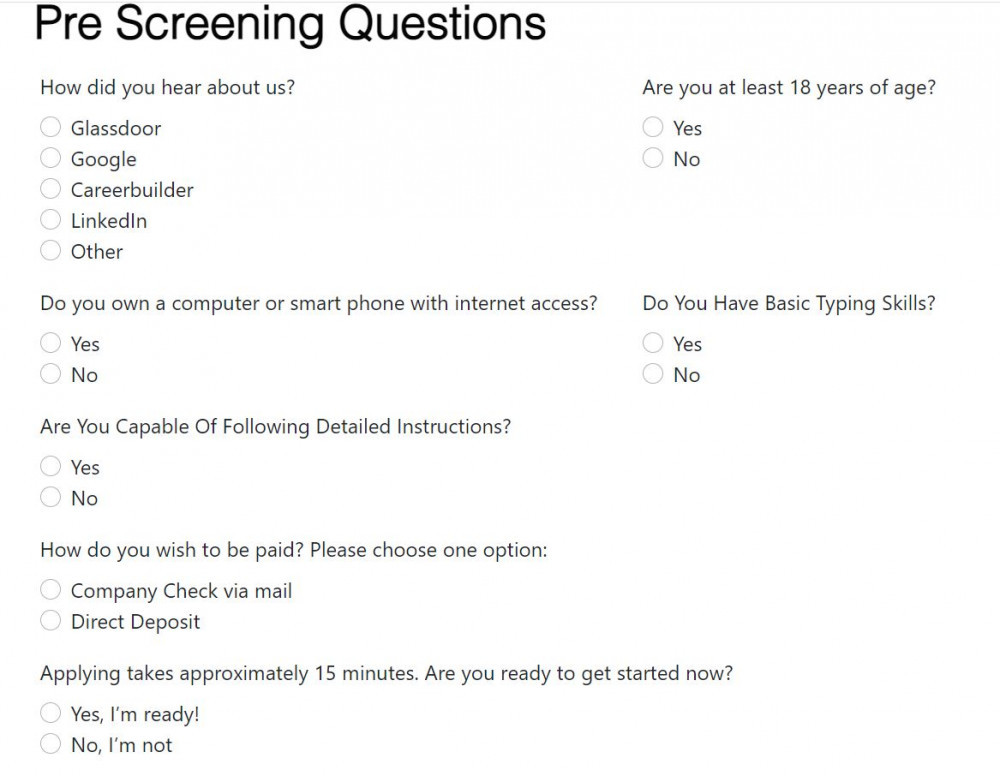 Now you are asked to continue by clicking the continue button. Now the interesting thing about this is that you do not have to complete the pre-screening questions in order to continue. I found that to be a red flag, because it means I can continue with the, so called, application process without filling out the questions. This makes me think that this could be misleading. When I do click on the continue button, I get directed to another page with a video and a button asking me to go complete step one.
The video is below for your reference:
Underneath the video is a link that says "Click here to apply", but when you click on that link, it goes to a page that shows an error. This is called a broken link. This is another red flag in my opinion. This leads me to believe that I am not actually applying for a job like the ad indicates. But underneath that button, there is another link that says proceed to the next step. So, let's go ahead and see what happens when we click on that link shall we?
So, when we click to go to step 2 we get redirected to another video. See below:
In this video they describe how to sign up for another program known as Inbox Dollars. So, what is inbox Dollars and what does it have to do with AOJ Work From Home Jobs Review? Well, Inbox dollars is another website that allows you to sign up for more surveys, watch YouTube videos, and sign up for more offers as I mentioned above. Inbox dollars does appear to be a legitimate site, however, we still are not being given the opportunity to earn $19 minimum an hour like the ad said. I don't know if you have ever taken surveys before, but you can spend a huge amount of time going through them only to find you get introduced to another type of offer where there is money involved.
Once you have registered for Inbox Dollars, you can proceed with the AOL website where you can register for "bonus accounts". These accounts include the following:
Survey Club
Product Report Card
Two more survey sites
Pinecone Research
voice your opinion (another survey site)
Toluna (opinion site)
Another survey site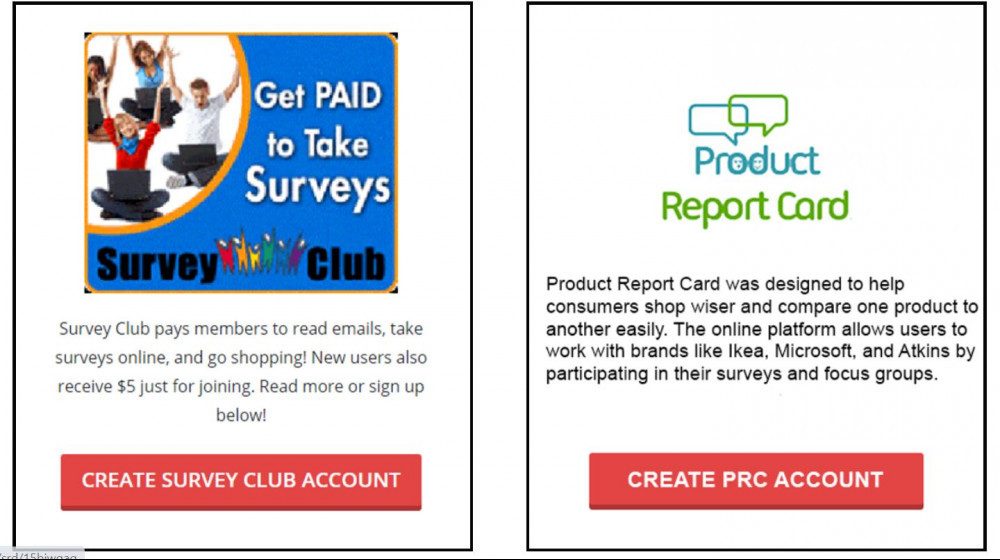 Can You Make Money with AOL?
So, can you make money with AOL. Well the short answer is yes, but very little. It is unlike affiliate programs where you can earn commissions selling high ticket products, such as what you can find in my "What is Discover Heal" post. The disappointing part here is that it is now where near what the original ad was leading you to believe. You got the impression that you were going to make an hourly rate (above minimum wage). But, what you learn real quickly is that you earn very little, especially for the amount of actual work you have to do. You can literally spend hours taking surveys only to find you earn very little. Inbox dollars does have some other ways to earn, but very, very little. Like $5 here and a few dollars there, but nothing to brag about.
Now there one more step that you can take after you sign up for all the "bonus programs" and that is their training modules. The training is geared toward Affiliate Marketing, which, again, is not a job. However, it is a legitimate way to make money online and I also do affiliate marketing myself and earn up to six figures a year doing so. But, I can tell you, you cannot learn those skills in this watered down, outdated training they offer. They have a YouTube training program that is way out-of-date. They also have a training program on how to, yes, you guessed it, promote AOJ itself.
You see, this site is, in fact, an affiliate site. The one who actually makes money in the one who is misleading you to do all of these surveys and offers. The offers are known in the affiliate world as CPA marketing. When someone takes the offer, the affiliate earn a commission on the cost per action. This is quite misleading to say the least.
Is There Something Better Than AOL?
There are other sites available that are more geared toward working from home. There are data entry jobs available, but they are far and few between. You have to apply to actual companies for these jobs, and these types of jobs are usually held by more experienced individuals like programmers or Computer technicians with a lot of IT experience.
The best way to earn money online is to learn how to do affiliate marketing. You will need to learn the necessary skills like blogging, SEO, and content marketing. These skills can be learned without experience. I recommend my simple four step formula to learn these all important skills. You can earn a lot of income from this type of training.
When you learn these skills, you can earn from legitimate companies like the Amazon Affiliate Program, or the Walmart Affiliate Program, which I believe to be one of the best affiliate programs for beginners, and you can sell a large array of products online. This in the best way to earn an online income for sure.
Final Thoughts On AOJ Work From Home Jobs Review
So, in closing, I would be very careful with programs that sound too good to be true. Unfortunately, there are misleading information on the internet when it comes to Work From Home Programs and you have to do your homework. During this AOJ Work From Home Jobs Review, we talked a lot about online surveys. This is not even close to the hourly rate the original ad mentioned. Even when you see these types of Ads on trusted sources such as Career Builder or other related job sites, you want to stay away from them.