In this post I would like to discuss how to sell products from Amazon and to provide a step by step process by which you can really utilize. I do not want to get into the "fluff" and talk about how you can make millions of dollars by next Thursday or anything like that. But, I can say this. You can make a full or part-time income selling products from Amazon and It's much easier that you might think. Plus, this is something you can do while holding a full time job.
As most people are aware, Amazon in a huge company and it doesn't look like they are slowing down any time soon. Recently they purchased Whole Foods and are constantly buying up real estate and expanding every day. But, unlike the older larger company's who were known to shut down the "mom-and-pop" type of industry, Amazon is actually helping people start their own business and profit from their awesome resources.
We live in a unique time when there really are opportunities available that allow an entrepreneurial spirited individual to start their own business selling Amazon products with very little start up capital. Gone are the days, where it is necessary to come up with hundreds of thousands of dollars to start your own franchise to make a living owning your own business.
You can now, simply purchase a domain name for less than $20 a year, and host a website for less than your monthly Starbucks visit. So, what are the steps needed to sell products from Amazon? First of all, you need to become an Amazon Affiliate.
Become An Amazon Affiliate
---
The Amazon Affiliate program is called Amazon Associates. It is very easy to sign up for the Amazon Associates program. What you do is visit Amazon.com.
Then you simply scroll all the way down to the bottom of the page and look for a link entitled "Become an Affiliate". Take a look at the two screenshots below for details. This first one is the Amazon home page at Amazon.com. You simply scroll down to toward the bottom of the page and you come to what looks like the second screenshot below.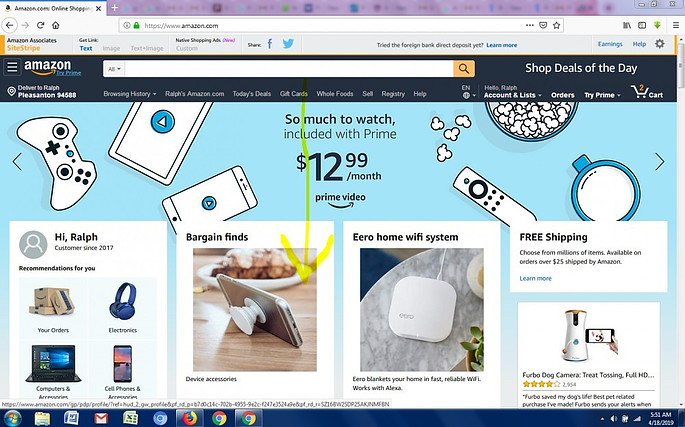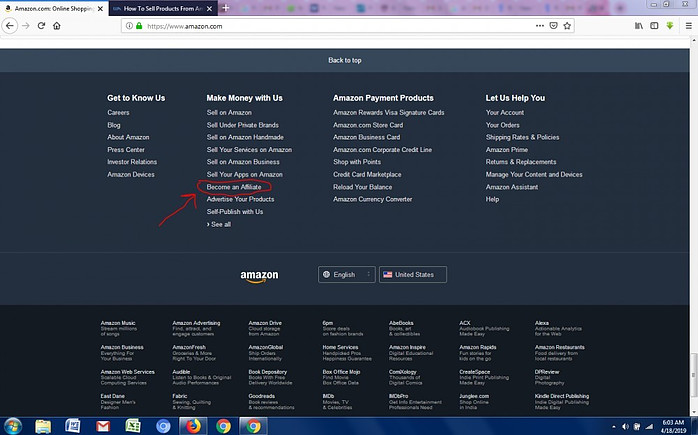 After you click on the "Become an Affiliate" link you will come to a page that looks like the screenshot below: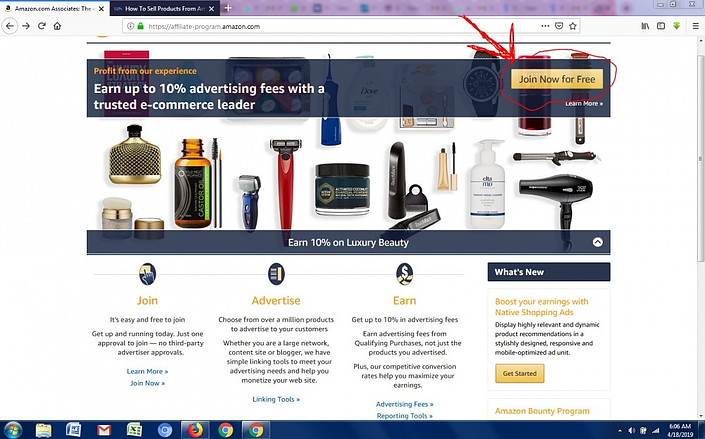 Then you simply click on the "Join Now for Free" button from the upper right-hand corner and fill out a basic form. You will definitely get approved and there are no real requirements or hoops you have to go through like some other affiliate networks require you to do. Amazon likes to make things easier for you and I to sell their products. The associates program even provides tips of the trade as well to help.
Once you have become an Amazon Associate, you want to head back over to the Amazon home page from Amazon.com and select a niche from the Best seller list that Amazon provides. The steps for this are outlined in the next section below.
---
Ready To Start Your Own Online Business?
I joined Wealthy Affiliate back in 2015 with zero marketing experience and within a few months, I had a website built that was driving traffic and sales daily.
By the end of 2016, I was running my six figure business.Wealthy Affiliate is the real deal and works.Come on in, and I will show you how to actually start making money.
It's free to join and there is no credit card required.
---
Pick Your Amazon Niche
---
This step of the process is the one in which you want to spend some time and effort. You want to take this step seriously because it can determine your success. Fortunately Amazon themselves offer you an easy solution by providing you a best-sellers list. The real cool think about Amazon is that they have a proven formula for success. .
We all trust Amazon as buyers and this is verified by the number of sales Amazon generates on a daily basis. This fact in itself should give us a lot of confidence when choosing a niche from the best-sellers list and the groups of products that are available there. So, before going into choosing a niche, we need to define exactly what a niche is as it pertains to selling Amazon products.
I like to keep things simple so I will give you the simple definition of a niche. A niche is a particular group of people, or better put, a particular audience. This is the audience you want to attach to your products and services from Amazon.
You want this audience to be specific and interested in the products and services that you are recommending. This eliminates you from having to do the selling. What you will be doing is providing valuable content to your potential prospects and then let Amazon do the selling because they are much better at it that you are.
I am going to introduce you to a training video from an affiliate community I belong to which provides free training on how to succeed with affiliate marketing. This training video will cover the idea of how to choose a good profitable niche so that you can sell the appropriate products from Amazon.
Check this video training out by clicking on the video image below: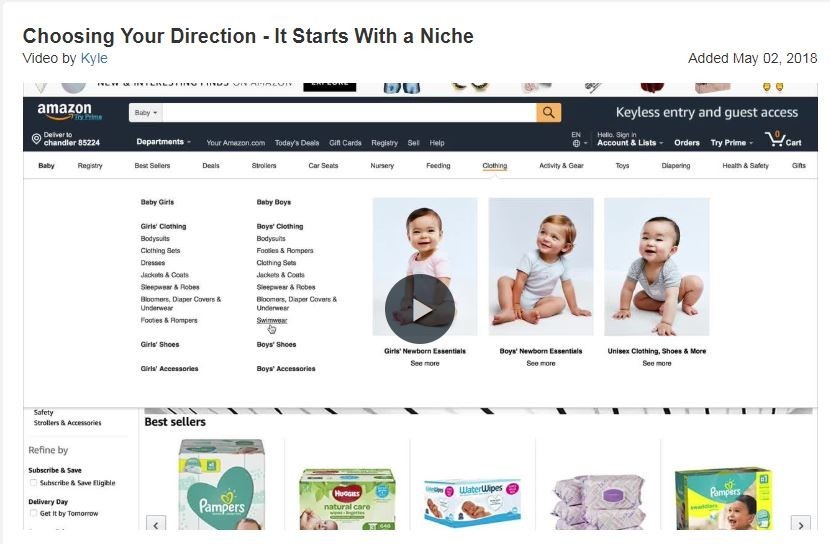 As you can see from the video, choosing a niche from Amazon and a few other sources is not difficult and we do not need to over complicate the process. There are many successful affiliate marketers who have more than one niche that they earn an income from and that is definitely OK to do. In fact, you can look at it like owning farm land and harvesting different products from your farm. What you grow on your farm represents individual niches and you can certainly make multiple streams of income by selling a variety of "fruits and vegetables" from your farm.
I believe the internet is today's opportunity like homesteading was back in the wild west days. The opportunities are endless!
Now that you have chosen your niche, it is time to build your website. I know this sounds scary, but it really isn't and no matter what quick rich guru tells you. Yes, you do need a website and it is not hard to create one. In fact, below I am going to demonstrate how you can build one in under a minute. Yes, a fully functional hosted website that is capable of earning you a six or even seven figure monthly income.
Build A Website (In under a minute)
---
So, we have chosen our niche and we have a good idea of the products we want to sell from Amazon. Now what we need to do is create a website based on this Niche idea so that we can create valuable content on for our audience (future customers).
The best platform to build a website upon is the WordPress platform. It is what most successful affiliate marketers use and is the easiest to navigate and manipulate.
There are two main components to this website besides WordPress and that is:
I have created a walk through video to show you step by step how to build a website to make money that will include a sub-domain and hosting for free. I am not talking about a free trial, I am talking about just plain free. Stick with me here and we will show you exactly how this is done.
Watch The Video Below:
As you can see the process of creating a website is very easy and does not take long at all. The example in the video was for a niche audience of people who would be interested in playing guitar. There are a lot of different products that a person with this interest would be interested in. They are obviously interested in learning how to play guitar. So, any instructional book, guide or video training would be of interest to them.
The end product from the video was a pretty empty website with no bells and whistles, but with some effort and creativity, one can make a beautiful website that would attract visitors. I used the exact process to create a website that I sell Amazon products on, specifically Fit Watches For Women, that you can take a look at as an example. You can also learn how to do this spruce up your website as well. I recommend the free training series mentioned in the image below. No worries, put away your credit card, it is 100% free.
Ready To Start Your Own Online Business?
I joined Wealthy Affiliate back in 2015 with zero marketing experience and within a few months, I had a website built that was driving traffic and sales daily.
By the end of 2016, I was running my six figure business.Wealthy Affiliate is the real deal and works.Come on in, and I will show you how to actually start making money.
It's free to join and there is no credit card required.
Now that your website is up and running it is time to create great content. The kind of content that your audience will be interested in. You have a basic understanding of their interests because you have spent some time researching your niche to discover what types of Amazon products you want to sell. So, now let's learn how to create good content for our target audience.
Create Great Content And Drive Traffic To Your Website
---
In order to create great content we have to learn about keywords and keyword research. The reason for this is that the content we will be creating will be based on these keywords. In fact, each individual article that you write on your website will be based on ONE keyword phrase. Many people get confused by this. You are not trying to write articles based on many keywords, you are writing each individual article base on one keyword phrase per article.
So, before I get ahead of myself too much, let's define what a keyword actually is and how we find the good ones.
A keyword is basically any term or phrase that someone from our niche audience types into one of the search engines, which most of the time is Google. They type this keyword phrase when they are looking for something. Something like "how to play guitar". Wouldn't it be great if we wrote an article about how to play guitar with a recommendation to a good guitar lesson video that we could earn a commission on and our page came up on page one of Google when someone typed that phrase in?
Of course, it would. The likelihood of us earning a commission becomes pretty good. This is exactly why affiliate marketing is so profitable. This is the foundation for all SEO campaigns, paid ad campaigns, and when you ultimately understand this process, you will become VERY successful online as an Amazon Associate. You are now able to generate a full time income online.
So, there are two components we need to use in order to begin our search for a good keyword for each of our articles that you write, or YouTube videos that you might want to create.
The Alphabet Soup techniques;
A good keyword search tool
Don't be alarmed, these two components are easy and both free to use.
The alphabet soup techniques if pretty simple and you do this first before using a keyword tool. Keeping to the theme of our "how to learn guitar" example, I'll illustrate using the image below.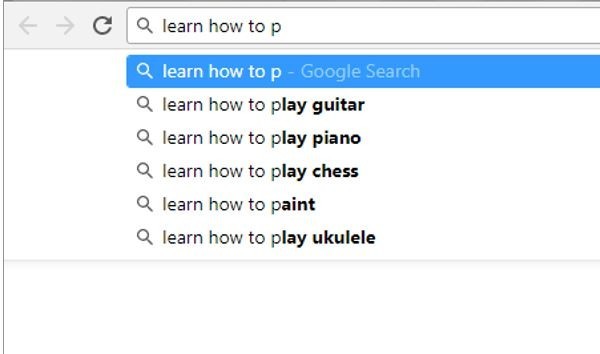 Google has a feature built into it that finishes a phrase that you start typing into it. You have most likely experienced this at some point in your lifetime. So, if I start typing in learn how to p….Google finishes the process for me. The results underneath tells us that people are searching for these terms. This let's us know what our potential customer is searching for. We can go a step further and use the alphabet to help us out. For example, if we are looking to sell a "how to" product and want to know what people are search for, then we can type in "how to a" and then "how to b" and then "how to c" and so on.
You can also do the process of the alphabet in front of the search term such as "a how to …" or b how to…" and so on.
This, in a nut shell is the alphabet soup technique.
Now once you find out what people are searching for you can then take the selected term, such as "learn how to play piano" from the Google results and plug that into a good keyword search tool to see how many searches a month that phrase is getting and you can also see how competitive the search term is to determine how easy it would be to get on the first page of Google.
I have provided a walk through video for this complete process. Please click on the image below to get the complete keyword research process. Master this and you will certainly make a lot of money online selling Amazon products.
Click The Image Below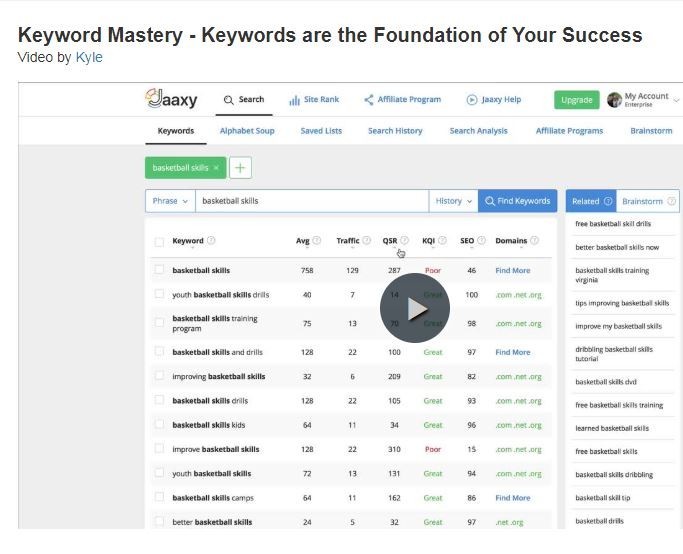 As mentioned in the video above we use a free keyword tool known as Jaaxy. I have provided a free search for you to play around with if you would like to see how this tool works for a particular niche that you might already be interested in pursuing. It is easy and fun to use by visiting this Free Keyword Generator.
---
Conclusion
So now that you know the basics of how to sell products from Amazon you are now going to need training in how to succeed with affiliate marketing. I have provided a free guide that will, for the lack of a better word, guide you through this process and teach you the skills needed to successfully sell products from Amazon. The course is free and comes with 10 lessons and two free hosted websites with sub domains.
Ready To Start Your Own Online Business?
I joined Wealthy Affiliate back in 2015 with zero marketing experience and within a few months, I had a website built that was driving traffic and sales daily.
By the end of 2016, I was running my six figure business.Wealthy Affiliate is the real deal and works.Come on in, and I will show you how to actually start making money.
It's free to join and there is no credit card required.