What is Leased Ad Space and is it worth your time, effort and money?
I will focus on answering these questions and do my best to explain what this advertising platform is really all about. Back in the day, I was familiar with Richard Weberg, the owner of Leased Ad Space, because I managed a site that was focused on driving traffic to individual business owner's websites as well.
After reading this review, please comment below and share with me your experiences with this program.
Leased Ad Space Review Summary
---
Name: LeasedAdSpace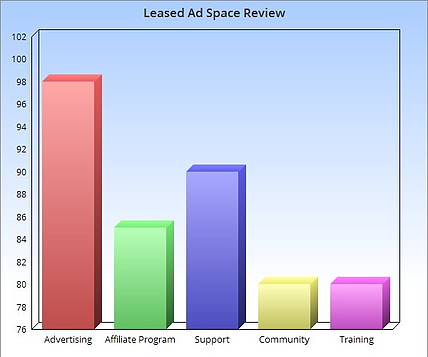 Website: https://Leasedadspace.com
Price: Free, various ad packages ranging from $9.97 to $147 (details below)
Owner: Richard Weberg
Advertising Platform: 98 out of 100
Affiliate Platform: 85 out of 100
Support: 90 out of 100
Community: 80 out of 100
Training: 80 out of 100
Summary: Overall Leased Ad Space is an above average advertising platform. It is unique and can drive a lot of traffic to your website if used properly. Using Leased Ad Space specifically to earn affiliate commissions, is average at best. There are other programs available that do a better job as an affiliate platform. It is not a bad affiliate platform, but there are easier ways to earn a good income online. This would be more of a recommended advertising source to other marketers.
TheAffiliateResource.com Overall Rating: 87 out of 100:
Since Leased Ad Space is a good advertising site for
affiliate marketers who want to promote affiliate products (affiliate
marketing), then below is my #1 recommendation to learn how to make
money selling affiliate products online. 
---
How I Make Money Online By Selling Products with Zero Inventory with This Simple 4 Step Formula
Are you tired of spinning your wheels, looking around the internet and simply want to know
exactly how to start earning money online?

If you answered yes, then I want to help you do exactly that.


---
What is Leased Ad Space?
---
Leased Ad Space (LAS) is mainly a marketing platform to sell whatever products or services you want. The advertising platform is unique in that it offers a variety of ways to advertise your website. All the way from text ads to using your own blogging platform to drive traffic to whatever business or businesses you want to promote.
There is also an affiliate program associated with LAS where you can potentially make affiliate commissions. But, like I mentioned above, my focus when I joined was to use the system for marketing a particular business I was promoting at the time.
To fully review Leased Ad Space I will talk about both aspects of the program:
The Advertising Platform
The Affiliate Platform
How The Advertising Platform Works at Leased Ad Space
---
There are eight different advertising packages offered by Leased Ad Space, they are listed as follows:
Free
Pearl Package
Amethyst Package
Emerald Package
Saphire Package
Ruby Package
Diamond Package
Red Diamond Package
Each of the packages are sold of a one time payment, no monthly charges. The traffic packages include advertising such as:
Text Ads
banner Ads
Solo Ads
A Public Profile Page
A personal blog where you can post your own unique content (very cool indeed)
An AdBoard Directory
Search Engine traffic/all content is public (this feature is very under utilized, but very effective)
The images below show how each of the packages are broken down with their associated costs and benefits.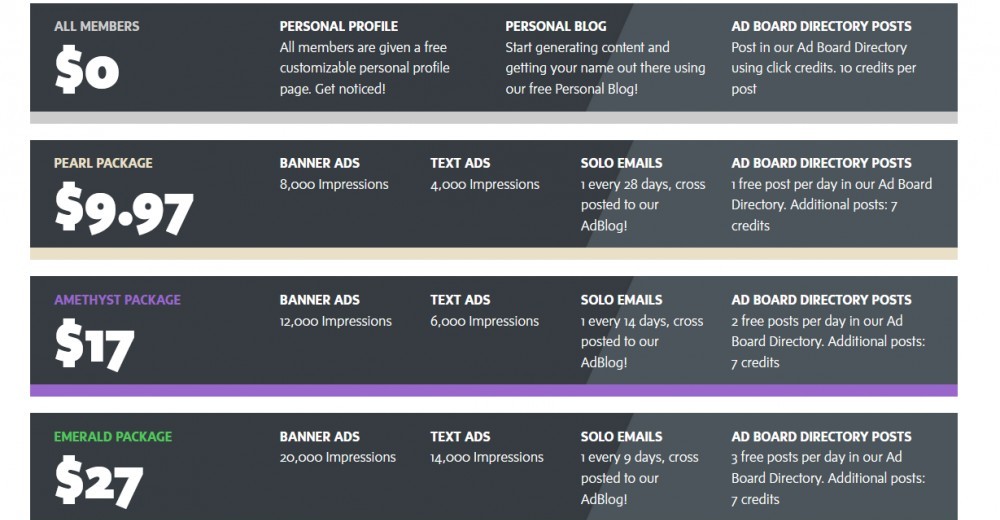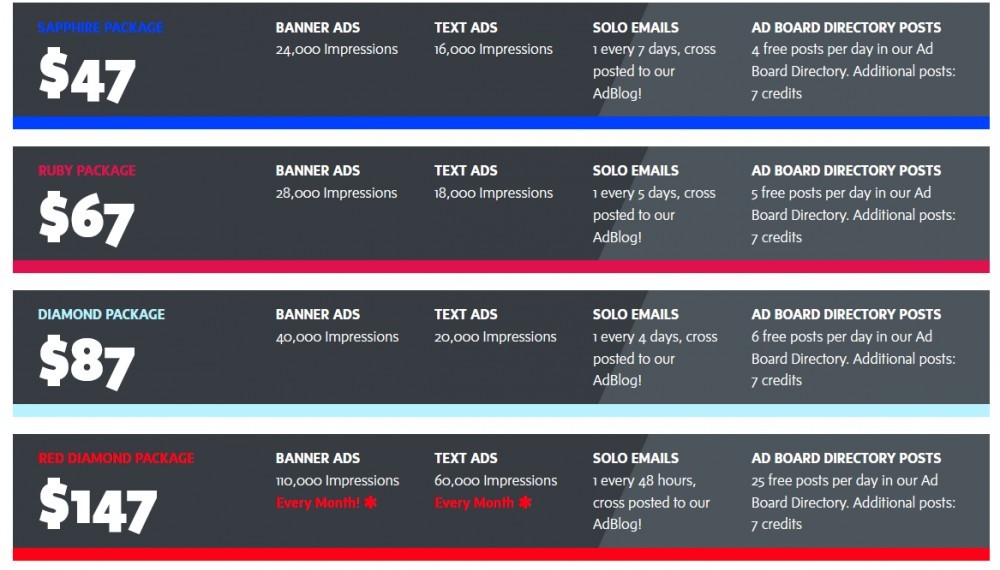 What is unique about these packages, is that they all come with both residual traffic features and one time traffic features. For example, the banner ad impressions and text ads are available until you use them up. When you want more, you would purchase then next package up.
However, the solo emails and Ad Board directory posts are available in an ongoing basis. Their frequency increases as the packages increase. For example, the Pearl Package offers a solo ad to be run every month, whereas the Red Diamond package offers a solo ad to be run every 48 hours. Just to let you know, the solo ads are quite effective. I have used them to drive traffic to various offers and they do give you a good number of clicks and opt ins.
I own the Pearl Package and send out a solo ad once per month. You can see the results that I get by looking at the image below:
As you can see from the above image, I got a 2.5% click through rate on one of my ads. That is figured by dividing the number of clicks by the number of recipients. That is a pretty good click through rate. Now I am only able to send one solo ad out per month with this package. But, for a one time purchase of less than $10 that is not bad.
Another interesting thing about Leased Ad Space is the effectiveness of their banner advertising. Normally banner advertising is not that effective because many people are banner blind these days. People are so used to seeing these types of ads that very few really click on them.
But to my surprise, the results I get from the banner ads at Leased Ad Space are just as effective as their solo ads. Check out the results I got from the image below:

As you can see I am getting anywhere from a 2.5% to about a 3% click through rate on their banner ads. Not too shabby if I say so myself.
Now Solo Ads and Banner Ads are not exactly what you would call unique advertising. Many advertising sites offer these sources. What is more unique about Leased Ad Space (LAS) is the Ad Blog and the personal Blog that is offered.
The Personal Blog and The AdBlog At LAS
---
Both the Personal Blog and the AdBlog are great resources that should not go unnoticed. I believe this is the most under-utilized feature of this website. I believe that Richard Weberg actually mentions this quite a bit. Watch the video below to get the full details on how these work.
The Personal Blog is great, especially if you are looking for a good back-link source for your own blog,
They are true back-links from a website that has a lot of favor with Google. It is a highly popular site and is highly ranked in the search engines. Even free members are offered a personal blog and an AdBlog and are encouraged to use them daily.
As many of you may know, I am a big advocate of utilizing organic traffic. In fact, organic traffic is simply the best traffic available. It is targeted and is more likely to generate sales than any other traffic source available today in my opinion.
Check out the video below to see how it all works:
How The Affiliate Platform Works At Leased Ad Space
---
Now that we have discussed the advertising side of things, let take a look at the affiliate program offered by Leased Ad Space.
As I mentioned before, I joined the program mainly for the advertising side of things. I continue to use the program to generate traffic to my existing business and it is very effective for driving traffic and earning me a great online income.
However, the affiliate program is available and is worth taking a look at.
Unlike what is said in many other reviews, LAS does not use a multi-level (MLM) compensation program, nor is it similar to a gifting program. It is simply based on your direct referrals making purchases of the advertising packages they use for their business.
It is a straight forward commission structure. If you refer a customer, and they make a purchase, you get a commission on that purchase. No complicated matrix to understand, no binary trees to figure out, no cycling or anything weird like that.
Commission Rate and Payouts
---
The commission rates are essentially based on the traffic package that the affiliate owns themselves. However, owning a package is not a requirement to be an affiliate or to earn affiliate commissions. Actually, you can earn affiliate commissions without even purchasing any of the packages.
There are commission levels though based on the traffic packages offered. The levels are as follows:
Recruits
Soldiers
Generals
Recruits are free members who get 25% on all sales they refer, even if they don't own any of the packages. Soldiers get Paid 50% on all sales they refer, and they own at least one of the advertising packages themselves. Finally, there is the General who earns 75% commissions on all sales they refer. Generals own the highest package call the Red Diamond package.
Again, you are not required to purchase anything to become an
affiliate, but you will probably also be less successful with the
affiliate program if you do not. Commissions are paid out on a monthly basis.
Training and Support
---
Like a lot of programs like Leased Ad Space, there is not a lot of training and support when it comes to how to earn affiliate commissions with the program. Obviously, you cannot really use the traffic sources within Leased Ad Space to promote the affiliate program since everyone on the site is already a member.
So, unless you join a team lead that is willing to share their "secrets" to success, it is very difficult to get others to join and purchase the products. The site itself does not really show you effective ways to earn affiliate commissions. you are limited to what everyone else teaches, which is usually share on social media, solo ads from other sites, banner ads and that sort of thing.
This is the only real draw back I see from this program. I believe the training and support is more geared toward how to use the advertising platform to drive traffic to another business you may have. They do offer a good selection of "how to" videos on how to use each of the advertising packages.
The support from the owner himself is pretty good. Richard always seems to make himself available for questions through the help desk and his own social media channels.
Conclusion And Recommendation
---
So, to answer the above question regarding whether Leased Ad Space is worth your time, effort and money, I would have to say yes as far as the advertising platform is concerned.
I believe that Leased Ad Space is an excellent platform for advertising your current business with and I highly recommend using their personal blog feature to build a business or personal brand as well of a good backlink source for your own blog.
As I have mentioned above, there are other platforms online that are more able to help you generate an online income from an affiliate marketing perspective. My number one recommendation is shown in the comparison table below.
How I Make Money Online By Selling Products with Zero Inventory with This Simple 4 Step Formula
Are you tired of spinning your wheels, looking around the internet and simply want to know
exactly how to start earning money online?

If you answered yes, then I want to help you do exactly that.


Leased Ad Space
Different levels, varies