When you enter into the wonderful world of Affiliate Marketing, you have most likely discovered that selecting a profitable niche is one of the hardest things to do. If you choose the wrong one, you may find yourself putting in a lot of hours and not see the results you would like to see. Often times, some of the best niches are the ones that have stood the test of time and have provided profitable results for others in the industry. One of these niches that has definitely stood the test of time is Pet Products. Below are The Top 5 Profitable Affiliate Programs For Pet Products to get you started on your journey to success in your affiliate marketing efforts.
Fitbark Affiliate Marketing Program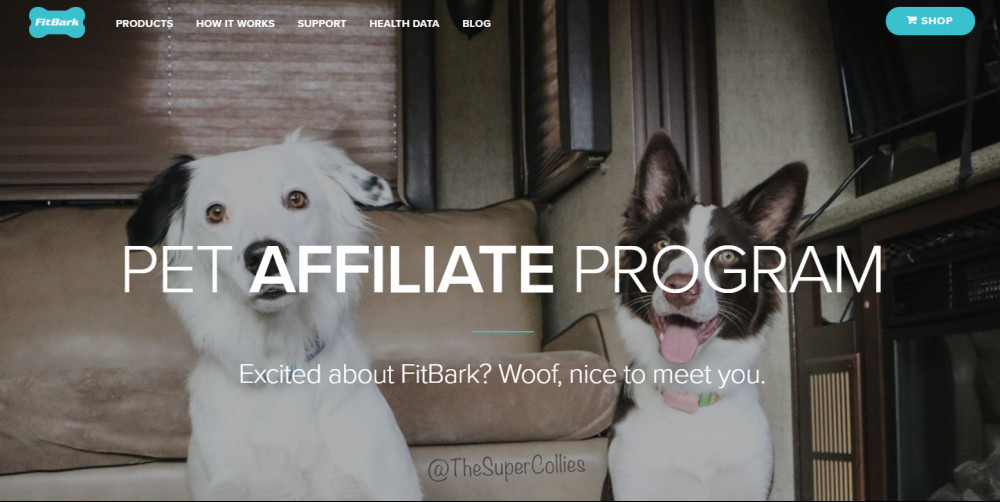 So, what is the Fitbard Affiliate Marketing Program and how does it work? Well Fitbark has teamed up with the well-known Program Manager known as ShareASale who manages the Fitbark Affiliate Program. You simply sign up as an affiliate with ShareASale and then apply to Fitbark and you are on your way.
Fitbark's product line is unique. They provide tracking information for your dog's location and overall health. They offer two different types of tracking devices. One that includes GPS that monitors the dog's health and location. They also offer a device that monitors the dog's overall health without the location tracker. In addition to these devices they also offer accessories to these devices.
One of the nice things about Fitbark is that they welcome all applicants as long as you have a website that is relevant to their product line. You don't have to have a huge following on your website or a large list, just that you are relevant and that your website does not contain objectionable or offensive material.
Here are some of the highlights to the Fitbark Affiliate Marketing Program:
They pay a 12% starting commission rate with the ability to higher commission for affiliates that produce higher volume.
Cookie duration is 60 days, which is awesome.
Average order is $100, which allows you to earn $12 per sale.
Very easy to apply
They are partnered with ShareASale, which is a very reliable network.
They pay commissions monthly by check or direct deposit.
To get more information about their product line and how to become an affiliate go here:To Join as an affiliate go here:
---
Want to Earn From Affiliate Programs?
You Need a Traffic Producing Website to Convert Readers into Buyers
Let Me Show You My Exact Method
The Top 5 Profitable Affiliate Programs For Pet Products
---
Pet Plate Affiliate Program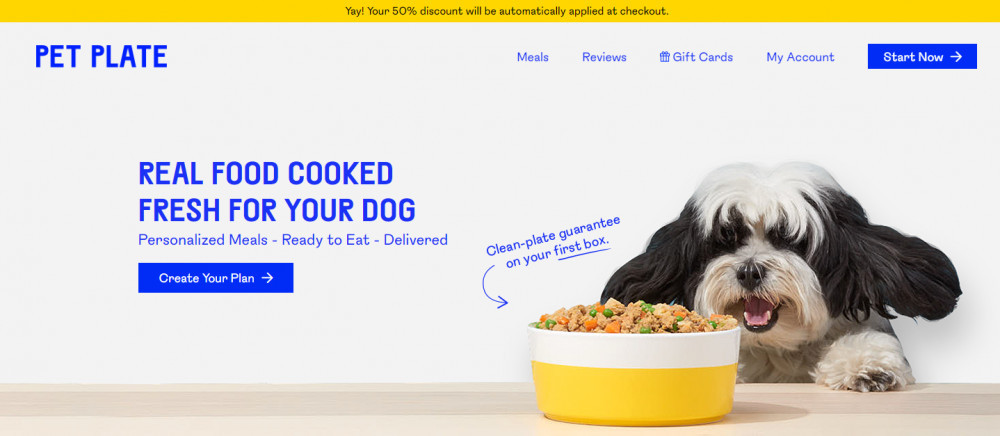 The next great pet affiliate program is Pet Plate. They offer product line that consists of real food cooked fresh for your dog. They include personalized meals ready to eat and they deliver.
These meals are formulated by a Vet named Dr. Renee Steeter, DVM, DACVN. They are nutritionally balanced and highly palatable to dog's. They feature high quality ingredients with vitamins and minerals.
Pet Plate is a subscription meals service for your dog. The potential customer signs up via your link, and you receive a $50 commission as a flat fee.
Here are some of the highlights to the Fitbark Affiliate Marketing Program:
$50 flat fee commission (Pretty high for an affiliate program)
30 day cookie for their affiliates (not as high as Fitbark, but still pretty good)
They are also partnered with ShareASale, a reliable network
Also very easy to apply through ShareASale
Another benefit worth mentioning separately is that fact that your customers first purchase includes a P discount that happens during the checkout process. This is a very good incentive to let your potential customers know about.
To get more information about Pet Plate and/or to sign up as an affiliate go here:
Petco Affiliate Program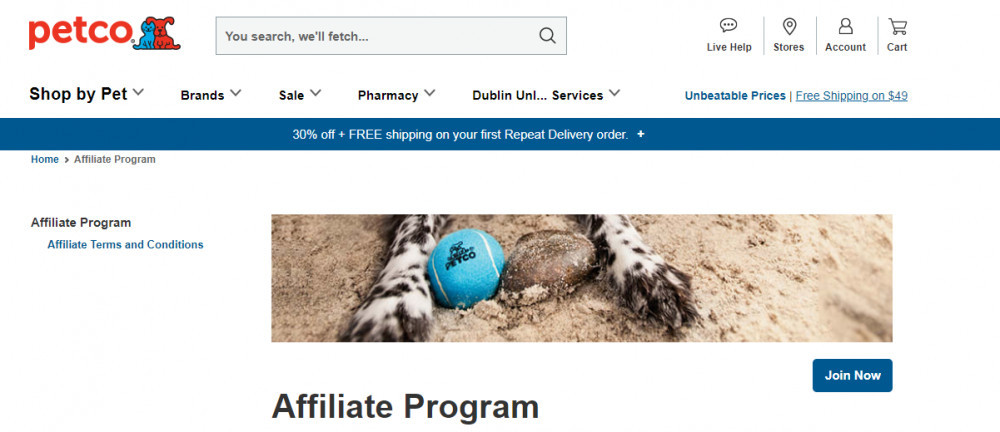 One of the more popular affiliate programs for Pet Products is Petco. You most likely have heard of this company, but you may not have known that they have a great affiliate program. One of the advantages of belonging to this particular affiliate program is the fact that they are well-known and a trusted brand. This makes for an easier sale in most cases.
The commission rate is a bit lower than the other programs discussed (4%), however, their vast product line and brand recognition makes this a very profitable affiliate program. Not only does the program include products' for a larger variety of pets, but a huge variety of products' as well.
Another advantage to belonging to the Petco Affiliate Program is that they are constantly offering sales and discounts. This allows you to reach out to your potential customers more often which helps in overall networking. Especially if you are running a niche blog with subscribers to a newsletter. Plus, Petco offers a variety of brands that people are aware of and this brand recognition goes a long way when you are creating valuable content for your blog.
To learn more about the Petco Affiliate Program Click Here.
TruDog Affiliate Program

TruDog is also known as TruPet and is a family owned business. This company is based on the idea that a raw meat diet is best for your dog. Based on this, they have made it easy with a freeze-dried all meat products' n their food. Their products' range from ear cleaners, to dental spray and calming chews and a variety of other products'. All of their products' are made in the USA.
The TruDog Affiliate Program is another ShareASale Managed company and their affiliate program features:
A 10% Commission rate
A 90 day cookie (very cool)
2-tier sign up bonus program ($2)
Affiliate Promotions and training
The product line includes a variety of food, treats, supplements and grooming supplies. Since the company is a family owned business, they provide their affiliates with personalized service and assistance.
Due to the 10% commission rate and the 2-tier sign up bonus program, this is truly a profitable affiliate program.
Pet Care Supplies Affiliate Program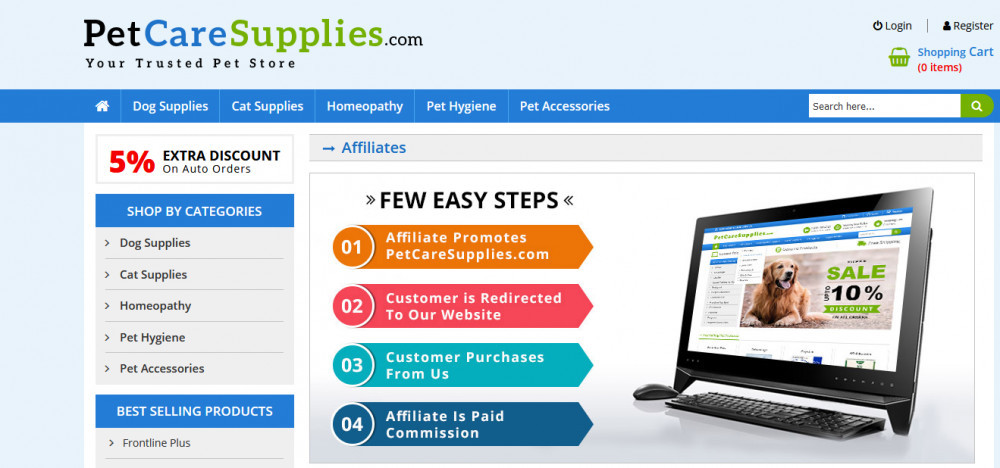 Similar to Petco, Pet Care Supplies Affiliates have a very large and diversified pet products' portfolio to offer their potential customers. Their product categories include Dog Supplies, Cat Supplies, Homeopathy, Pet Hygiene, and Pet Accessories.
The company also offers its customers free shipping worldwide on all orders, and a 5% discount with a coupon code.
Pet Care Supplies has a dedicated Affiliate Manager as well as a dedicated affiliate support service. Plus, they do run special offers and promotions of which affiliates are always notified about. It's very easy to become a Pet Care Affiliate. You simply sign up as an affiliate publisher with CJ Affiliate.
So, why would you want to become a Pet Care Supplies Affiliate?
They offer up to 13% commission for each order
A cookie period of 60 days
They offer weekly sales and promotions
They have an average order value of $90
They provide banners, text links, and product links.
With the variety of products' available for you to promote, a good commission rate and a decent 60-day cookie period, this is certainly a profitable affiliate program.
To get more information about The Pet Care Supplies Affiliate Program, Check out their Website Here.
Ready to Get Started?
As you can see from the above list of the top 5 profitable affiliate programs for pet products', there is a lot of potential in this well-established niche. It offers impressive earning potential and people simply love their furry friends. Another indicator that this is a great niche to get into is the media attention that this industry gets.
If you are ready to get in and claim your piece of the pie in this very profitable industry, check out my top recommended resource on how to promote, not only this niche through affiliate marketing, but any other niche you may be interested in promoting.
Once you land on this website, you will learn step by step how to build your very own profitable affiliate marketing business and earn a nice passive income online. Not only that, but you will also be introduced to a community of over 2 million people who have also joined this amazing program to learn how to make an awesome income online in the wonderful world of Affiliate Marketing.
Also, once you join this program you will get a personal affiliate marketing coach in addition to the two million members that you will have access to. Yes, this affiliate marketing coach is "Yours Truly". See you on the inside and make it an awesome day!