A 12 Minute Affiliate System Review should not only be honest, but it should also be taken from an inside look. Many of the affiliate program reviews you see online today, have other motivational factors in mind and can be misleading when one just wants to know the facts of the program before they make a purchase. This is exactly what I am setting out to do in this post. I signed up for the program, mainly because I am familiar with the product creator, Devon Brown.
Back in the day when I ran a Lead Generation website, I was introduced to Devon Brown and, in fact, participated in a Joint Venture with him. We exchanged promotions on each of our mailing lists. So, I was very curious about the 12 Minute Affiliate Program and knew it, most likely had valued added training within it. So, if you want to know exactly what to expect if you sign up for this program, continue to read this post. This is definitely an honest inside look.
12 Minute Affiliate, Product Overview
Name: The 12 Minute Affiliate System
Website: www.12minuteaffiliate.com
Price: 3 main price points: 14 day trial $9.95., One Niche Membership $47/mo., Three Niche Membership $97/mo.
Owner: Devon Brown
Products and/or Services: 95 out of 100
Training: 90 out of 100
Support: 90 out of 100
Overall Rank: 92 out of 100
What is The 12 Minute Affiliate System?
At its basic form, The 12 Minute Affiliate System is a step by step method of how to sell clickbank products where you can choose up to 3 different niches utilizing email marketing strategies. The product is available on Clickbank and, as I mentioned before, the owner is Devon Brown, who has been involved in the internet marketing space for many years. The system is really a "done for you" platform that allows you to promote Clickbank affiliate products within three different niches if you purchase the $97 package. These three niches include, the Home Business niche, Health and Fitness, and the Motivational niche.
If you choose the $47 package, you get to choose one of these above mentioned niches and you get a complete "done for you" funnel to promote products within that niche. If you choose the $97 product, you will receive all three of the "done for you" funnels so that you can merge into other niches. Each of these "done for you" funnels include different capture pages, bridge pages and an email sequence designed to promote 4 different Clickbank products within that particular niche. These Clickbank products are pre-selected and are completely automated. I will get into the details of what you get when we take a deep dive into my back office.
Who is Devon Brown?
Devon Brown is an author, affiliate marketer, a motivational speaker and has a very upbeat personality. He is a very likable character with a helping attitude. He's is also an email marketing expert who as been trained by other email marketing masters, such as Matt Bacak. In fact, Matt Bacak mentions Devon as one of his students. The reason I bring up Matt Bacak up is that he is one of the top email marketing trainers on the planet in my opinion. He is also very well-known. Devon has sold millions of dollars worth of affiliate products and services online. He does seem like the real deal when is comes to helping others learn the skills of marketing online and does have a passion that is quickly seen when you see any of his videos inside of this program.
A look Inside The 12 Minute Affiliate System
When you join the 12 Minutes Affiliate System you are introduced to the quick start checklist.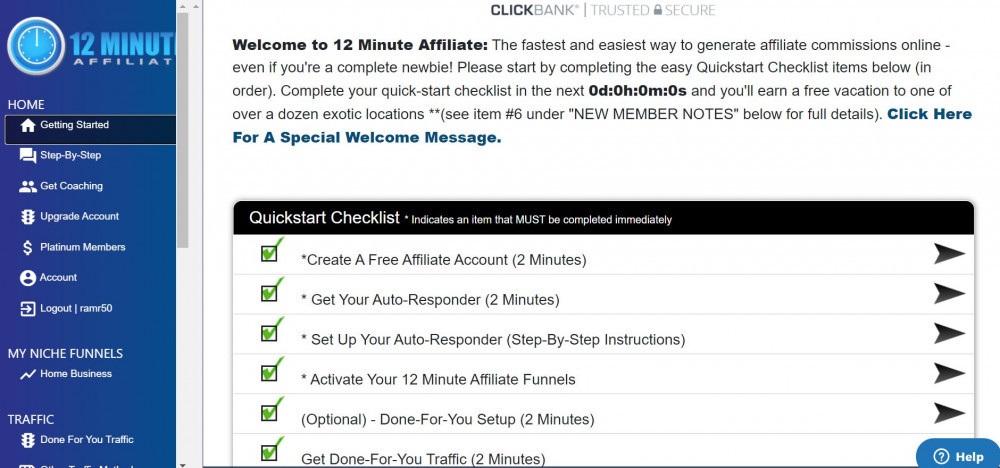 The idea here is that it takes about 12 minutes to set up this system so that you can 'set it and forget it'. As you can see from the image above, the last step is to get Done-For-You Traffic. Once this is set up, the system takes over and automatically starts promoting four different Clickbank Affiliate programs in sequence. This works by promoting one of the four capture pages given to you in a particular niche. For example, if you chose the Home Business niche, the capture page will lead to a bridge page with the first Clickbank product, which, of course, is the 12 Minute Affiliate System itself.
The system will then spit out 3 or 4 follow up emails all with the intent of promoting that program. Then, when those 4 emails are sent out (4 consecutive days), then four more emails are sent out promoting another affiliate program within that same niche. This happens for four different Clickbank products within your chosen niche.
This is basically what happens in the included "instant funnels". In addition to the instant funnels, you also get access to "Custom Funnels", where you can create your own personal funnel promoting any affiliate product within that niche. This is one of the best features of the program. Both the Instant funnels and the customer funnels are of very high quality and are completely customizable so that you can go beyond the "set and forget" aspect of the program. This way an experienced marketer can benefit as well. These "done for you" funnels are geared toward the beginning affiliate marketer to get them started in the world of Affiliate Marketing.

Check out the video below to get a complete walk through of the 12 Minute Affiliate System to get a clear picture of how this program actually works.
As you can see from the above mentioned video, there is a done for you component and a custom component in this system. This allows both the beginner and the advanced affiliate marketer to get value from the system. One of the other factors involved with this system and is also the last point in the quick start checklist, is traffic.
The system does advocate a combination of paid traffic and free traffic. The paid traffic packages are intended to help the affiliate get a quick start on building their list. This is a major component of this system, because it relies on having a good sized email marketing list in order generate enough momentum to drive the completion of sales. The bigger your list, the more likely you will get enough sales to offset your advertising costs. Hence, getting a return on your investment, otherwise known as ROI.
The traffic section includes Done For You Traffic and Other Traffic Methods, as seen in the image below. The system encourages you to run both at the same time.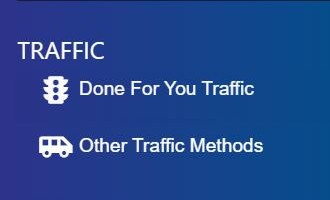 The done for you traffic packages are delivered based on budget and Devon says you should order traffic as often as possible so that you can utilize the email sequences that are being sent out. In addition to these email sequences, the training teaches you to send our email broadcasts to promote other affiliate products through Clickbank, JVZoo and The Warrior Plus Platform. This way, you can try and recoup your advertising costs. This is the only real down fall I see with this program. I have started to use this system to generate an email list and I have to say, to get an email list to the size I would like to see it is going to cost a lot of money.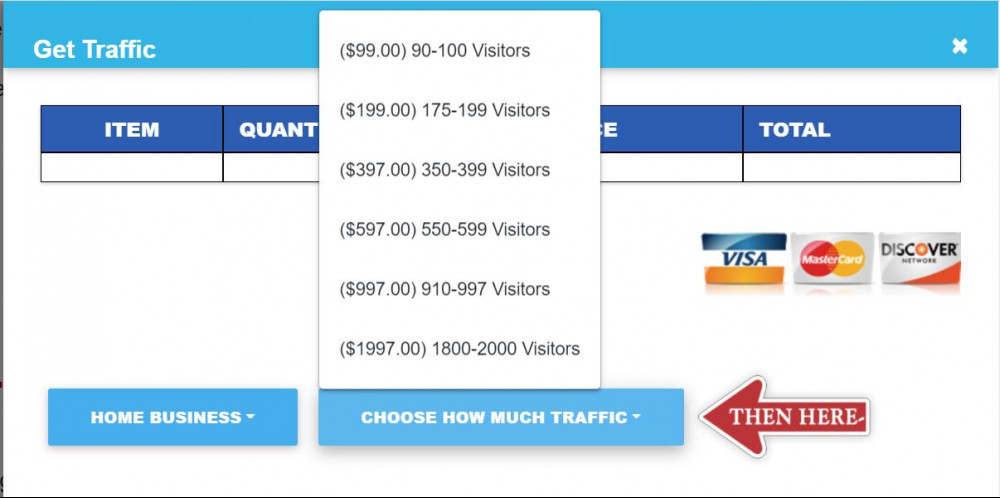 As you can see from the above image, traffic can be costly. Plus, keep in mind you are paying for clicks to your capture page. There is roughly a 30% conversion rate on these pages, which means that for 100 clicks, you may get 30 people added to your list. The other 70 will never see your offer. This can add up. Email marketing works in such a way as when you build your list, you are in building mode and not earning mode. This means you are creating your harvest, so to speak, and will not be able to reap from that harvest until you have a sizable list. So, be prepared to spend money on top of what you paid for getting into the program to begin with.
There are free methods available as well, but this will take a long time to build enough members to your email list. Free methods like the ones they teach take a huge amount of time. The only real free method I think that is worth using is from the search engines through content marketing and SEO. This is not taught in this program.
The strategies taught in the 12 Minute Affiliate System are not new. This is a very common approach with other affiliate programs like Discover Heal. They use a similar traffic model that is taught in 12 Minute Affiliate.
Pros and Cons
Like any affiliate program, there are pros and cons to the system. In this section I will carefully examine the pros and cons of the 12 Minute Affiliate System.
Pros
Done For You funnels; These funnels are very high quality.
Custom funnels; These are also very high quality
Automatically generated email follow-up series for each niche offered
A great step by step training program is available along with live training by Devon himself
The paid traffic available is high quality
Cons
Email Marketing is the only real strategy taught and no real content marketing strategies, which, in many cases is more effective in today's environment.
The cost of traffic can offset your profit margin. Low Return on investment is a great possibility, especially for beginners.
[wd_hustle id="10″ type="embedded"/]
Can You Make Money with The 12 Minutes Affiliate System?
You can make money with the 12 Minute Affiliate System in two different ways:
Promote as a clickbank product without being a member of the program
Promote it as a member of the program along with other affiliate products using their methods and training.
If you are an experienced affiliate marketer and you want to promote this program, you can make a lot of money. Especially if you have a large well-established email marketing list. Most of the top affiliate marketer do it this way. They send out an email to their list and earn a fair amount of commissions. Here is what is possible if you have a big list: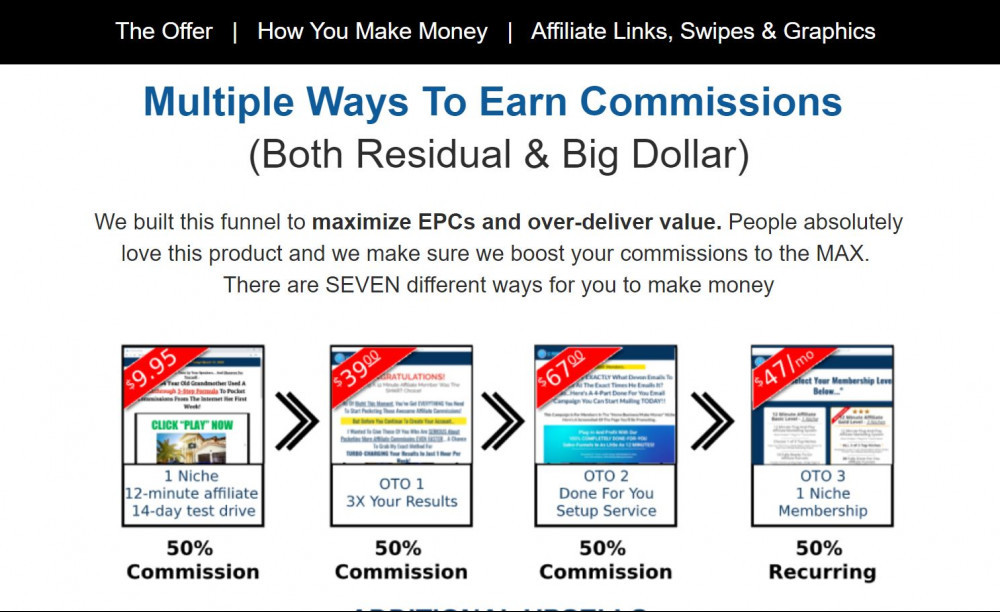 As you can see from the image above, you earn 50% commissions on each of the steps in the funnel. When someone test drives the system, you make 50% commission on the $9.95 of the sale. When someone takes the first OTO (One time offer) you earn 50% of the $39 one time commission. Then, if the customer goes for the section OTO, you earn 50% of the $67 sales to have the system set up instead of the customer setting it up themselves. Then finally, if the customer signs up for the membership at $47 a month, you can earn 50% of the recurring monthly commissions.
If you promote the system as a member of the system, then you can earn as stated above, but you will have to pay the monthly fee to remain a member. The first way to promote the product is if you are an experienced marketer and you already know how to promote. The interesting thing, is that most of the successful marketers who promote this product either have a big mailing list and their own website or they own their own affiliate website and practice content marketing and SEO, which is taught in my number one recommended training program.
Final Thoughts
As mentioned before, in A 12 Minute Affiliate Program Review, the main strategy taught is how to sell Clickbank products through email marketing strategies. This system works quite well if you either have a large email list or you are willing to put in the time and effort it takes to grow one. You will definitely learn what it takes to grow a good healthy email list by utilizing this training, however, it does take time and money to invest in the traffic packages they offer within the system.
That being said, I would recommend content marketing as a better option for promoting affiliate products and services. The reason for this is that you can learn how to create a long term, solid foundational business from the get go. Plus, you are encouraged to use the best traffic source on the planet, which is through the major search engines, such as Google, Bing and Yahoo. The nice part about these traffic strategies is that they are free. If you would like to learn how this is done, I recommend my four step formula to earning a killer income online. No worries, it is completely free to get started.