If you are building WordPress Websites then you are going to want to know the best WordPress hosting for 2020. We are heading into a new year, and we know that your hosting service will need to be capable, reliable, and one that, not only delivers value, but gives your site the speed and storage space that the search engines now require. Metrics that have become very evergreen in the SEO world is site speed and mobile responsiveness. And, just like a good WordPress theme, Web hosting plays a critical role in these metrics as well.
Why Hosting Reliability is So Important
It may be obvious why you need hosting in order to even have a website online, but, it may not be so obvious why hosting reliability is so important for your website, especially if you are monetizing it and relying on the income that it generates. If you have low quality website hosting, a lot of that hard work you put into your awesome website may be put at risk. There are a few reasons for this:
First of all, unreliable website hosting could be the cause of your site going offline during critical time periods. For example, if you have a niche that relies on things like "a three-day sale" and your site goes down during those three days, you could be losing a lot of potential income.
Now if you can imagine how frustrating it would be to lose sales due to your site being down during a critical period, imagine how frustrating it would be if your site completely shut down! This can happen with unreliable website hosting as well. When it comes to security, some website hosting companies may want to cut down on costs in this area. This would, of course, be unacceptable.
While the above mentioned scenarios are worst case types of scenarios, there a few more issues that poor website hosting sites would bring to the table, such as;
SSL Issues
Since SSL is now mandatory for SEO, having quick access to SSL quickly and easily is critical to your website's success. Some hosting services charge more for this service, or don't offer it at all, although, this is rare.
Website Backups
Having your website backed up is very important to the stability and foundation of your website and your business. It is always recommended to back up your site on your end, but a high quality hosting site will also back up your website periodically on the server side of things.
Server Speed
While you can take an active part to improve the speed of your website like compressing images and optimizing coding of your theme (and others), there are many other things that must be put into place on the hosting providers side of things. This is crucial since site speed is a very big SEO metric. How fast your site loads is very, very important to Google rankings.
I believe, like a good WordPress theme, a hosting service is not one of those marketing tools that we should take lightly and certainly not one we should cut corners on. So, what are the best WordPress hosting sites for 2020? Let's take a look at our top choices and then narrow them down to the very best website hosting 2020.
GoDaddy Website Hosting
Godaddy has to be mentioned mainly because of their popularity, especially for new comers to the website arena. They are, of course, the king of Domain names. Basically, if you are looking for a domain name, you typically think of Godaddy. They also are known for their television commercials (Godaddy women) and their huge advertising on the NFL. It is very hard to mention hosting services, even WordPress hosting without mentioning Godaddy.
They are very competitively priced and do offer good hosing packages for their customers. The only real issue with Godaddy is that they provide two types of hosting packages. Regular website hosting and WordPress hosting, which is not the same. Since most marketers and people who want great flexibility with their websites, will want to utilize WordPress as their website platform, it is WordPress hosting that becomes the most important aspect of website hosting. I do believe most marketers and website owners would agree with me on this point.
That being said, WordPress does have needs that go beyond other types of websites. They need more updating and because of plugins also needing updating, a good hosting company needs to provide good service to WordPress website owners. GoDaddy is a little weak in this area, and can be considered a bit expensive for the value they give in some of their packages. For example, if you want to add more websites to your hosting, you are going to have to pay for it. Refer to the image below to see their pricing.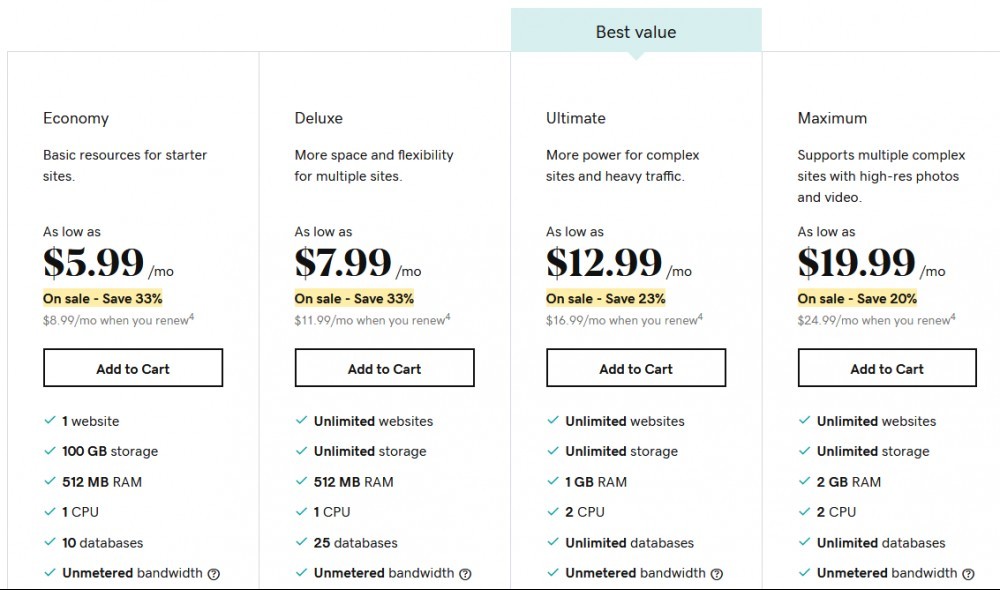 With Website hosting plans, especially with WordPress hosting plans, you are basically paying a recurring fee. GoDaddy's hosting plans are somewhat of a poor value compared to the other top hosting companies we are mentioning here. You are pretty limited on the number of websites and the storage space you get.
As far as customer support, you do get top-notch support and you can call or chat with support during regular hours. They are very helpful indeed. I know this firsthand because I do use GoDaddy to purchase most of my domain names.
It should be noted that these prices do not include a website builder platform. This is a completely different package offered by GoDaddy and they have separate plans for those as well.
---
See How I Earn An Online Income Using My Simple 4 Step Formula
Best WordPress Hosting For 2020
---
HostGater – Quality Hosting and Affordable Price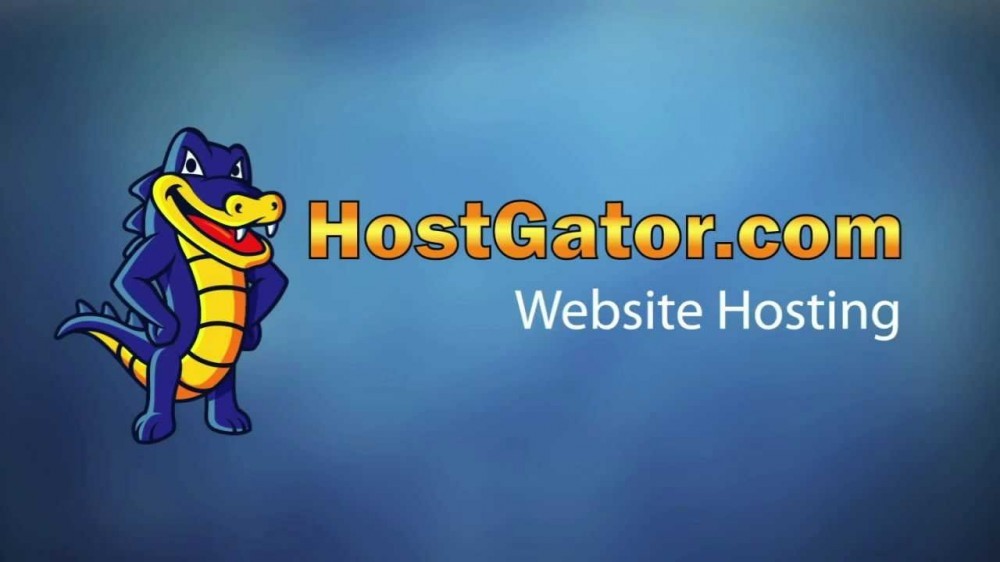 If you are just starting out creating your first website and you are looking to reduce costs, HostGator may be your best choice this year. Hostgator has three different packages; The Hatchling, Baby and Business packages. The differences between these packages include things like the number of domains you are allowed to use, bandwidth and the number of tools you are allowed to use.
They do offer less expensive packages, but I recommend their business plan if you plan on using your website to earn an online income, or are involved with any type of affiliate marketing to generate an income. You can get this package as low as $5.95 a month if you agree to pay for three years in advance. Plus this package is intended for WordPress hosting, which is the subject of this post.
If you are just looking to go with a monthly option without putting the money up front, then you will be paying at least $16.95 a month. This price includes their current promotion. HostGator is known for running different promotions throughout the year.
So, again, if you are starting out and trying to cut costs, it is really hard to beat HostGators prices. The problem, however, is that you may soon outgrow this package quickly since you are only allowed up to 25,000 visitors a month. This may seem like a lot at first, but a good affiliate marketing site can grow quickly, especially with the right affiliate marketing training.
Even with their low price structure, HostGator still gives you 24 hour support should any issues come up, and they can even migrate your website to their hosting platform from another hosting company if you choose to switch from another company.
WP Engine
As we move into higher quality WordPress hosting, and when your budget permits, WP Engine is one of the most impressive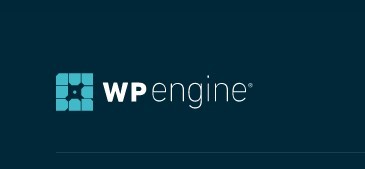 WordPress hosting services available and they do offer a wide range of packages. They offer up to 25 websites and their support is pretty impressive as well. They also offer a free SSL certificate, unlike HostGator. With HostGator, you have to pay extra for the SSL certificate. Keep in mind when you get into these higher quality WordPress hosting services, you are less likely to outgrow them. The higher quality (and higher priced) may be better in the long run as far as business costs are concerned.
WP Engine also offers a local development environment that allows you to experiment with your developing site and experiment safely before letting the world see it. this is known as DevKit. This is a pretty impressive feature indeed.
WP Engine is a great WordPress Hosting platform, but the major downside I see is the final cost. You are looking at $250 a month without any specials or promotions, which I am sure they provide from time to time. This is pretty expensive, especially if you are new to affiliate marketing or WordPress development.
But then again, for the more advanced marketer, this expense may be well worth the investment as your business grows and develops into a larger income source.
The Best WordPress Hosting and Site builder For 2020
Wealthy Affiliate

My number one pick for the best Website Hosting for 2020 is definitely Wealthy Affiliate Hosting. There are many reasons for this choice with reliability and website speed being at the forefront. If you have been following my website then you know that I recommend Wealthy Affiliate (WA) for its Affiliate Marketing training as well as its website building capabilities and community support. They are truly a one stop when it comes to all things related to internet marketing, affiliate marketing and niche marketing.
There are many attributes that sets Wealthy Affiliate apart from any other Website hosting service. What are these attributes?
Room to Grow Your Business

Usually when your getting started with your first website, you may have one niche in mind, meaning an idea for one website. But, in order to be successful with affiliate marketing, you may want to have the ability to create multiple websites to increase your online portfolio. The Wealthy Affiliate premier membership provides hosting to grow with you and your online business. They allow you to host up to 25 of your own domains in addition to 25 free SiteRubix websites as well.
Most of the other WordPress hosting companies only allow you to host a handful of websites without charging you more or having you upgrade to a much higher priced package. This is certainly not the case with Wealthy Affiliate.
A lot of other companies will only allow you to host a handful of
sites without having to upgrade to much higher priced services later.
Thankfully, this is not the case with Wealthy Affiliate as they want you
to grow and expand as you learn more about running a successful online
business.
Wealthy Affiliate is Simply Faster
Site speed is one of the core focal points for WA. Plus, as I mentioned above, loading time for your site is a crucial SEO element. In fact, this is only one of the advantages you get using WA as a hosting service. The average page load is 1.3 seconds for WA sites. This is an excellent site speed rating. WA has a unique "load limiting" process that actually monitors your websites and makes sure that they are always running optimally.
One of the other unique features of WA that contributes to the site speed aspect is image compression. You see, not only is WA a hosting and affiliate training community, but it also includes an awesome site builder platform. Within this site builder platform, there is a feature known as site content that allows you to select thousands of images that are royalty free. When you use this feature, these images are compressed to a size that helps with site speed as well. Not only that, but you can upload any other image within this platform and those images will be compressed as well. Compressed images definitely help with your overall site speed. Other factors, such as the number of plugins you use, also have an effect on site speed.
You Are Actually Double Hosted with WA
Another unique aspect of WA hosting is something that is referred to as full redundancy. This means that if one of your sites, for some reason, were to go down, WA has a "mirror" of that website running at all times. They will simply swap it out for you, instantly. This layer of redundancy is unique to WA and no other hosting company has this feature that I am aware of. The thing is, this double hosting feature is for All the websites that are hosted on the WA platform. Keep in mind you get 25 websites using your own domains plus 25 free websites that utilize sub domains within the platform.
Best WordPress Hosting For 2020 Comparison
We have a comparison chart of a few of the more popular hosting platforms. You can see from this chart that when you compare costs and features between Wealthy Affiliate vs WP Engines that you cannot beat the value that Wealthy Affiliate offers. Not to mention the fact that WP Engines does not include a site builder. Not only that, but the site builder within WA is top-notch.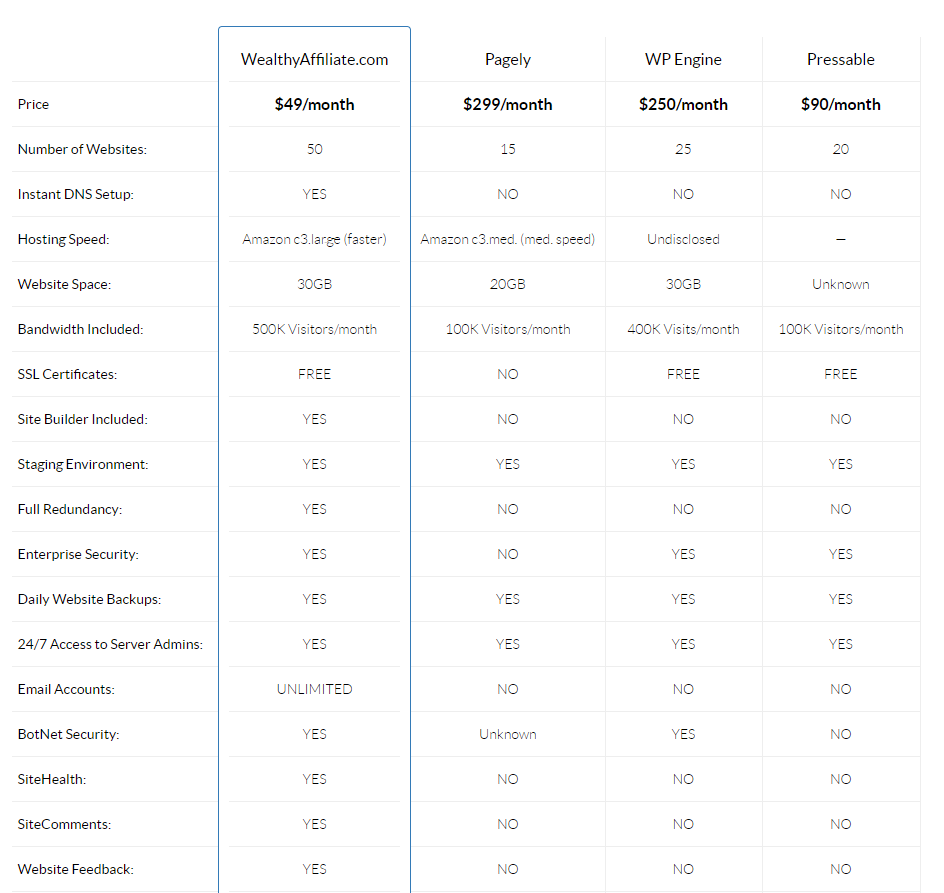 Conclusion
Selecting the best WordPress hosting for 2020 can be a bit confusing with all the options available these days, especially if you belong to a program that essentially tells you to simply go out and purchase hosting and not emphasizing the importance of selecting it for the long term. Many such programs will even encourage you to choose one based on the highest commission payout for their own benefit and not yours. One such recommendation is BlueHost, which I did not mention in this post for a reason. They didn't make the list because of poor value, but they do payout a very high commission.
I believe you should not have to worry about all the technical aspects of hosting, which is why I highly recommend WA as your hosting provider. They take care of all of your marketing needs and teach you along the way.