There are two main hurdles in Affiliate Marketing that once you have mastered, the possibilities are endless. The first one is finding a good profitable evergreen niche, and the other one is finding profitable and relevant affiliate programs to go with that evergreen niche. Add great content and great affiliate marketing training and you have found the secret sauce to a successful affiliate campaign. One great evergreen niche you may want to explore is the Cosmetic niche. Once you decide to proceed with very profitable niche, you will most certainly be looking for a cosmetic affiliate program to go with it. Here are our top 5 pics of the best cosmetic affiliate programs. Continue reading this post and we will help you find that secret sauce to a successful affiliate marketing campaign.
Just How Lucrative is the Cosmetic Industry?
The Cosmetic industry as a whole is very lucrative indeed. According to one study done in the Zion Report in 2017, the global cosmetic industry is worth 532 billion US dollars. Actually Europe is leading the market in the tune of about 6.5 billion Euros reported in 2006, according to FIPAR (Fédération des Industries de la Parfumerie – the French federation for
the perfume industry). The cosmetic industry plays a huge role both nationally and internationally, and has continued to grow well over 50 years now. Plus, there does not seem to be a decline coming any time soon. The beauty industry is another sub-niche within the cosmetic industry and you can learn how to sell beauty products online as well.
So, knowing the cosmetic industry is quite lucrative and that it is an evergreen niche one would be smart to pursue this as a great affiliate marketing venture to say the least. That being said, let's go ahead and look at our top 5 choices for a Cosmetic Affiliate Program.
#1 – Ulta Beauty Affiliate Program

Ulta Beauty is a global retail leader in the cosmetics industry. They have thousands of physical locations and a very massive product portfolio. They have a very strong social presence and very loyal customers and followers. They have a very diverse product line and their brand is very popular across several popular cosmetic categories. These range from nails and skin care to bath, body and hair. They offer a variety of services in their locations, beauty guides, and a huge brand. Their product line includes about 20,000 products across 500 well-established beauty brands across many price points.
The affiliate program offers the following:
1-5% commissions for its partners and this depends on the affiliate network
30-day cookie or tracking code
Extensive creative catalog which includes banners and other high converting designs
Full flexibility with its promotions.
We realize that the commission rate is a bit lower than other cosmetic affiliate companies, however, the product line and diversity that they offer, makes it a good choice to add to your affiliate program portfolio.
To learn more about the Ulta Beauty Affiliate program click here.
Want to Earn From Affiliate Programs?
You Need a Traffic Producing Website to Convert Readers into Buyers
Let Me Show You My Exact Method
Looking For A Cosmetic Affiliate Program? Here's Our Top 5 Pics
Affordable Mineral Makeup

Unlike Utla Beauty, Affordable Mineral Makeup offers a very high commission rate to its affiliates. They actually offer 20% commissions on all sales. This is very high, especially for a cosmetic affiliate program.
Affordable Mineral Makeup, also referred to as AMM, has been selling cruelty-free mineral makeup since 2006. They have affiliates as well as consultants. If you are looking for an affiliate program with physical products that offer a high commission rate, this is the company you want to promote. Below are some program features:
20% Commission on all sales
Custom coupon codes
Custom website
Bonuses based on performance
account manager support
Monthly payouts via PayPal or check.
It's a nice feature to get paid through PayPal, especially since this company does not have any minimum payouts. For more information about the Affordable Mineral Makeup affiliate program and how to sign up, go here.
Colourpop Affiliate Program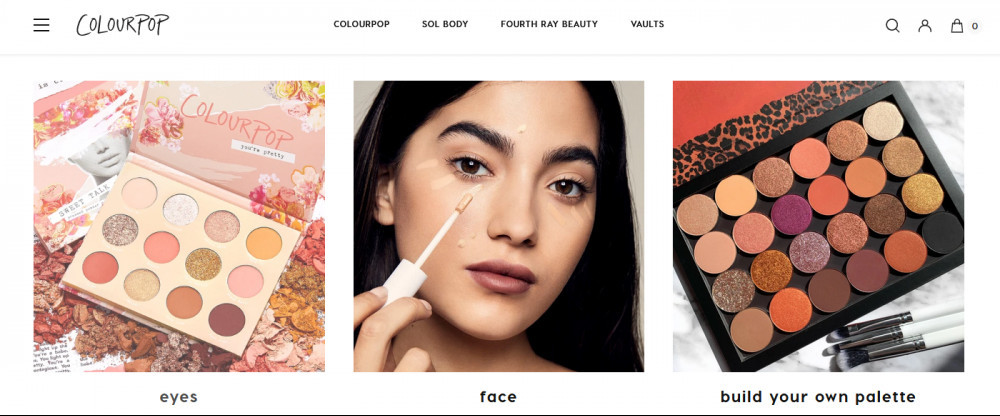 Colourpop sells a wide variety of cosmetic products and is a California based company that provides high quality, humanely tested cosmetic products at very low cost prices. Colourpop is also very popular because of their value priced cosmetics. In fact, their motto is "It's our mission to redefine luxury beauty by creating amazing products at prices that don't break the bank".
Colourpop offers a flat 6% commission rate to their affiliate partners, which is very competitive with other affiliate programs. It is certainly competitive with Amazon, Nordstrom (2% for their cosmetic affiliate program) and Walmart, which only pays 4%.
Some other advantages of the Colourpop Affiliate Program include:
10% discount program for email subscribers
Refer a friend program gives your friend gets a 15% discount coupon
Refer a friend programs gives the affiliate a 15% discount coupon if the friend makes a purchase
Access to free and unique banner ads and affiliate links
They support deep linking through Impact as their affiliate management resources.
As hinted above in the last bullet point, Colourpop uses IgniteOPM to promote and manage some of their marketing efforts. Ignite has placed the Colourpop Affiliate Program with Impact for link tracking, affiliate support, payments and reporting. Also, you can read my full review on the Colourpop Affiliate Program here.
If you are interested in joining the Colourpop Affiliate Program, go to impact. If you are already an Impact member, you can simply request to join the Colourpop program, if not, just go here to register with Impact.
Youngblood Mineral Cosmetics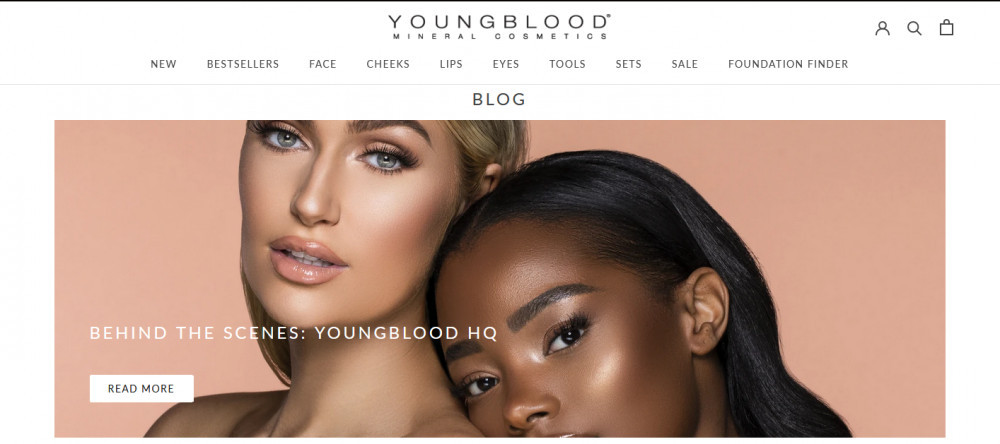 youngblood Mineral Cosmetics was founded by Pauline Youngblood, who was a medical aesthetician. Pauline was inspired by the treatments she provided in the past and the need for makeup that was so natural that it could be worn after treatment. For Pauline, clean luxury means sparing no expense to ensure ultimate performance with the most natural ingredients. Youngblood Cosmetics are considered to be the first "clean" luxury cosmetic brand and they continue to raise the bar and stay at the forefront of clean beauty.
Youngblood Mineral Cosmetics has a very diverse product line which includes products for the face, cheeks, lips, and eyes, along with tools, sets and foundation finder. Their bestsellers include, Liquid Mineral Foundation, Mineral Primer, and Eye Impact Quick Recovery Eye Cream.
Now, let's go ahead and discuss the Youngblood Mineral Cosmetics Affiliate Program and it's benefits. Becoming an affiliate is fairly painless. You simply need to have your blog or website within the cosmetic and/or beauty products niche.
It's easy to qualify as long as your content is not offensive or misleading in any way. Why would you want to add the Youngblood Affiliate products to your affiliate profile? Check out the program details below:
8% commission of each sale produced
30 day cookie duration
Supports direct linking and promo codes
Personalized Creatives For Your Blog or Website
If you are interested in applying for this great affiliate program simply fill out the information on this page Youngblood Affiliate Program.
Once you fill out the requested information, you will typically hear back within a week from your application date.
Want to Earn From Affiliate Programs?
You Need a Traffic Producing Website to Convert Readers into Buyers
Let Me Show You My Exact Method
Looking For A Cosmetic Affiliate Program? Here's Our Top 5 Pics
Sigma Beauty Affiliate Program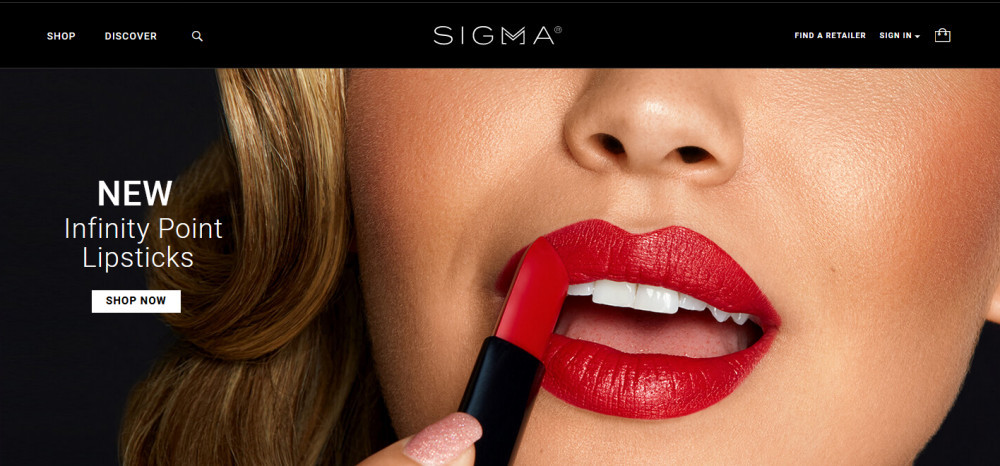 Sigma Beauty is well-known for its 100+ professional-quality makeup brushes and an ever-growing, exclusive color cosmetics product line. They are also an industry leader in brush cleaning accessories with their award-winning Sigma Spa product line.
They started back in 2009 with the couple Dr. Simone and Rene Xavier Fiho, a molecular bacteriologist and civil engineer respectively. They both launched Sigma with one brush set that captured a cult like following and then they sold the company. From this point on, a group of over 90% female team joined together and continue to develop new ways to transform beauty routines. They are known by the capital Greek letter symbolizing a mathematical sum called "Sigma". The equation is: Quality + Function + Innovation.
They have a very diverse product line and allows the affiliate to offer a variety to their customers. So, if you own a blog or website in the cosmetic or beauty niche, this is a great affiliate program offering the following features:
10% Commission rate on all sales generated
Choose from a wide array of eye-catching influencer banners, social media images and a daily-updated product feed
Access to a dedicated account manager to help with strategies, tips, questions, payments and more
Tracking technology providing information on influencer performance and areas of opportunities.
Sigma Beauty has partnered with Impact Radius and their affiliates are known as influencers.
To get more information regarding the Sigma Beauty Affiliate program, check out their Influencer Program page here.
Ready To Earn With A Cosmetic Affiliate Program?
Now that you have an idea on where to find some best affiliate programs available in one of the most evergreen niches in the industry, are you ready to take the next step and learn how to earn an awesome passive income with a Cosmetic Affiliate Program?
Even if you have struggled in the past with finding ways to earn online with your affiliate marketing website, you are not alone. It can be challenging at times to gather all the information from the internet and develop a pathway to affiliate marketing success.
If you are ready to finally find an easy path that has led thousands of people to great success in affiliate marketing, take a moment to check out my top recommended place to learn internet and affiliate marketing.
If you decide to check it out further, you will find a community of over 2 million people just like you who are working to create full time passive incomes online. Plus, you will get me as your personal affiliate marketing coach to help you every step of the way.