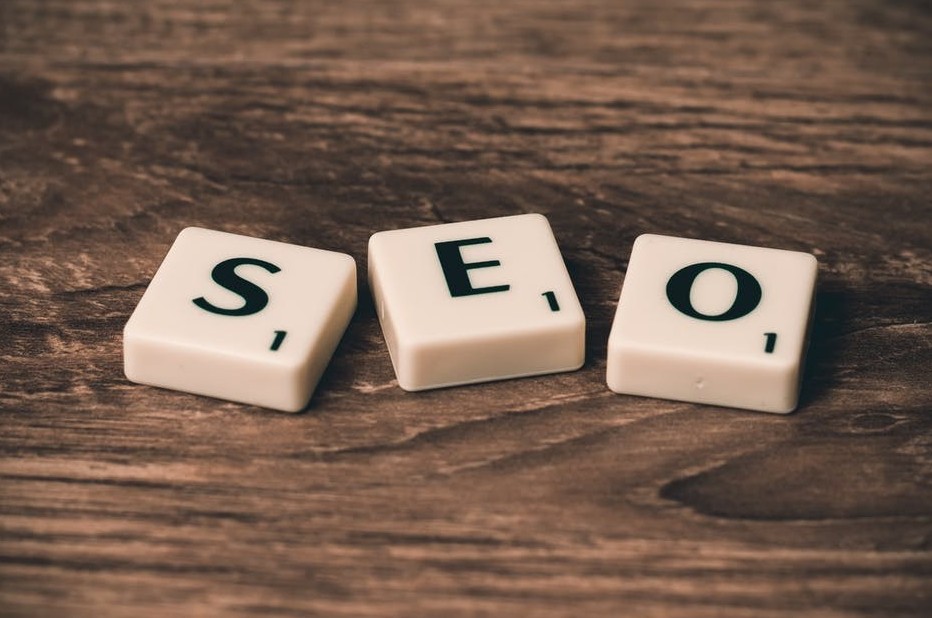 Since you are reading this article, you most likely understand the importance of using the right keywords for your marketing efforts. You may also realize that keywords are not only important for ranking a page or a post on your site, but have other applications as well. That being said, the best SEO keyword research tool needs to be robust enough to satisfy all the requirements necessary for effective content marketing.
As marketers, we need to know how our page, post or site compares to our competition, how they are ranked in the search engines, as well as how we are ranked in the search engines. We need to know our position in the SERPS. We need an in depth look at all the factors that impact our content marketing and we want it all on one platform, without having to use a variety of tools.
So, what is the best research tool to use that encompasses all of our needs?
Best SEO Keyword Research Tool – Are We Sure About This?
---
Well, I am certainly sure about this statement. In this review, I would like to share with you why I believe Jaaxy is the only research tool in my arsenal of marketing tools. Jaaxy has all the necessary features that we need to use for all of our keyword research needs. I will go through each of the features and benefits of Jaaxy to give you a full understanding of the power and value it really provides for the content marketer.
I will also describe the different levels and access points of Jaaxy and how you can use it for free to try it out before choosing one of the paid options. You will soon see how powerful this tool really is and you will definitely be surprised to see what data is available to you as a marketer.
The very foundation of Search Engine Optimization (SEO) is targeting the right keywords, But, of course, there is more to it than just coming up with the right keywords. There is also
niche research,
competition analysis,
search history and analysis,
finding the best affiliate programs,
and brainstorming.
And Jaaxy has all of these built into one single platform.
Membership Options
---
Jaaxy allows everyone an option to use its amazing features and benefits by offering an option at all price levels including FREE!
There are three membership options available:
Free Version: $0 (30 free searches)
Jaaxy Pro: $49 per month
Jaaxy Enterprise: $99 per month
There is another free membership option for Jaaxy and really is the most cost effective way to get started with Jaaxy.
Jaaxy is now offered for free as a premium member of Wealthy Affiliate. Find out all the details of the most awesome affiliate marketing platform on the planet by reading my latest Wealthy Affiliate Review HERE.
Click the image below to get started with Jaaxy and choose your membership option: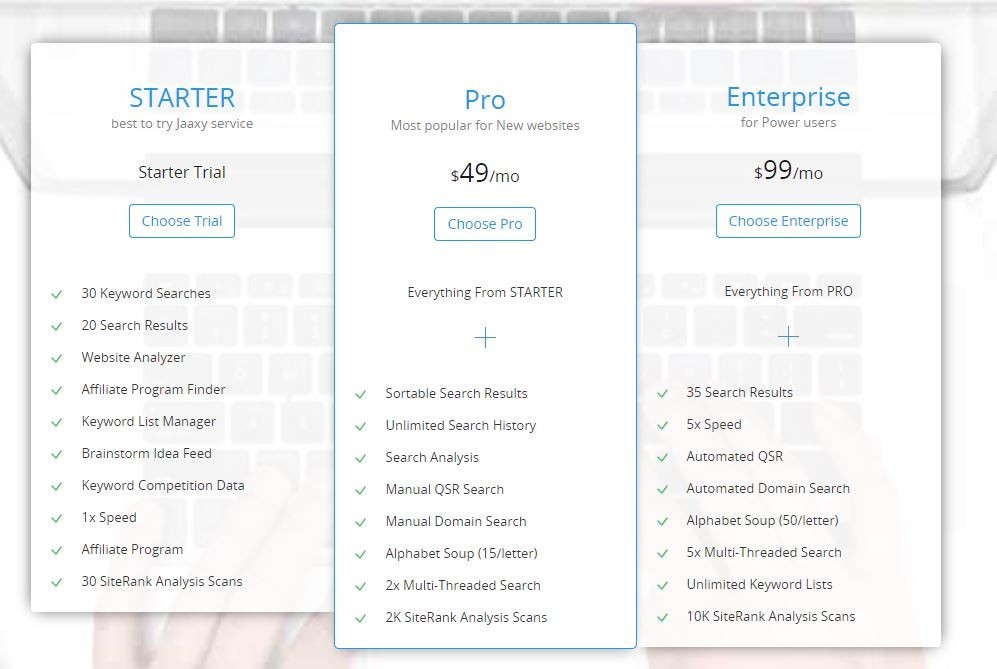 The Main Components Of Jaaxy
---
There are a lot of moving parts that contribute to the effectiveness of high quality content, and let's face it, high quality content is what matters most in today's competitive market place.
People are on the internet to find quality information that addresses what they are searching for. Information that answers their questions or information that offers a solution to problems they have. They are researching to find high quality content that address the areas they are searching for and those that offer good content are the ones who get the visitors to their sites.
Every good marketer realizes that if they can provide content that addresses what people are searching for then there is plenty of opportunity to make a great income online. Jaaxy offers 10 main components that help marketers get the edge on their competition so that they are the ones who can help potential customers obtain what they are looking for.
These 10 components include:
Keyword Data
Alphabet Soup
Saved Lists
Search History
Search Analysis
Affiliate Programs
Site Rank
Affiliate Program
Jaaxy Help
I would like to describe the most utilized components in more detail below.
You can also sign up for a FREE account here and try them out for your self.
You get 30 free searches, just enter your keyword below for FREE search Results:
Keyword Data
---
I cannot express enough the importance of good keyword data. There are approximately 500 million brand new search terms being searched every single day and the importance of having a search tool that can keep up and offer competition data, accurate traffic data, and domain insights into billions of keywords is extremely important in today's market place.
Jaaxy produces the keyword data you are looking for in a matter of seconds, not minutes. The data you get shows traffic, competition, QSR, ranking and domain data for billions of search terms.
Right from the dashboard, you get access to:
Avg (searches / month)
Traffic (Visits / month to your website if you are on first page)
QSR (Quoted Search Results, # of competing websites)
KQI (Keyword Quality Indicator, Green is great, yellow is OK, Red is poor)
SEO (score of 0 to 100, 100 being the highest)
Domains (what is available for that search term)
Below is an example view of a keyword search from the Jaaxy dashboard.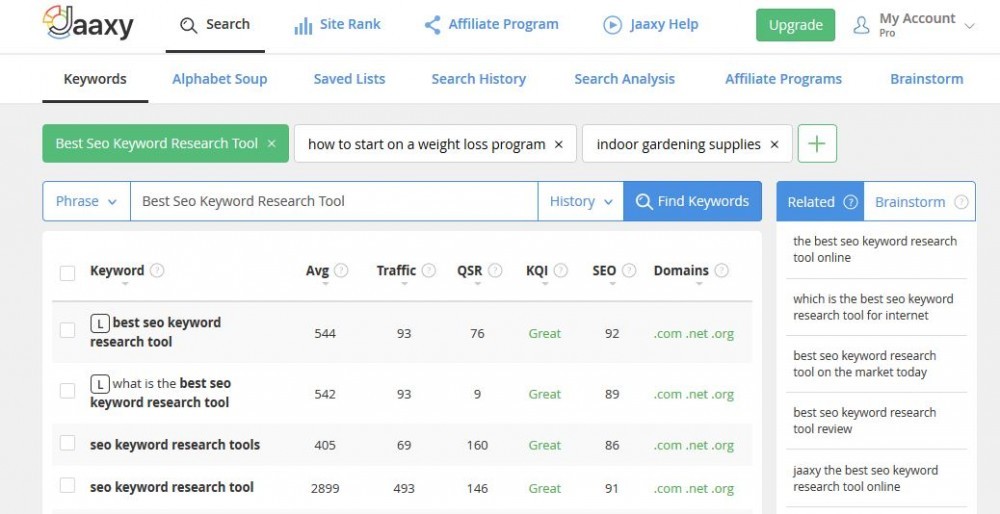 Alphabet Soup
---
You may be hungry, but this isn't the kind of soup you can eat, sorry. The alphabet soup feature in Jaaxy is a high speed automated version of a manual technique with the same name.
The alphabet soup technique in Jaaxy is an automated version of what you can do in Google manually. You may have noticed as you type a search phrase in Google, you see underneath suggested phrases that Google generates. These generated search phrases are derived from popular phrases that people have searched in the past.
This type of information provides the marketer with ideas that they can then take to the keyword tool and find other keyword ideas to narrow down to the ideal search phrase. We can then use information such as search volume, competition, and SEO scores to narrow down to the ideal keyword phrase.
The image below displays more accurately what I mean by the manual version of this technique that Google provides: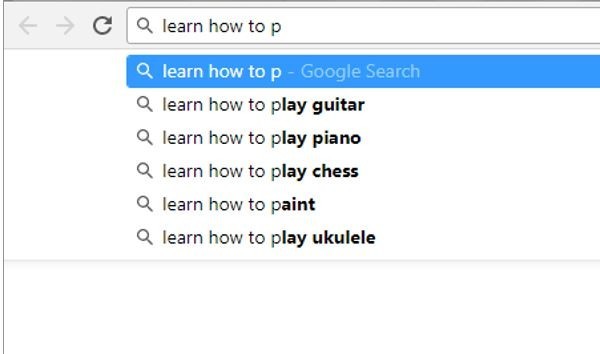 As you can see Google finishes the search with historical data. You can type in the letter "a" above instead of "p" and you will get word results that start with the letter "a". You can do this for "b" and so on. This is why it is called the alphabet soup technique.
Now Jaaxy has taken this a step further and has completely automated the process.
Check out the image below to see what I mean.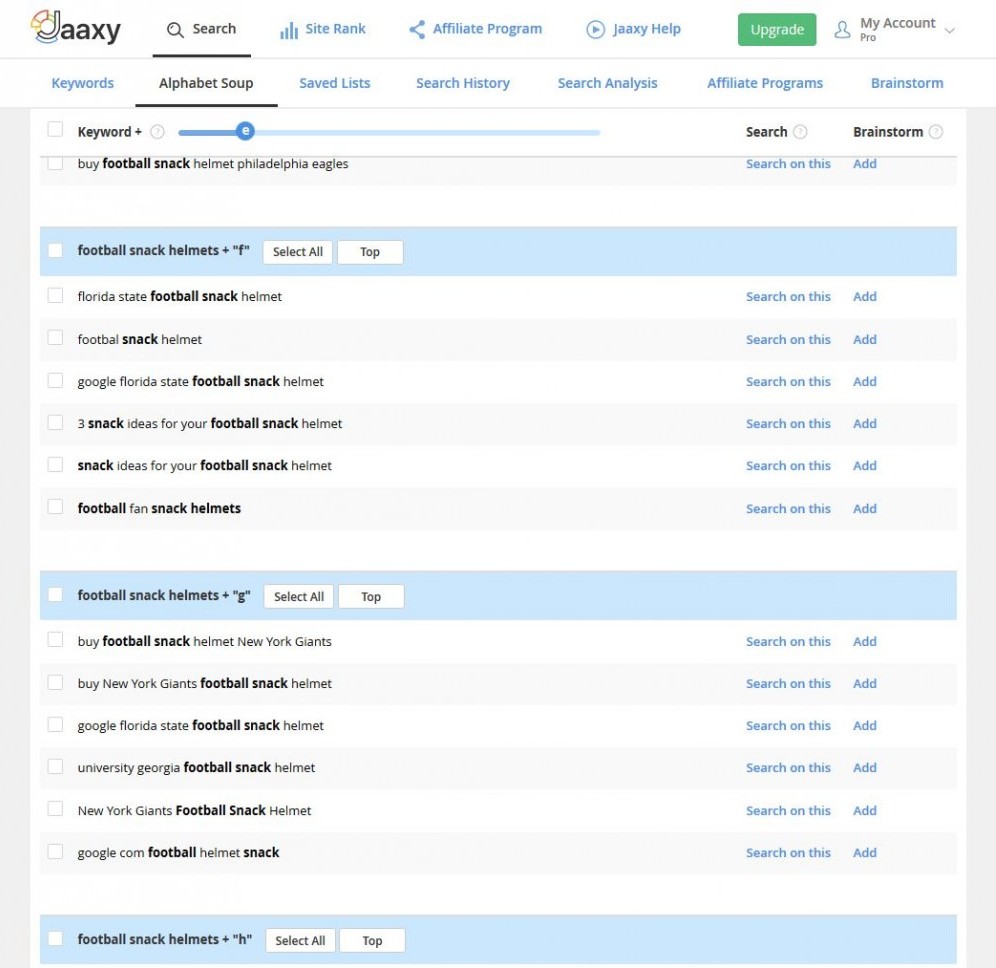 Using this technique alone can save you hours upon hours of research time alone. Not only that, but you get a never ending amount of search term and keyword ideas to build out an amazing amount of very targeted content that will drive massive amounts of traffic to your website.
As you can see in the right-hand column, you can click on the "search on this" link and then obtain all the necessary data from all the metrics that Jaaxy offers from the keyword data section shown above.
Saved Lists
---
The saved lists area of Jaaxy is a great place to house all the research data that you have accumulated using the data search features as well as the alphabet soup technique. The saved list feature allows you to categorize your keyword phrases into named categories for future reference. This way you don't have to search again for terms you have already searched for because you forgot the results.
I use this feature a lot when I am conducting niche research. For example, I may want to look for search terms to build a website upon. If I find a good search term that has a lot of searches with low competition, I may want to build an entire website just for that topic. Once I find the niche, I can then look for supporting search phrases to build my individual pages upon and then categorized and save them under my niche phrase as the title. You can have many saved lists.
For example, I created two different list categories, SEO, and building websites and found a variety of keyword phrases with high search volume and low competition and then saved them for future reference. I may want to go back and create websites in these two categories. It will be easy because I have already done the research and know the phrases upon which to build out my pages on. These phrases are being searched and I can easily rank for these terms. Check out the image below for details: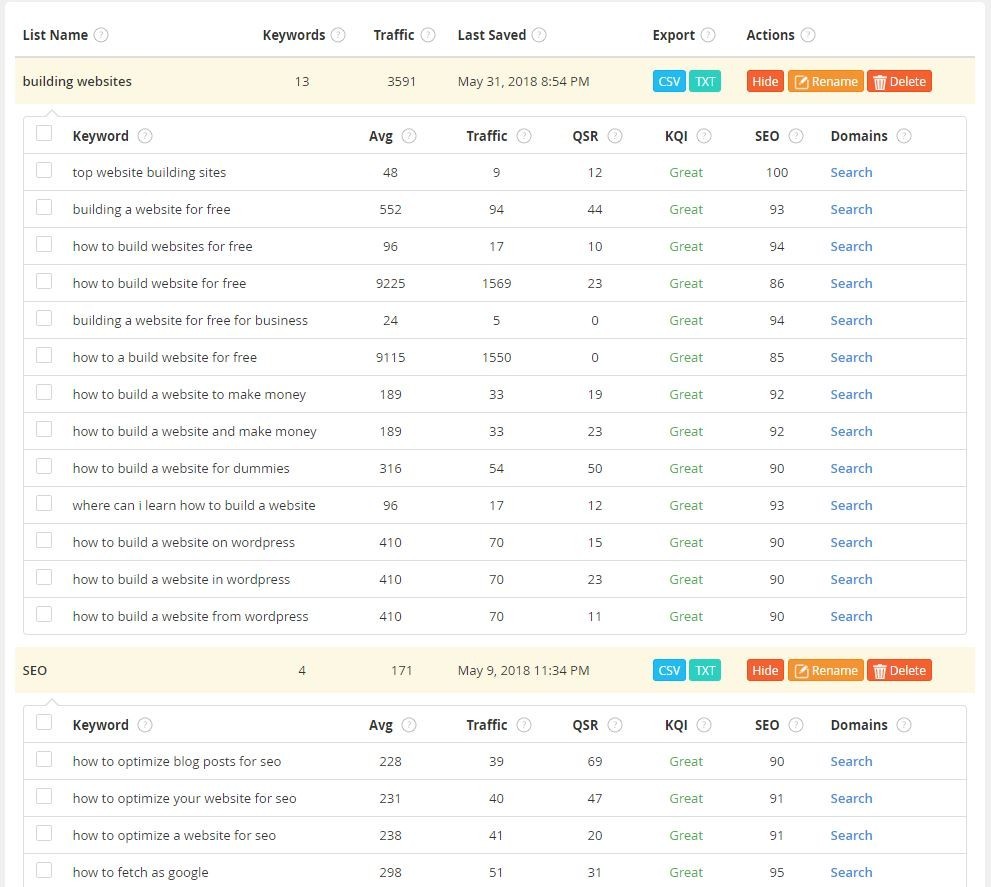 As you can see, all the keywords I saved into these two lists have a good number of searches per month with a low QSR rating indicating low competition. Metrics that I like to follow are an Average search volume of above 100 a month (first column) and a QSR rating of less than 100 (second column). Remember from our discussion above, that the QSR rating metric indicates the number of competing websites.
Based on these metrics, it would be wise to build a website in the SEO niche or building website niche since I have a lot of good keyword data that shows high search volume with low competition. There are millions of keywords available like this, which means there are many, many opportunities to make a good income online. It only takes a good research tool like Jaaxy, to help you pick them out.
Search Analysis
---
I think that the search analysis feature of Jaaxy is the most amazing aspect of this research tool. It really gives you a good look at your competition. Once you have done some keyword research and are ready to start building out your content, you may want to go a step further and see what your competition is doing with the same keyword phrases.
You simply type in the desired keyword phrase, select the "find keywords" button and bam!
You get instant access to detailed information on the top 10 ranked web pages that are ranked for that same keyword phrase. Details such as, the complete meta description, website word count, links on site, # of back links, Alexa rank, adsense.
This is valuable information to see if you want to try and rank for a particular search phrase. Check out the image for an example of a search term for "How to build a website for free".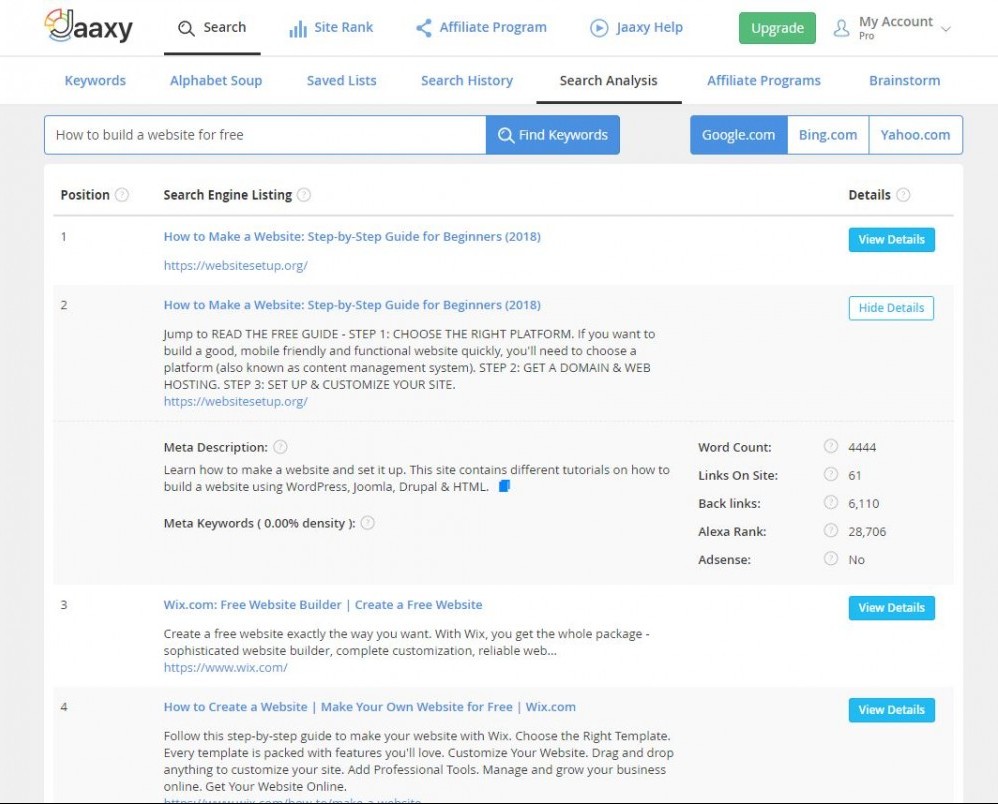 As you can see from the result page, that you see exactly what your competition is doing that are on the first page of Google. You may, or may not want to try and out rank a site that has a huge number of back links, for example. Or, you may want to look for a niche that doesn't have as much competition or has fewer number of a particular metric. The idea is you have this information available to you within seconds.
Site Rank
---
Site rank is another awesome feature that gives you very valuable information indeed. It allows you to see exactly where your page or site ranks in the Google, Yahoo and Bing search results. It tells you specifically the page and position within the SERPS.
In the Pro version of Jaaxy, you get 2000 search scans for any website URL you choose. In the Enterprise version, you get up to 10,000 search scans, and with the free version you get 30 site rank scans.
You enter the keyword you are trying to rank for and the domain of the page, post or website and the system will pull the results and show you where you are ranked (if, indeed, you are ranked).
This feature can be used for a website you own where you would like to see how you rank for a particular keyword phrase, or if you want to see how another site, say your competition ranks for a particular keyword phrase.
This is certainly a more efficient way of performing this type of search than simply typing the phrase into Google. You don't have to use the Incognito function and you get more relevant information given to you.
Check out the image below for an example of how this feature is used.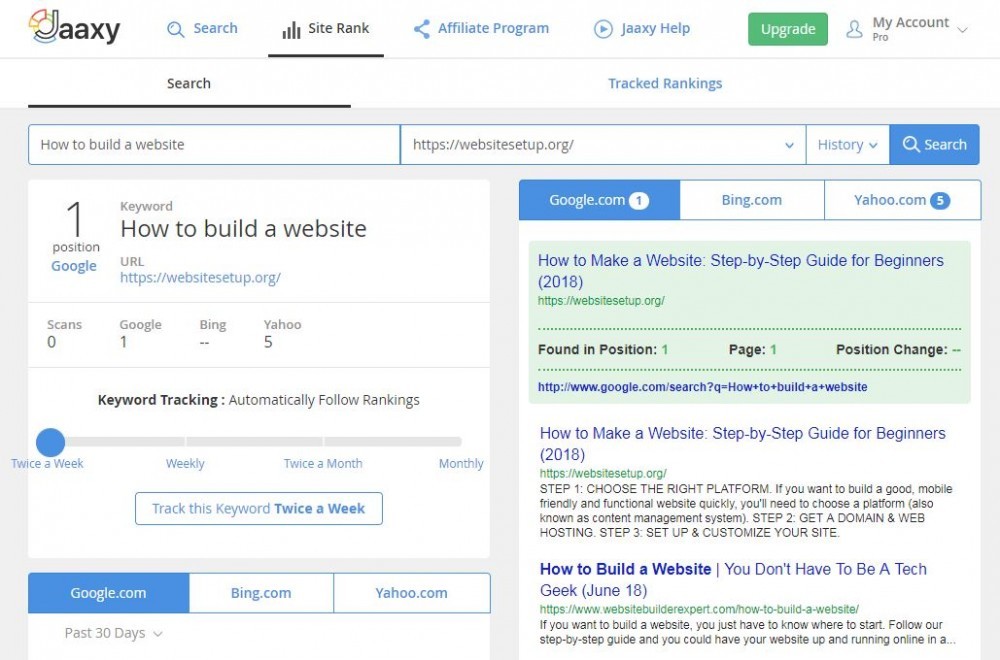 As you can see from these results, the information given includes Google, Bing and Yahoo search results. In this particular case, this site (first position in Google) ranks for the search term "How to Build a Website" on the first page and first position of Google, The first page and fifth position of Yahoo, and it does not appear in any of the significant pages of Bing.
This is good information to have if you want to see how you rank or if you want to see how any other website is ranking as well.
Conclusion and Final Verdict
---
Well, it is pretty obvious that I like how Jaaxy functions as a keyword tool and I certainly think that it is the best SEO keyword research tool on the planet, by far. It offers the most value for your money and really is the only keyword research tool you will ever need. Jaaxy is good for keyword research for posts or pages as well as for niche research. Jaaxy is also a great tool to "spy" on your competition.
It would be impossible to cover all the specific details of Jaaxy without trying it yourself, and the great thing is that you can