How would you like to have access to the exact successful funnels that 6, 7, and 8 figure earners are using to kill it online without having to reverse engineer their process manually and get access to 12 complete and proven online sales funnels fully explained to you. You must admit that it's a very tempting offer, and that's what the Online Funnel Mastery promises to give to you. Can it deliver on its promise, or would you be better off taking your time and money elsewhere? That's what we are going to be looking into in this Online Funnel Mastery Review.
What is Online Funnel Mastery?
---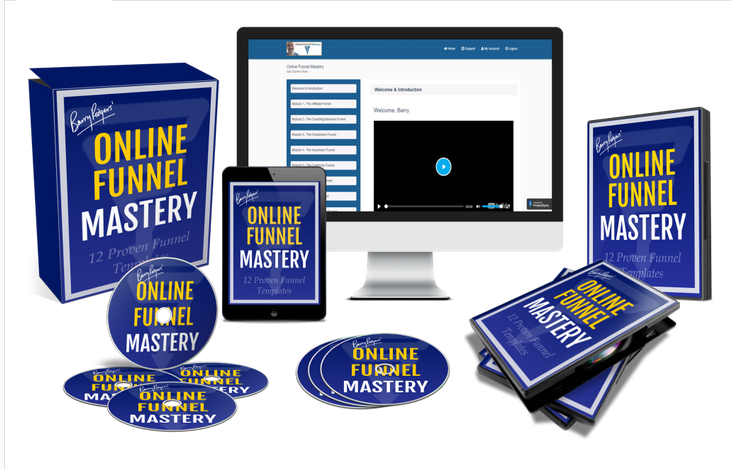 Online Funnel Mastery is a training program that details 12 proven online funnel blueprints. They give you an overview of each of these funnels, showing you how the flow is created. This is done through video and PDF formats, They each have a video that explains the "tech and tips" of how to create a conversion funnel and the components and how to make each funnel go live.
They claim that each funnel comes with a "funnel map" download that makes it easy to visualize exactly how each funnel is constructed. This is done by something known as Funnelytics.
Online Funnel Mastery was created by Barry Rodgers.
Check out the video below for an inside peek into the back office of Online Funnel Mastery:
The Online Funnel Mastery Sales Page
---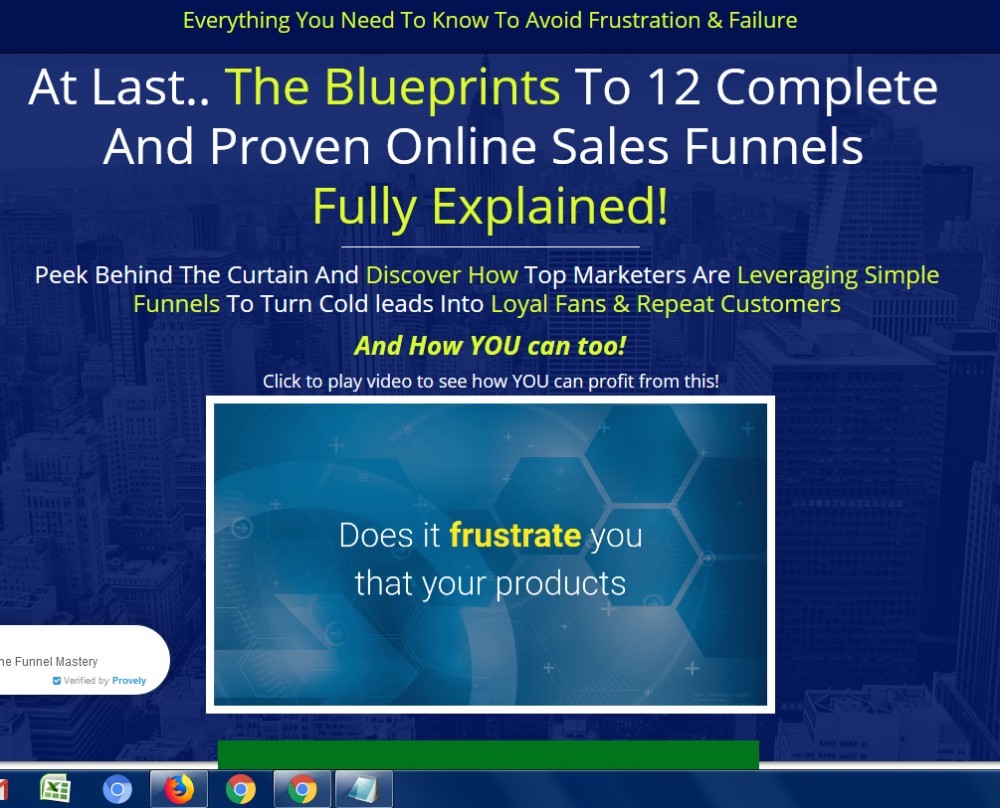 As you can see from the sales page, you get a peek behind the curtain and discover how top marketers are leveraging simple funnels to turn cold leads into loyal fans and repeat customers. They claim that after going through this training that you too, can learn how to profit from these very same funnels.
So, from the sales page you realize that the real product is a look at how sales funnels are used, what they look like and you are even provided with maps of how the funnel would look from the perspective of the prospect.
So, that being said, the main product is sales funnel training. If you are not familiar with what a sales funnel is, let me give you a quick explanation of what they are and how they work.
So, What Exactly Is a Sales Funnel?
---
If you are new to the make money online niche, you will soon realize there are a huge number of online programs talking about sales funnels and capitalizing on the whole process. This is done to the point where sales funnels seem like a huge complicated mess. But, they really don't have to be.
Online Funnel Mastery really simplifies this whole process and helps you become very successful online utilizing the proper sales funnel that you need according to your individual needs.
Sales funnels are typicall used by some marketers to get you to purchase a higher priced product or service from the original product you are looking at purchasing. They usually start you out with a low-cost entry product and then send you through a series of more expensive (up-sells) and less expensive (down-sells). Some funnels start with a free product and then move up and down accordingly.
While not all up sells are necessarily a bad thing, many online marketers will often leave certain key components out of their original product so that they can then offer those key components in the form of an upsell in their sales funnel. The results are that the information you thought you were going to get for the original low price for the original product, is now only available if you spend a lot more money on the upsell inside of the funnel. Of course, you do not know that that up-sell is going to take place or not.
This is not the case with Online Funnel Mastery. The original product does stand on its own and has a huge amount of value, especially for the price.
I would highly recommend this product to learn how professional marketers are utilizing the best types of funnels that are proven to work.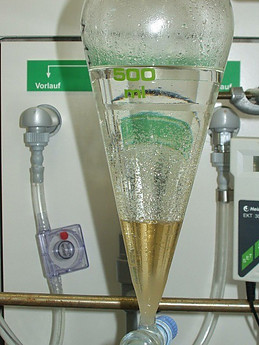 The only type of up-sells I like to take are the ones that enhance the product I purchased that stands on its own accord. For example. If I purchase a phone and later purchase a nice holder or a nice set up earphones to go with it, the phone still stands on its own accord as a phone. It is not missing anything that is required for its functionality.
---

---
Up-sells You Can Expect From Online Funnel Mastery?
---
There are actually three different up-sells and three different down-sells to this product. I will explain each one of them as follows:
Upsell #1, gives you two DFY Online Funnels.
The first DFY online funnel is based around a product called "Email Profits Formula" which is a product by William Fletcher that grants you resell rights to (this is a PLR product, that is allegedly worth $97.
It consists of a free giveaway, responsive squeeze page, redirect page, sales page, bump page, fully monetized thank you and delivery pages (the product delivery pages are also protected by password), full email sequence to establish authority and sell the main product to people who get the freebie.
The second DFY online funnel is a mini-course elevation funnel based around a personal growth product called "The Organized mind.
In case the prospect did not take upsell 1, they will be directed to a downsell which will give them access to just of the DFY funnels – the Email Profits Formula, for a lower price.
Upsell #2 – Lifetime Access To Everything Rebrandable (& Downsell #2)
Everything Rebrandable is a continuity site that Val Wilson & Barry Rodgers have run for the last 3 years.
Upsell #3 – The Rodgers Report Special Price (& Downsell #3)
This is Barry's private newsletter. This is a recurring product and there is a choice between monthly and yearly subscriptions. This is a huge value and well worth the price.
It comes complete with a mini-course delivered by email sequence (including free download), redirect page, sales page, upsell page, all fully monetized thank you and delivery pages (delivery pages protected by password)
Both of these funnels are created fully personalized and linked using web-based software.
To get a visual understanding of how these up-sells and down-sells look, check out the image below.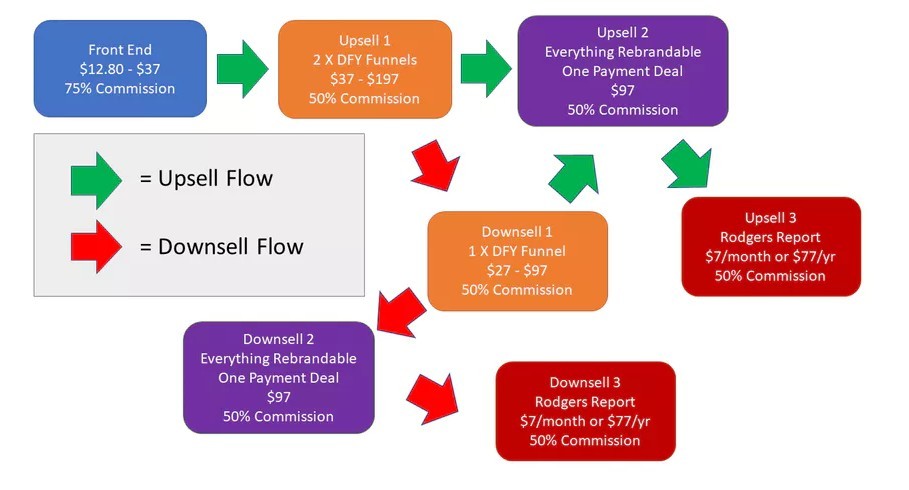 Pros and Cons of Online Funnel Mastery
---
Pros:
12 proven online funnel blueprints
These blueprints are proven techniques that work.  It gives an overview of each one, showing how the flow is created (video + pdf formats) and also has a video explaining "tech and tips" – actually how to create the funnel components and make each funnel live.
The training is excellent
The training is very good and teaches you how to use the funnels and gives you the best traffic training as well.
The training allows for any type of funnel building software of your choice. 
I personnaly like building funnels on my own website so that the visitors that come in are mine and hosted through my site. This is one aspect of this training I find to be outstanding.
Newbie friendly and for experienced marketers as well
Cons:
Traffic can be expensive, unless you learn how to optimize your own website utilizing these funnels – Check out the free training below. 

---
Online Funnel Mastery Review – This one is different
---
Utilizing sales funnels are a great way to engage with your potential customers and generate good traffic to your very own website. The main problem with pre-built funnels are that they take the traffic away from your own website. Systems like ClickFunnels actually do this. You are much better off building the sales funnel on your own website.
What is really cool about Online Funnel Mastery, is it tteaches you how to use the correct sales funnel for your specific niche or platform. No matter what you are promoting. You can then apply it to fit your needs.
This allows for great branding and overall engagement with your audience and is far more effective for generating passive income and not having to rely upon canned software or other systems.
Not only that, but if you have your own website you will not have to deal with some of the hosting issues that you would have to deal with when using pre-built funnels.
When you create your own funnel on your own hosting platform and use your own site and domain for landing pages, you then OWN your funnel. This means that only you would have control over it and you would not have to worry about losing later. This is true marketing and Online Funnel Mastery can teach you how to utilize the proper funnel on your own website.
While paid traffic methods can be a great way to get people to see
your offers in any online business, if you don't know how to optimize
your ads, it can cost you thousands of dollars in experimentation before
you ever see a sale, let alone break even or make a profit. So, in addition to the awesome training that Online Funnel Mastery gives you, I will include as a bonus a great website training that will supplement Online Funnel Mastery for Free.
Free Bonus For Checking Out Online Funnel Mastery?
---
If you want to learn step by step how to build a great website to utilize the sales funnel blueprints you get with Online Funnel Mastery with your online business, Click the banner below for my free bonus training.
Online Funnel Mastery
Price Varies with up-sells