If you came across the free 15-day training or you are looking for The Legendary Marketer Review that will give you the real scoop, you have come to the right place. You see, I am not a current affiliate for The Legendary Marketer, so this is not one of those typical reviews you read by affiliates who want you to join through their affiliate link.
I did, however, go through the 15-day training and did my due diligent with this program because I was seriously considering upgrading to one of the many levels that the program offers. To be clear, you can and people do make real money with this program, so, some screenshots you may have seen from others promoting this system are most likely real testimonials.
So, this program, in my opinion is not what you would call a scam. But, whether this system will work for you and generate the kind of income you are looking for, may be another story.
The main objective of this review is to give you an objective view of the program and provide you with all the necessary information for you to make a well-informed decision.
So, let's begin with a short summary of the program.
The Legendary Marketer Review Summary
---
Product Name: The Legendary Marketer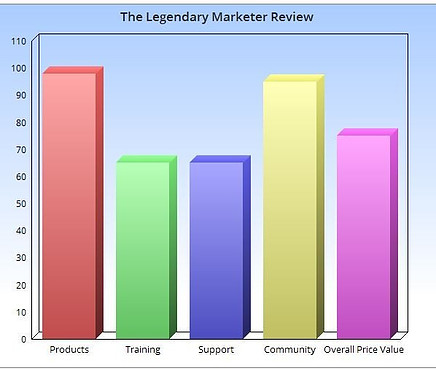 Website: www.legenarymarketer.com
Price: Free Membership (for 14 Days)
Re seller ($30 per month), Up-Sells to $30,000
Owner: David Sharpe
Products and/or Services: 98 out of 100
Training: 65 out of 5.0
Support: 65 out of 100
Community: 95 out of 100
Overall Price Value: 75 out of 100
Overall Rating: 79 out of 100
Program is best for: The owner, and other marketers who have the capital to invest and capitalize on the high ticket programs that are offered.
---
See How I Earn An Online Income Using My Simple 4 Step Formula

The Legendary Marketer Review – Is It What It Appears To Be?
---
What is The Legendary Marketer?
---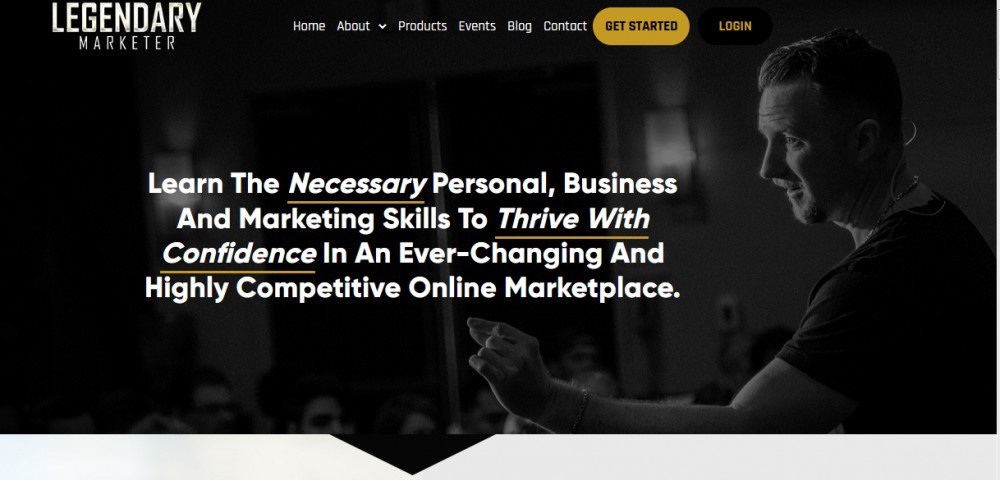 The Legendary Marketer is an education platform designed to teach people how to make money through affiliate marketing. This program was created and developed by the Legendary Marketer David Sharpe. As you may or may not know, David Sharpe was the co-founder of the infamous internet marketing program known as Empower Network. Also, as many of you may know, Empower Network is no longer around today.
David Sharpe has been in the business for about 10 years and has led or founded three different multi million dollar business, so, yes, he is the real deal. He does seem to have the passion of helping others earn big money online. This is really the heart of this program.
Legendary Marketer is centered around teaching you to sell high ticket products in the internet marketing niche. Of course, like similar programs, you have to own the products before you can sell them. This is the real kicker here, because these products are not low cost. They are, indeed, high ticket programs.
There are actually seven different programs available designed to provide a different level of internet marketing education. They include the following:
The 15-day online business builder challenge
Legendary Marketers Club
Traffic Rolodex Bundle
Affiliate Marketing Business Blueprint
Digital Products Business Blueprint
Coaching and Consulting Business Blueprint
Events and Masterminds Business Blueprint
I will dive into the details of each of the above mentioned programs and discuss what they are and, of course, how much they cost. Again, in order to make commissions from these products, you must own them. This is really not the case with the majority of affiliate programs that many marketers are doing extremely well with. Most affiliate marketers are making great incomes online without have to actually purchase the product they are selling. More on that later as well.
How Does Legendary Marketer Actually Work?
---
When I joined legendary Marketer, I was introduced through a capture page that looks like this.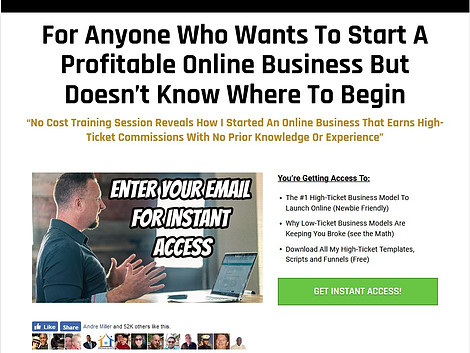 It was free and the main reason I signed up was because I was looking for free offer to offer my readers of my blog. I guess I was looking for the lazy way out, instead of creating my own.lol
Once I hit the green get instant access button, I was led to a simple capture page that asked for my name and email address.
I was then instantly led to free access to the 15-day challenge. So, I started to proceed through the 15-day training.
As I was approaching day 4 of the course, I noticed something very similar to two other programs I had joined in the past. These two programs are no longer with us and you may have heard of them as well.
These two programs are known as MOBE and Digital Altitude or Aspire. As you may or may not know, both of these programs were shut down by the FTC (Federal Trade Commission) and determined to be out right scams. Now, in no way am I saying that Legendary Marketer is a scam, but the model is very closely related to the model that these two company's used. So, what model am I speaking about?
The model or technique I am referring to is the whole idea of having to talk to a coach on the phone before you can proceed with the rest of the "free" 15-day online business builder challenge. You cannot proceed until you have made contact with the coach and that coach releases the rest of the training for you.
As you can see from the image below, you are given daily tasks for each of the 15-day challenge. This is where I got stuck.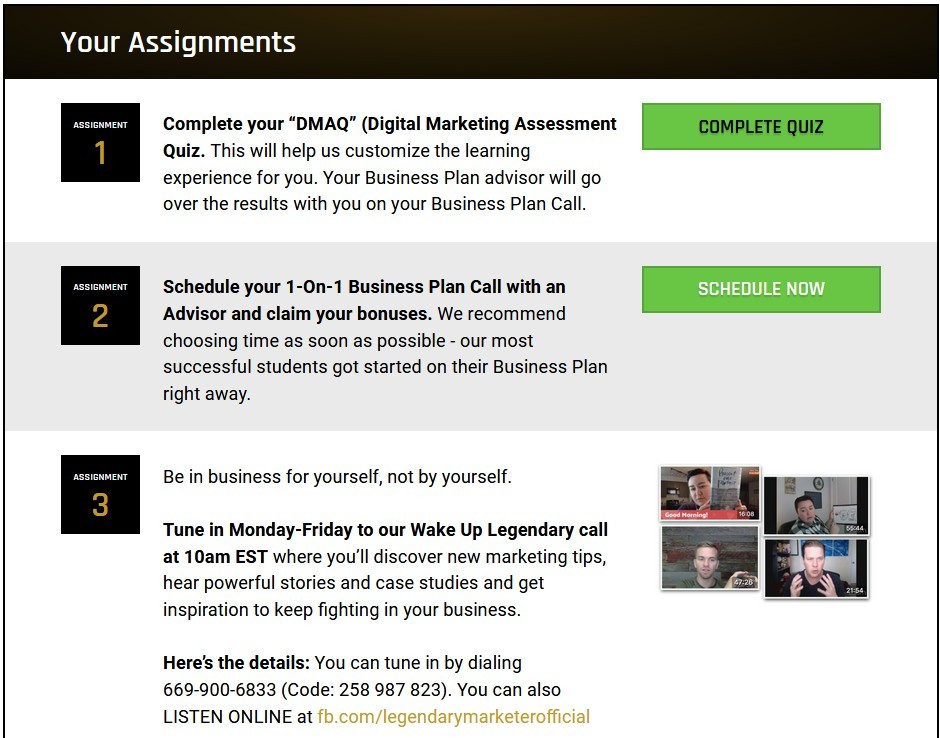 As I mentioned above. I got stuck on day 4. I actually clicked on the link to have an appointment with my coach. My coach did not have an available slot on her calendar. Go figure. Finally, I did get a call back and an appointment set. So, one thing I noticed is that I was going through a very similar experience I went through with both MOBE and Digital Altitude, but not quite as bad. Let me explain.
You see the model being used is that these are not really coaches who are giving you coaching value. They are really sales people in disguise. Their real objective is for you to purchase the highest possible package you can buy. Preferably the highest priced one.
When I was going through the 21 step system with MOBE and got to the coaching call, they simply closed down the rest of the steps for me because I did not purchase the $2100 package. They simply would not allow you to finish the free training after step 5 unless you spend a huge amount of money. There were many complaints about MOBE and they eventually got shut down.
I had a similar experience with Digital Altitude. When I got to their coaching call, they allow you to continue if you don't purchase the up-sell, but with absolutely no support, even if you had purchased their lower monthly package. So, they were a bit better than MOBE, but, again, they were shut down as well.
Now, as I mentioned before, The Legendary Marketer is not a scam, but their model is very similar to these two company's. Their coaching system is indeed a way for them to get you to upgrade to the next level. This is where they try and convince you to purchase the affiliate membership for $30 a month. You can still be a free affiliate, but you do not get that much support and your commissions are very low. You are very limited to any tools at the free level, it is hardly worth wasting your time on.
So, this is the reason I quite The Legendary Marketer and decided to stick with something that has much more value and am actually succeeding in: Check it out by clicking on the banner below:
---
See How I Earn An Online Income Using My Simple 4 Step Formula
The Legendary Marketer Review – Is It What It Appears To Be?
---
So, let's go ahead and talk about the digital products that are offered by the Legendary Marketer.
Legendary Marketer Product Line
---
As mentioned above there are 7 actual paid products offered. There is a free version which consists of a 15-day business challenge, and as I mentioned before, around day 4, you are asked to have a meeting with your coach or mentor, who, in reality is a salesman trying to sell you to the next level. During the training you are taught that the best business model is the franchise business model.
You are also taught that Dave's system is just like this franchise model and that if you follow it to the tee, you will succeed. So, the following training levels are there to help you get to the next level of your business, which in fact, is teaching you to sell the next level product.
So, the only real product line in Legendary Marketer is the training and membership levels. But the training is all targeted to promoting their own high-ticket membership programs. As far as affiliate marketing, you will not learn the basics of real affiliate marketing except as it applies to selling their high end marketing products themselves.
By following their training, you're just being a re seller to resell their memberships to earn commission.
The first on the plate is:
Legendary Marketers Club – ($30 a month)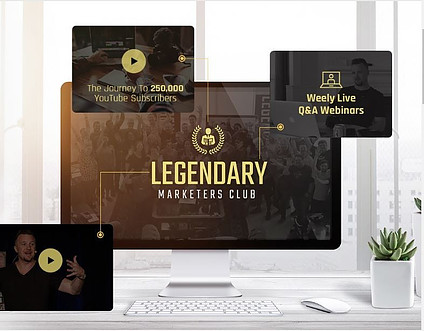 This is a monthly subscription designed to teach the marketer the basics of internet marketing. You will learn the strategies of the following:
YouTube Advertising
Lead Generation
Facebook Ads
Facebook Fan Page Strategies
Instagram advertising
Weekly webinar with a variety of teaching
In addition to this training you get 40 – 60 percent affiliate commissions. As a free member, you would get 10 – 30 percent commissions and depending on whether you are a free member or a paid member you are provided with a number of resources to promote their products, such as Dave's landing page, banners ads, Ad copy, video ads and a 45-day email sequence.
This is why it is sometimes referred to as "duplicate Dave". You are really duplicating the owners own sales funnel to resell their products only. There is not other training provided here to help you sell your own products or other affiliate products. Even at the very high levels, it is still geared only to reselling Legendary Marketers products. To me, this is a real limit of knowledge.
Traffic Roledex Bundle – ($47 one-time fee)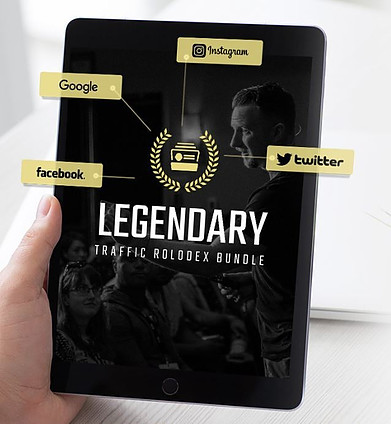 As the name states, this is a traffic bundle that teaches the marketer how to drive traffic to your provided landing page.
All the training in this bundle package is intended to teach you how to effectively use paid advertising. So, on top of your advertising costs, you have to pay for this as well.
I would think this type of training would be covered in the monthly marketers club package. Not as a separate package. But, then again, the whole strategy is for you to sell these products so that you
They claim this training to be led by experts in the area of traffic, especially the utilization of Google, Facebook, Instagram, YouTube and Google Display Network.
I am a bit Leary of utilizing this amount of paid advertising, since it is very likely you will end up spending a bunch of money. This is most likely why you would be encouraged to purchase the higher ticket items so that your return on investment would be higher. Right?
Affiliate Marketing Business Blueprint – ($2500 one-time fee)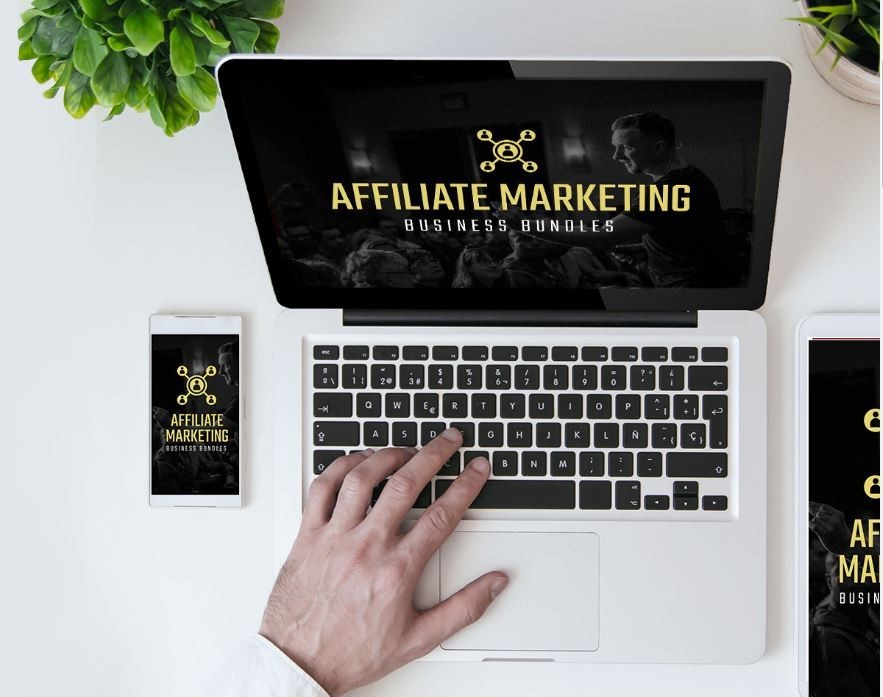 As you can see, we are entering high ticket zone. Keep in mind to resell this product, you have to own it.
This course is intended to show you how to see "passive income rolling in while you sleep." This training is designed to teach you how to "sift" through the thousands of products online you can promote to find winners, and make your first sale, then many more, they say.
This is what really gets to me about this program. In Wealthy Affiliate
I learned how to choose great affiliate programs using keyword analysis and various other techniques on an ongoing basis. Through a great online course plus through weekly live training. I have seen firsthand success by choosing great affiliate products that convert real well.
Plus, I know others who have done the same thing. And guess how much a premium membership costs at Wealthy Affiliate. $49 a month with absolutely no upgrades ever.
Am I missing something here? This course is $2500 which essentially teaches the same thing. Perhaps one can say the training is more elaborate. But, in reality the thing that matters most is the results that are obtained right? Just Saying….
Digital Products Business Blueprint ($2500 one-time fee)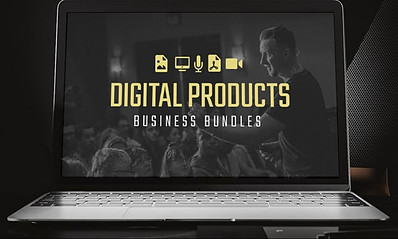 These products are similar to the one above except its intent is to teach you to create your own digital products and then sell those products using paid advertising.
As you can see by the price tag, it is also a high end product that you can resell if you own the product. This is the same model that MOBE and Digital Altitude used to sell high end products. Similar training to this can be found elsewhere as well at a much lower price. But, again, the real intent is to be a re seller of the product so that you can earn a high commission for a high ticket item. This is the whole point behind The Legendary Marketer.
There are two more programs that are in the same price range as the other two mentioned above they are as follows:
Coaching and Consulting Business Blueprint, and
Events and Masterminds Business Blueprint.
Yes, you can sell a mastermind event where you can learn some same things that you would learn from a recording. This allows one on one type of networking.
I mention this because I have been to live events like this and I can tell you, while it is fun to network with other marketers, I did not learn anything that I haven't learned by attending one of Jay's weekly live training within Wealthy Affiliate. But, without the travel cost and the $2500 upfront cost. Just saying….
---
---
Pros and Cons

---
Pros
The Legendary Marketers Club ($30 a month) has good value. There is a log of good training that comes with this product and is good for new marketers to learn the basics of generating traffic. It's just that the up sells are overpriced. But the basic package is pretty good.
The community is pretty helpful and will help you out if you get stuck. You are assigned a coach who really does help you if you get stuck or have immediate questions. The downside is the coach has a motive to try and sell you the higher end packages.
It is affiliate marketing and not MLM
Potential for making high affiliate commissions
It does come with a 30-day money back guarantee.
Cons
The up-Sells are simply too expensive and the company tends to pressure you into these up-Sells. You will get called and notified by your coach a lot trying to get you to upgrade.
The focus in on paid traffic. So, be prepared to have a big budget for advertising. Plus this type of advertising always comes at a high risk.
The focus is on promoting the program itself and not on general affiliate marketing which is a great way to earn online.
The fact that you have to purchase every product that you want to sell. This is a real turn off to me. I do not like having to pay a lot of money up front to simply be a re seller. This is not so with most affiliate marketing.
Who Is Legendary Marketer For
---
The Legendary Marketer is for the marketer who wants to get into a high ticket program with a potential to earn very high commissions and has a few thousand extra dollars to invest. In addition to a fairly steep advertising budget.
If you are not in this situation and do not have this type of investment, I highly recommend that you start with this free training
Now what about Multi-level Marketing?
Multi-level or Network Marketers are another group of marketers that this program can benefit. Mainly to learn how to generate leads for their business. Network Marketers could benefit from generating leads through paid advertising, and the training for that is covered in the basic membership.
However, the downside is still its price.
---
Conclusion and much Better Way
---
One of the appealing features I ran across while researching for The Legendary Marketer Review was the idea of having a personal coach assigned to you to help you with your affiliate marketing efforts. It is a shame that in this program the coaches have an ulterior motive. However, the idea of having a personal coach is an awesome one.
If having a true affiliate marketing coach appeals to you then click the image below and join me at Wealthy Affiliate for free. you will get 10 free lessons that will teach you how to earn a great online income through affiliate marketing and me as your personal coach that will help you each step of the way.
.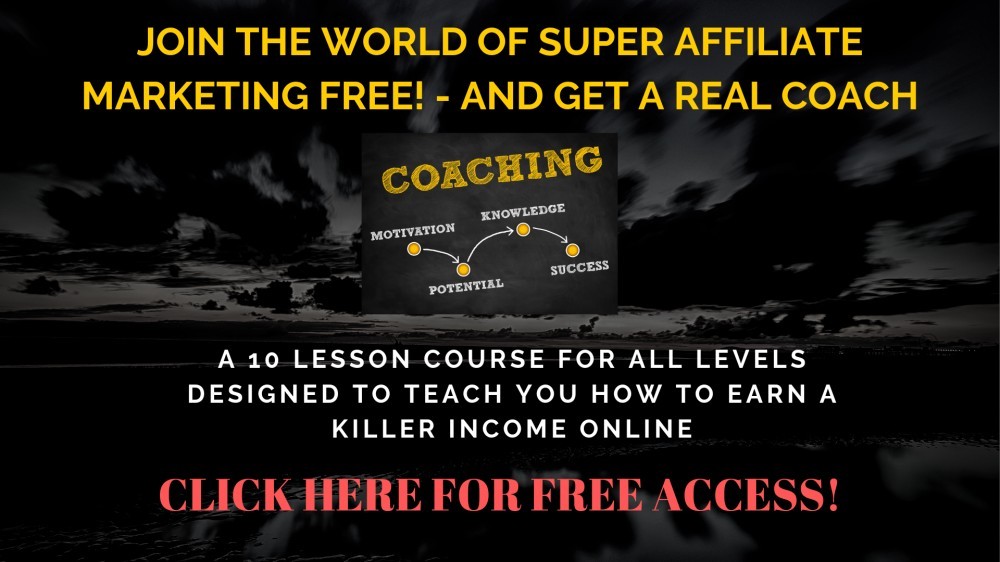 Wealthy Affiliate is my top recommended platform for you to learn and earn from Affiliate Marketing.
Why?
It is TOTALLY FREE to get started and there are no expensive up sells like Legendary Marketer, Digital Altitude and MOBE.
Also, the training focuses on helping you to build your own business in any niche not just the money making niche. Although you can get into that niche as well, but it is not the focus.
The core training you'll receive once you join Wealthy Affiliate is to help you choose a niche based on your passion and build an affiliate website around that passion.
Legendary Marketer
$30 to $2500
Pros
Legendary Marketers Club Value is good
Helpful community
Not MLM
High income potential
30-day Money Back Guarantee
Cons
Too Many Expensive Up-sells
Focus is on Paid Traffic
Focus is on promoting the program itself
You Have to Purchase the products to sell them