Unless you have been living under a rock, you most likely know that the CBD Oil market is a booming industry. Especially since the 2018 Farm Bill was signed by President Trump legalizing the sale and production of hemp based CBD oil under certain conditions. This Vape Bright Affiliate Program Review is intended to give affiliate marketers the right information to know whether this particular affiliate company is a good avenue to help them take advantage of a very lucrative and untapped niche market.
There is more to say about the 2018 Farm Bill, but for this particular subject matter the important points are that the Bill rescheduled some cannabis products from the Controlled Substances Act and that there was some incorporation of some text of the Hemp Farming Act of 2018. This is to say that hemp can be defined as cannabis with less than 0.3% THC, which in now legal in all the states within the US. This all makes it very easy to learn how to sell CBD oil online.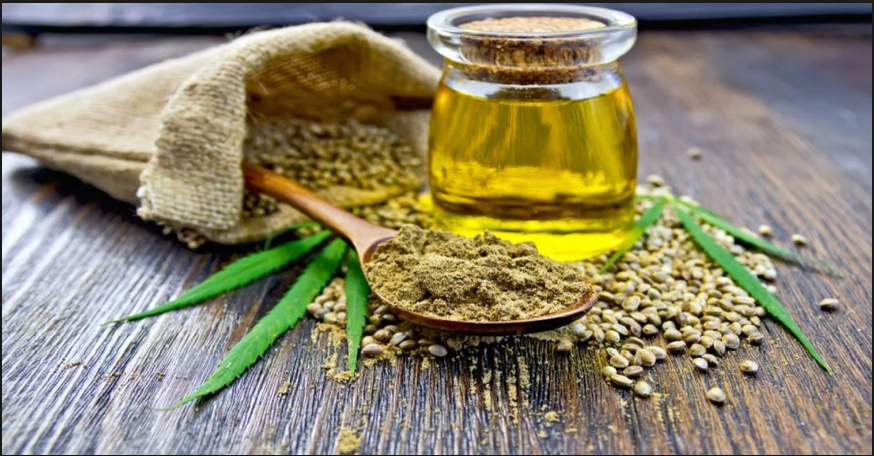 There are a number of CBD oil affiliate companies coming out of the woodwork, so to speak, but, the Vape Bright Affiliate Program stands on a unique platform that sets them in their own sub-niche in the Hemp Oil market.
Yes, you guessed it, the vape industry.
What is Vape Bright all About?
---
Vape Bright actually has a very specific mission as a company. They state on their website that there mission "is to build worldwide community of empowered, vibrant, thriving, happy and healthy people, all committed to sharing the news about the healing power of CBD oil".
Vape Bright has exploded onto the CBD vape scene with a product offering that is the only one of its kind in the world, with the guidance of Jason Hand, CEO. Their first products is known as thrive. The video below highlights some of its features and benefits.
The company's had what was know as a 'what if' moment, or idea. As quoted, "what if there was a pure CDB vape alternative? What if you could create a convenient way to instantly activate the power of cannabidiol to make us more healthy and happy?"
Now, I am personally not  a vapor, but I suppose if one had to vape, they may as well vape something that has known health benefits right?
What is Unique about Vape Brights Products?
---
Vape Bright has two main products. This first one introduced what Thrive, which is a CBD Cape Cartridge advocating only Organic Hemp Oil, with no PG, or VG and no nicotine as mentioned below.
Vape Brights Chief chemist Ben Smith found a way to instantly activate the power of CBD formulated at a much higher potency. Their claim to fame, so to speak, is that the vape is not filled with chemical fillers, is completely organic and contains no propylene glycol or vegetable glycerin.
---
See How I Earn An Online Income Using My Simple 4 Step Formula
Vape Bright Affiliate Program Review
---
Thrive and Inspire Vape Products
This was the introduction of the Thrive product as mentioned in the video above.
Each Thrive cartridges said to contain 200 mg of pure CBD oils with no Propylene Glycol or other carrier liquids. Each puff of Thrive delivers1 mg of pure organic CBD — up to 10 times what you get from competitors.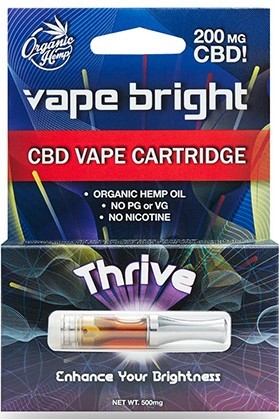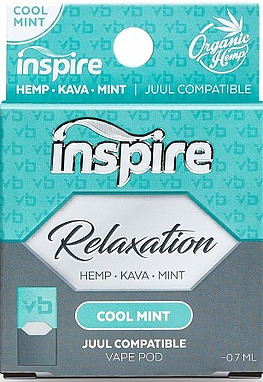 Vape Brights next product is known as Inspire and is relatively new.
It is a vape that contains organic CBD oils in addition to Kava. Both
CBD and Kava are known for their anti-anxiety properties.
Why
did they combine CBD with kava? It is known that CBD has quite a few
positive, as benefits such as being an anti-inflammatory and
anti-anxiety agent, and all-around helps in the overall health and
wellness arena. Kava too is renowned for its anti-anxiety properties.
So the combination of the two in a vape formulation as a wholesome and fun
alternative to the addictive and unhealthy nicotine was a path the
company decided to take. It has also been said that kava is a good
alternative to alcohol or anti-anxiety medications, of cures without
the negative side effects like nausea and dizziness.
Who is Vape Bright For?
---
Now that we are familiar with the Vape Bright product line, let's look at who your target market would be if you were to become associated with the Vape Bright Affiliate Program.
First of all, you have to realize that people vape for a few different reasons, one of them being as an alternative to smoking / nicotine fix. This seems to be the most common reason why someone would turn to vaping. So, many ex-smokers switch to vaping because they think that it is a better, healthier way to get their fix.
Another reason people vape is for medicinal and/or relaxation therapy. This is the second most common reason why people vape. Many herbalists vape for minimizing medical conditions and symptoms including chronic pain, migraines, chemotherapy recovery and more.
So as you can see, the commonality here is for some sort of health benefit. Meaning a large majority of the potential prospect is concerned about health related issues. So, deciding to become an affiliate in this niche can become more appealing besides that fact that it is very lucrative, new and hot.
Is It Profitable to Promote Vape Bright Products?
---
The Vape Bright Affiliate program is managed through a well-known affiliate network known as RevOffers.
Take a look at the image below to see potential income provided by RevOffers data.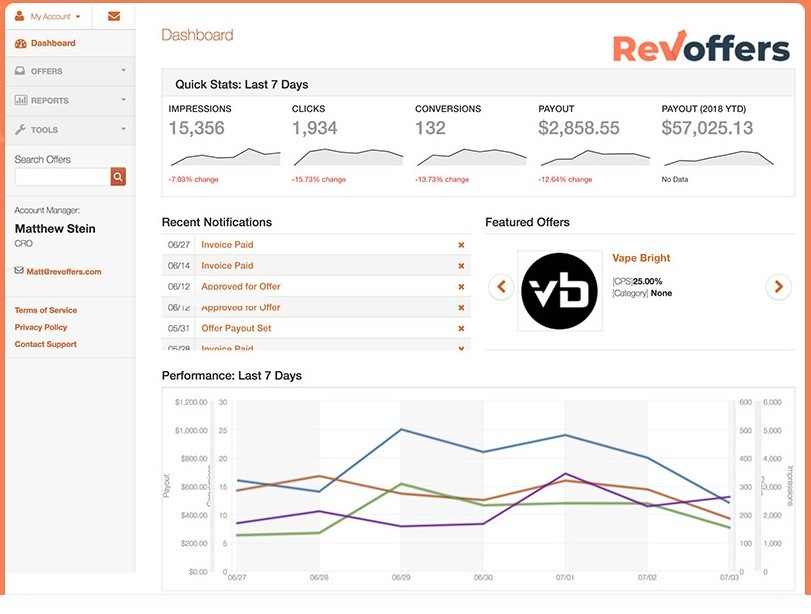 As you can see from the image above, in a seven-day period, with 15,356 impressions for a given website gives 1,934 clicks to a promotional offer generating 132 conversions with a payout of $2,858.55. The year to date payout from this particular affiliate was over $57,000. I am not sure by this table, how long it took to generate that 57K, but the point is, to answer the question, is it profitable to promote these products, I would have to say yes indeed.
---
See How I Earn An Online Income Using My Simple 4 Step Formula
Vape Bright Affiliate Program Review
---
But how much of a cut do you actually get when you promote Vape Bright Products. As many of us know, promoting Amazon product pay only about 4 to 10 percent commissions and there is only a 24-hour cookie available through Amazon.
Is this the case with Vape Bright as well?
Well actually vape bright offers a 90-day cookie length, which is huge and a 25% commission rate for each of its products. In addition to that they offer 10% off coupon offer incentive.
Check out the image below for complete details of how this works.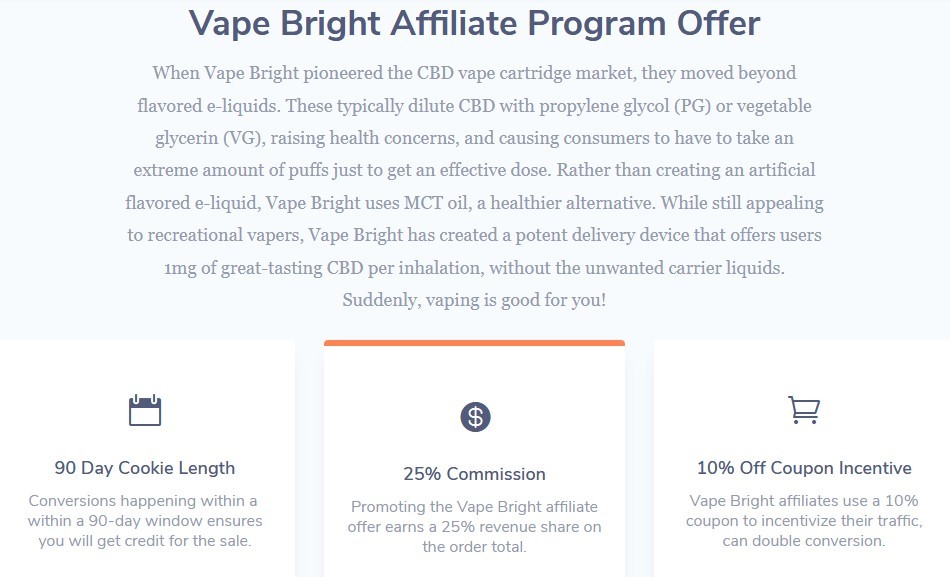 Is It Legal to Promote Vape Bright Products?
---
Now that we know that it is a good idea to promote Vape Bright Products and join the Vape Bright Affiliate Program, which, by the way, is 100% free, you may want to know whether promoting these products is legal or not.
As mentioned in the beginning of this article, as a result of the 2018 Farm Bill, CBD oil produced from the Hemp Cannabis plant and manufactured in accordance with Federal regulations is 100 percent legal. The maximum allowable THC level for these products is 0.3% and this data is provided to and available from Vape Bright themselves.
If you are concerned about this matter and my unique take, for I am a Quality Auditor within the Cannabis industry and do have firsthand experience with this issue. To get more information regarding this please read my post on how to sell CBD oil online and I will give you the rest of the story.
What is the Best Way to Promote Vape Bright Products?
---
The thing about most affiliate programs is that they may provide a great opportunity and an awesome product line, but rarely do you find a good training program that teaches you how to specifically promote their products and services.
They usually leave that up to the affiliate marketer themselves thinking that you already have that experience level. In fact, many such companies require that you have an established website and some results to show from past affiliate sales.
Although it is fairly easy to become qualified for the Vape Bright Affiliate program, is it a good idea to promote any type of affiliate offer through your very own niche website.
I know this sounds difficult and complicated, but with the right training, you will find it is very easy to do. Plus, this is an industry that needs more affiliates and the type that are willing to do what it takes to become successful within this amazing opportunity. This is available to anyone who desires to become successful in earning a killer income online.
If this is something you would like to consider, click on the banner below and begin my totally free 10 course affiliate training programs and I will take you my the hand and show you how to become a successful CBD affiliate marketer (or any other niche for that matter.
Conclusion
---
So, as you can see, the Vape Bright Affiliate Program is a worthwhile affiliate program to join if you are interested in pursuing the CBD product marketing. We have also seen that this particular niche have a huge earning potential and that this particular affiliate program offers a good percentage and a great cookie length to ensure ongoing commissions.
It allows you to tap into a sub section of the CBD oil niche, that being the Vape market which is also a growing market and doesn't look like the potential will end any time soon.
So, if you have been entertaining the idea of getting into affiliate marketing but you were not sure what niche to get into, well here is one ripe for the taken. There are other CBD affiliate programs that you can venture into as well. You do not have to limit yourself to just one. Learn how to set up a niche website, choose a great product line and select the best CBD and Hemp affiliate programs to start your ventures to producing a great income online.
Vape Bright Affiliate Program
$55 per pack