When there is a hot trend that happens in the affiliate marketing space, many affiliate companies jump in and try to provide products and services to affiliate marketers so that they can sell their products. The CBD market is such a hot and trending market right now. In this Hempworx CBD Oil Review, I would like to talk about whether Hempworx is the best way to sell CBD products online, or are there better alternatives available.
Since the legalization of hemp based CBD in the US has occurred as the result of the 2018 Farm Bill, many legit affiliate marketing companies have entered the market. These companies in conjunction with good affiliate marketing practices provide for an awesome opportunity. I do have a unique take on the industry and if you would like to read about it you may read my post entitled how to sell CBD oil online here.
Hempworx CBD Oil Product Line
---
The Hempworx product line are manufactured from industrial hemp grown on Kentucky farms. Their oil is CO2 extracted resulting in a solvent free, pure extract.
Hempworx has 11 different Hemp-Derived CBD products in their brand. They consist of
6 Tinctures
3 topicals
2 Pet Products
They offer a 60-day money back guarantee on their products, therefore claiming them to be risk free.
It is important to understand that the product line is indeed hemp based, meaning they are legal in the US. There has been some confusion in the area, so let me very briefly explain.
CBD oil is derived from two different types of Cannabis plants. The Marijuana plant and the hemp plant. Both plants are in the Cannabis Genus and then sub divided into species. The Marijuana based CBD oils is only legal is selected states within the US. Hemp based CBD oil is legal in all 50 states in accordance with the 2018 Farm Bill.
Third Part Lab Testing and Product Certificates
This is one area that I find fascinating based on my experience in the industry. I am a quality assurance auditor and I have personally audited Cannabis laboratories as well as FDA laboratories to ensure that these labs adhere to the ISO/IEC 17025, which is a requirement of the individual states that allow the testing of these associated products.
To me this is a big deal and does validate the quality of their products.
So, according to the Hempworx website, the following tests are performed on every batch of product that they produce and that the documentation is available upon request.
Gas Chromatography Tests
Certificates of Analysis
Potency Tests
Antimicrobial Tests
I do know from my auditing experience there are more tests that are run on these products, such as pesticide residue, residual solvents and mycotoxins. These are similar test to what you would see run in an FDA laboratory testing our food products.
Just like we want our food to be free of harmful chemicals we use laboratories like the FDA to test samples of these foods to periodically check that growers are growing clean and viable products for the consumer.
The same is true in the Cannabis industry. We need a way to ensure that Cannabis growers are growing clean cannabis and are free from harmful chemicals as well. This is why federal and state regulations set up standards for this industry. We want to make sure that if we are going to sell Cannabis products that they are produced in a safe and effective manner.
---
See How I Earn An Online Income Using My Simple 4 Step Formula
Hempworx CBD Oil Review – Best Way to sell CBD Products Online?
---
Hempworx CDB Oil Opportunity
---
Now that we have briefly discussed the Hempworx products, let's take a look at their business opportunity. They call their business opportunity a "Business in a Box"
I have to admit this is a term that is used a lot in the Network Marketing, MLM industry, but they do claim that you can become a Hempworx Affiliate. They have what is known as an affiliate rewards program.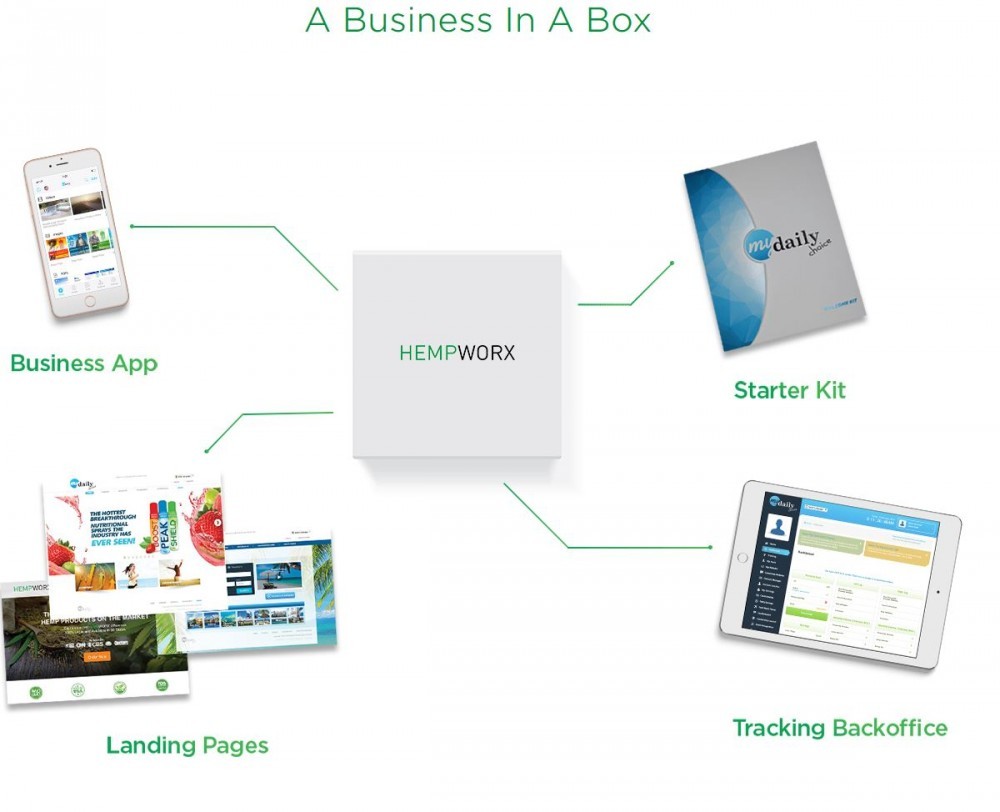 This affiliate rewards program is administered by something called MyDailyChoice which provides an online marketing system and success tools to give their "affiliates every opportunity to succeed in the business". They have a reward system that pays their affiliates up to 85%. This 85% is accomplished through what is known as business volume or BV through this affiliate rewards program.
So, it appears that in order to be an affiliate for Hempworx, you have to join MyDailChoice. In doing so, there are many options that you are given to select products with packages that range from $39 to $599, depending on the product you choose.
There are also jump start bonuses that are paid weekly up to 10 levels of jump start bonuses and this is where the potential payout of up to 85% if business volume (BV), and as they indicate, the MyDailyChoice jump start bonuses can help the affiliate generate a lot of "front end income while you build up your back end residual income".

Is Hempworx an Affiliate Program or MLM Opportunity?
---
At first glance the business opportunity is described as an affiliate marketing opportunity. Similar to some other reviews I have done on this website where I describe the best CBD affiliate programs. However, the more I looked into the opportunity I started noticing similar terms used in the Network Marketing, MLM industry. Such as business volume (BV), bonus programs, different levels, and so on.
This seems a little deceptive to me. Although it is called an affiliate opportunity, it really isn't. It's an MLM company. Not only that, but they are trying to disguise themselves as an affiliate marketing company. Just to keep things in perspective, most, if not all, affiliate marketing company's allow you to promote their products and services for free. You should not have to pay to promote their products and services at all.
Not only that, but just like other MLM programs, such as mentioned in my CTFO Review,  is usually the ones who jump on board first that are often the ones who make the most money. It is also not uncommon for government intervention to occur, since there is sometimes a thin line between a network marketing company and a pyramid scheme. Especially in a niche that already is bound with some legal issues.
The nice thing about a true affiliate marketing program like the Vape Bright Affiliate Program is that you are paid based on how many sales you generate as apposed to earning money by recruiting others to the program. This way your success is only dependent on your own ability rather than others work.
There are other CBD oil affiliate programs that offer high paying commissions as well as tools and training that help you with promoting their products. Some of these affiliate programs offer banners, coupon incentives, and even an opportunity to earn free products.
---
See How I Earn An Online Income Using My Simple 4 Step Formula
Hempworx CBD Oil Review – Best Way to sell CBD Products Online?
---
Hempworx Review Pros and Cons
---
Pros
Good Hemp based product line

Due to legality issues, it is good that they have a 100% hemp based product line ensuring that their products are legal in all of the states within the US. Marijuana based CBD products are only legal in select states and this makes it difficult to sell between states.

Third party lab testing and certification

As mentioned before, states require that Cannabis laboratories adhere to a particular quality standard known as ISO/IEC 17025. The fact that Hempworx has documentation available to show that their products have been tested by these laboratories shows good quality product verification.

They participate in a growing and lucrative niche market

The Hemp and CBD industry is very hot right now and doesn't look like it will die out anytime soon.
Cons
The opportunity is not a true affiliate marketing opportunity, but has an MLM structure to it.

I am not saying MLM's are bad, but just that in this industry one can make a great income through the sale and profitability of CBD products through a more effective means of true affiliate marketing. The MLM based structure Hempworx is under forces the so called "affiliates" to pay to promote their products.
It is not a typical affiliate business practice to force affiliates to have to pay to promote a companies products and services. Not only that, but there are many other CBD affiliate programs that offer awesome commissions without having to shell out any money.

Questionable Parent Company

 The parent company known as My Daily Choice Inc. has developed a reputation that seems to be somewhat unpopular even amongst other MLM business owners. You can check out this Reddit post for more verification.
Hempworx CBD Oil Review – Is There A Better Way to Sell Hemp Products Online?
---
As mentioned before the Hemp and CBD oil industry is absolutely booming. Since President Trump signed the 2018 Farm Bill legalizing hemp oil and other hemp products, legitimate CBD affiliate companies have come into existence. Some of them vary in their payouts and some offer unique products that others do not market. There are CBD topicals, CBD pet products, CBD lotions, and Vape products just to name a few.
There are more and more affiliate marketers now deciding that their next niche website is going to include hemp oil and other hemp products. Also, as mentioned before, there is no need to have to pay an affiliate company to promote their products. That is a sure sign to avoid them when there are so many other companies that offer great products and services, not to mention high commissions to promote their products.
Plus many of these affiliate companies offers promotional tools as well.
In addition to all of this, there is a great way to learn how to start a CBD oil business by creating your very own website and promoting someof the best products online completely free.
So, the best way to promote CBD oil and other hemp based products is to set up a niche website and offer valuable information related to this industry. There are a lot of people searching the internet for information about these products and a smart affiliate marketer would learn how to provide such information to a hungry marketing.
I can show you step by step exactly how to do this. In fact, my next video will be a step by step method where I show you live, how to build a CBD oil business from scratch and you can follow along. All for free. Sound good? Click the banner below to get started early.
Conclusion
---
After doing a thorough review of this company, I was impressed with the products they have to offer as well as the verification from third party vendors. But, I cannot personally recommend a company that has the type of MLM structure when it is not needed for the industry that it happens to be a part of. I am not completely against the MLM model, but when a company tries to disguise the fact that they are MLM leads me to believe they are not being completely legit.
This, in addition to the questionable reputation of the parent company sends up a red flag. After seeing companies like MOBE and Digital Altitude face legal ramifications and eventual closure, it tells me that, again, true affiliate marketing is the preferred way to sell hemp based products and services.
Not only that, but there are way too many other great affiliate marketing companies to promote within the Hemp and CBD oil industry to rely on a MLM type of pay structure to earn an awesome income through affiliate marketing.
Let me know if you have had experience with Hempworx or what your thoughts about this company are. Also, if you have any questions regarding the CBD industry in general, I am very knowledgable and will be glad to answer any questions that I am able to answer. Please feel free to leave a comment with your opinions and I will be more than happy to respond usually within 24 hours or less.
Hempworx CBD Oil Review
$39 to $599