It is pretty obvious that the hemp and CBD oil business is booming and appears that it is here to stay. It keeps growing and growing, especially now that the legal landscape is friendlier, thanks to the 2018 Farm bill. It's amazing how many products are on the market now. All the way from CBD oil for humans to creams, to hair products, and now even our pets are in the market. It's also amazing how many people have claimed to find success using CBD and hemp related products to better their health. Research is flourishing and many companies are coming on to the scene and introducing their product lines. One such company is Changing the Future Outcome, AKA CTFO. In this CTFO review, we will discuss whether CTFO is the best option for creating a business around CBD and hemp related products.
What is Changing the Future Outcome?
Changing the Future Outcome, or CTFO for short, is a US based Network Marketing Company that specializes in CBD Hemp oil products. They actually originated in 2015 as a weight loss company called "Chew The Fat Off", which is apparently what CTFO stood for back then.
CTFO was originally founded by Stuart Finger, who was a successful entrepreneur who started his marketing career at the age of 18 in the late 1980s. His experience has been mostly in promoting nutritional supplements and weight loss products.
On the CTFO website, they claim to be a company that was "founded by network marketers, for network marketers". The founders also claim that they chose to pay themselves the same way as everyone else in the company, as associates. That way, the max amount of commissions are always paid out and that is how they manage to have high quality with the lowest prices in the industry.
CTFO Products
CTFO has a fairly extensive product line. If fact, they have over 80 different products in a variety of categories. These categories include:
CBD Health
CBD Anti-aging
CBD Nutrition
CBD Pets
Non-CBD Products.
Rather than covering all 80 products, I will present a cross section of some of their more popular products. One can visit the CTFO website to see details of all of their products.
---
See How I Earn An Online Income Using My Simple 4 Step Formula
CTFO Review – Changing the Future Outcome
---
CBD Health
In the CBD health category, some more popular products include 10XPure Full spectrum CBD Oil drops, CBD Vape products, and the 500MG CBD Ultimate Deep Healing Pain Cream with EMU oil. Some key benefits for each of these products along with their prices, can be found in the images below. In the health category of products, some benefits include pain relief and the overall promotion of health and well-being.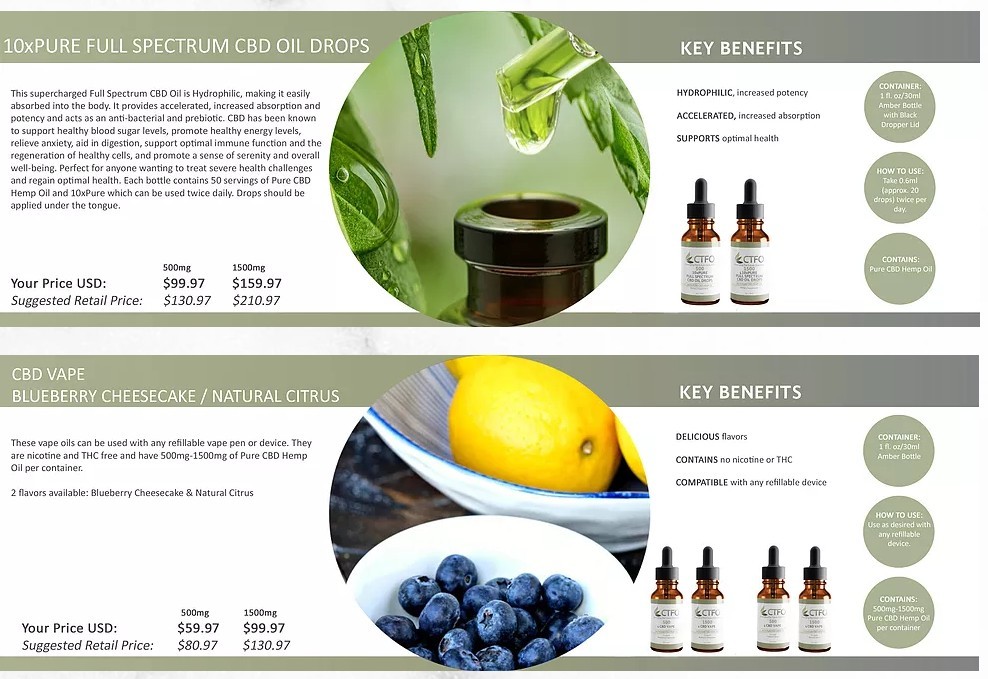 CBD Anti-aging products
The anti-aging product line is interesting. It includes products ranging from hair growth promotion to wrinkle removing products. Here is a snap shot of some of these products with benefits including the stimulation of hair growth, preventing free radical damage, the promotion of relaxation, and preventing skin damage. This product line consists of mostly creams, lotions, body butter and salves. These products are in the same category as the products in the popular Usana MLM company.
Again, refer to the images below for details, key benefits and price.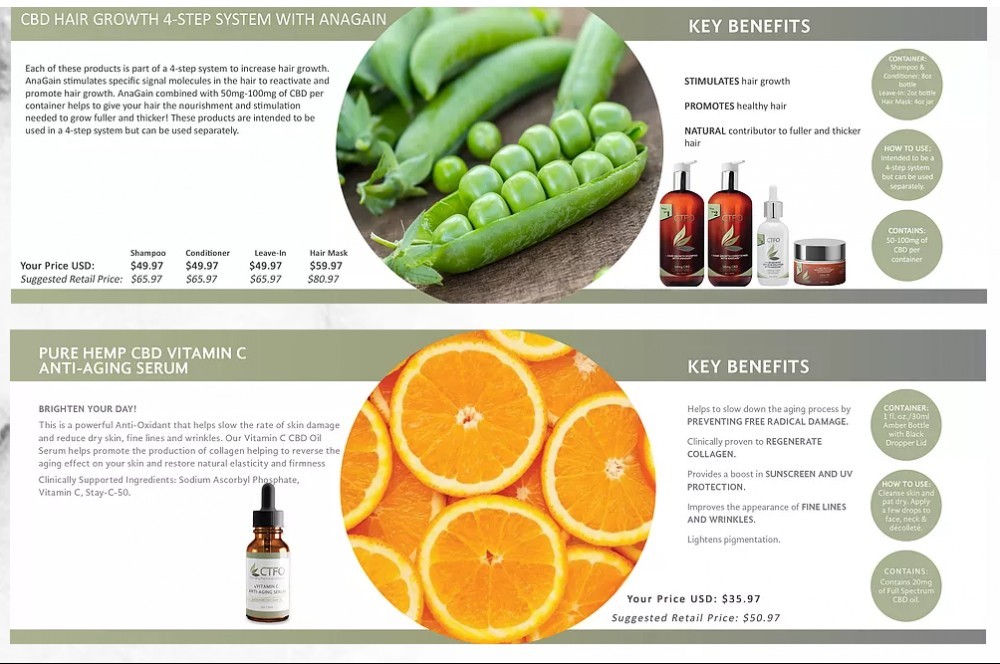 CBD Nutrition
The CTFO nutrition product line is includes products that offer pain relief, fat loss, and mental clarity. They also have products that promote good sleep habits and helping with insomnia. They have an anti-stress product as well as a product that gives you extra energy. These products range from gummies to sprays, to capsules.
Take a look at the images below for the full details of this interesting product line.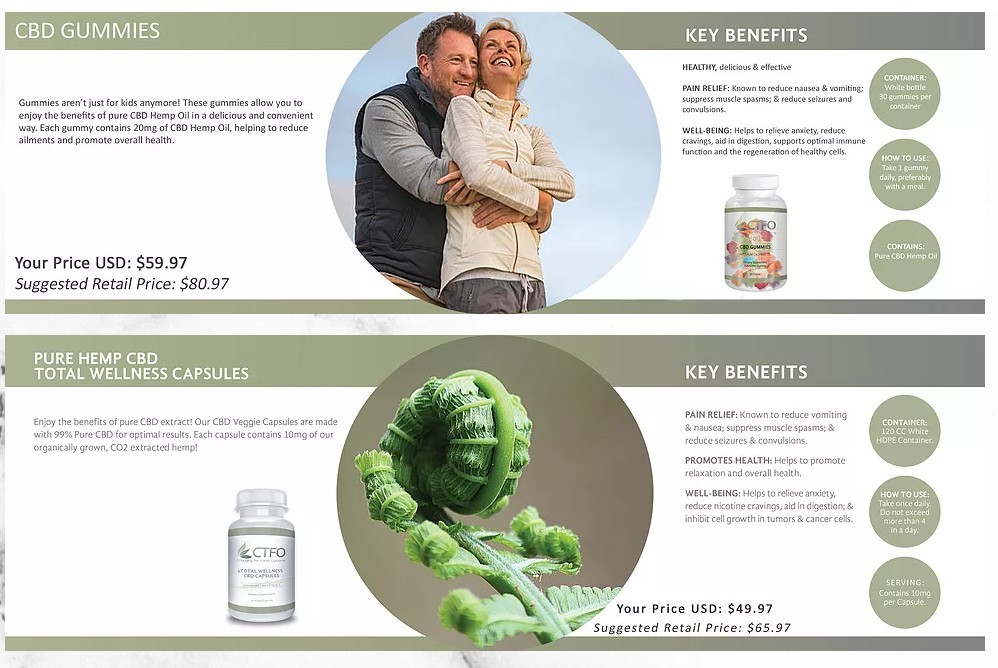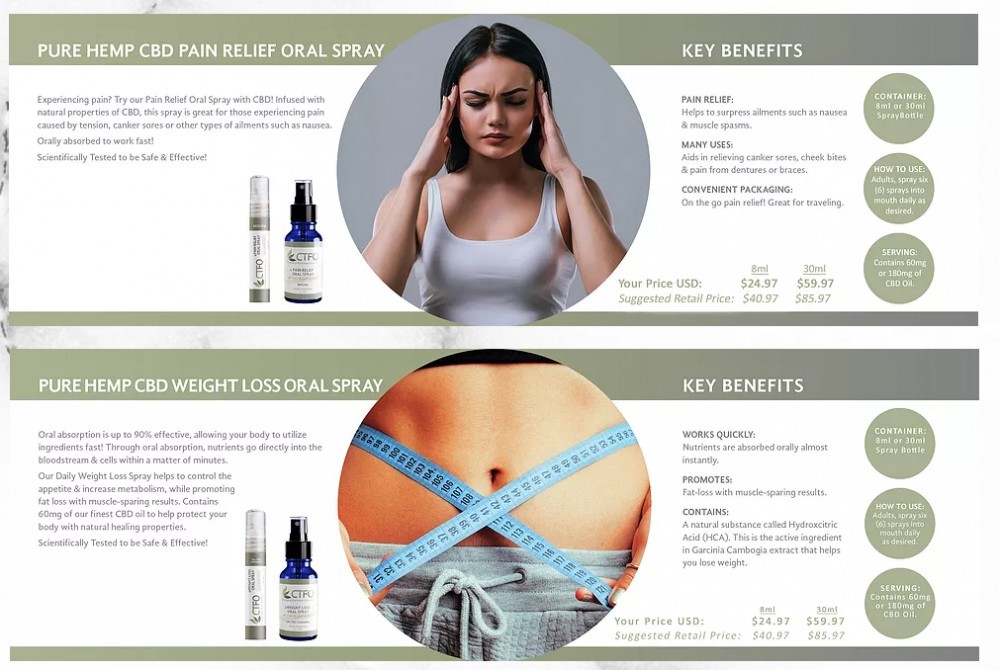 CBD Pet Products
Yes, they even have products for our pets. The idea here is that since other animals share a similar cannabinoidal response system as humans, these products can benefit them as well.
These products range from chew treats to shampoos and oral sprays. The benefits include pain relief, relief from joint pain, the treatment of digesting issues and even the protection against fur loss.
Pets also deal with anxiety issues that these products have been known to help. An anxious dog, for example, may bark a lot and some of these products have been known to help with barking issues.
Take a look at the images below to see the details of some of these products in the pet category.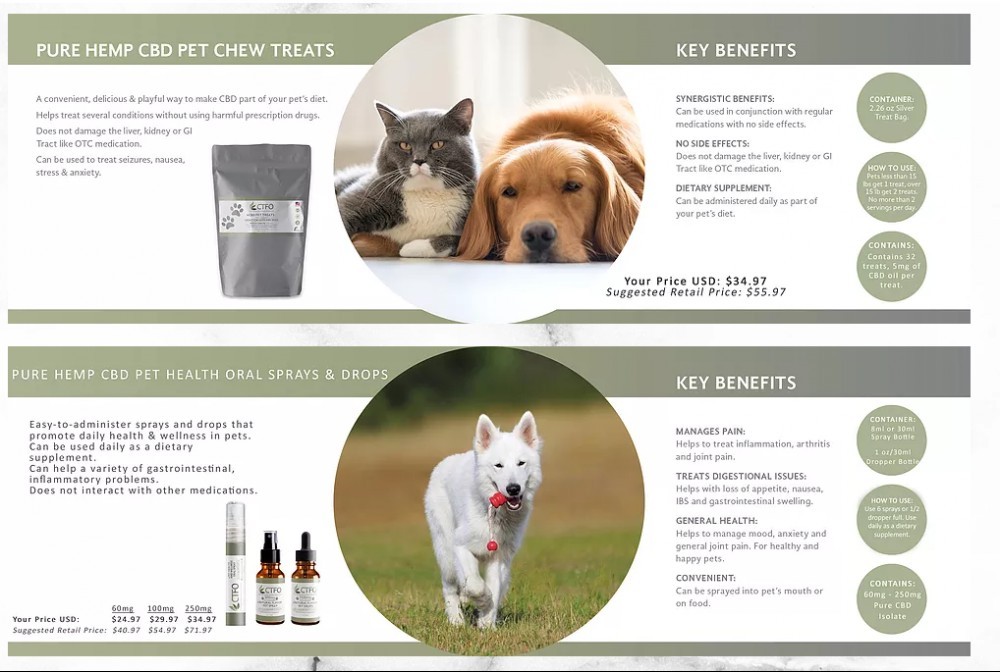 CTFO Non-CBD Products
As mentioned earlier, CTFO started off as a weight loss company. They had and still have, a nutrition line of products in addition to many creams and lotions with health related properties. These products range from moisturizing creams and lotions to Vitamin C Skin Serum. They also include products that promote a healthy immune system along with products that maintain proper nutrition during weight loss.
They also have a product known as ShakeOff, which is a flavored meal replacement that comes in a couple of different flavors.
Check out the images below to get a snap shot of this non-CBD product line.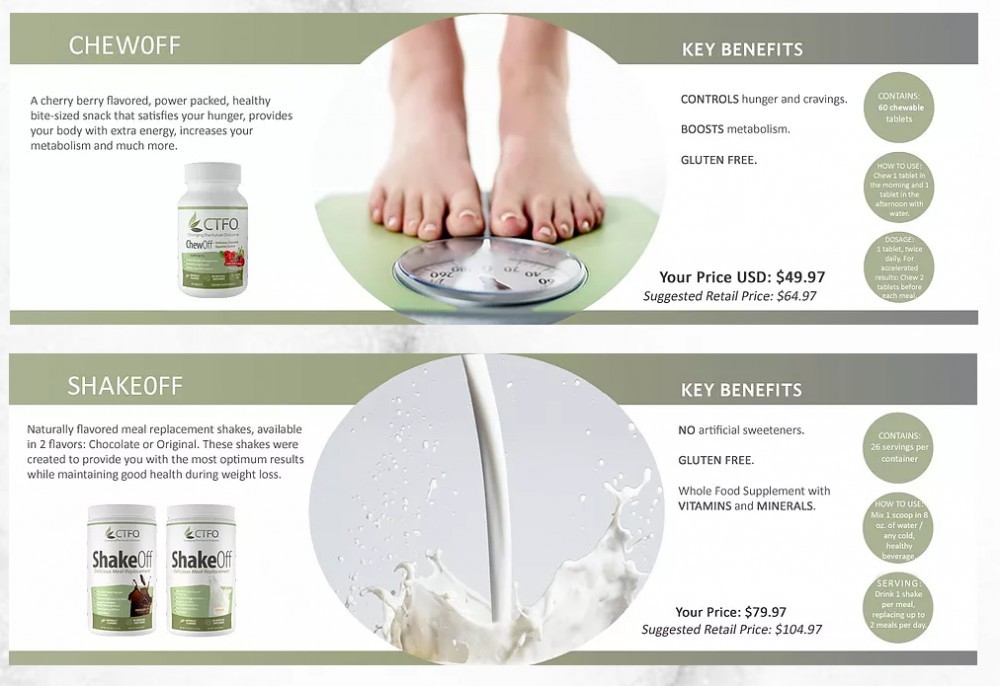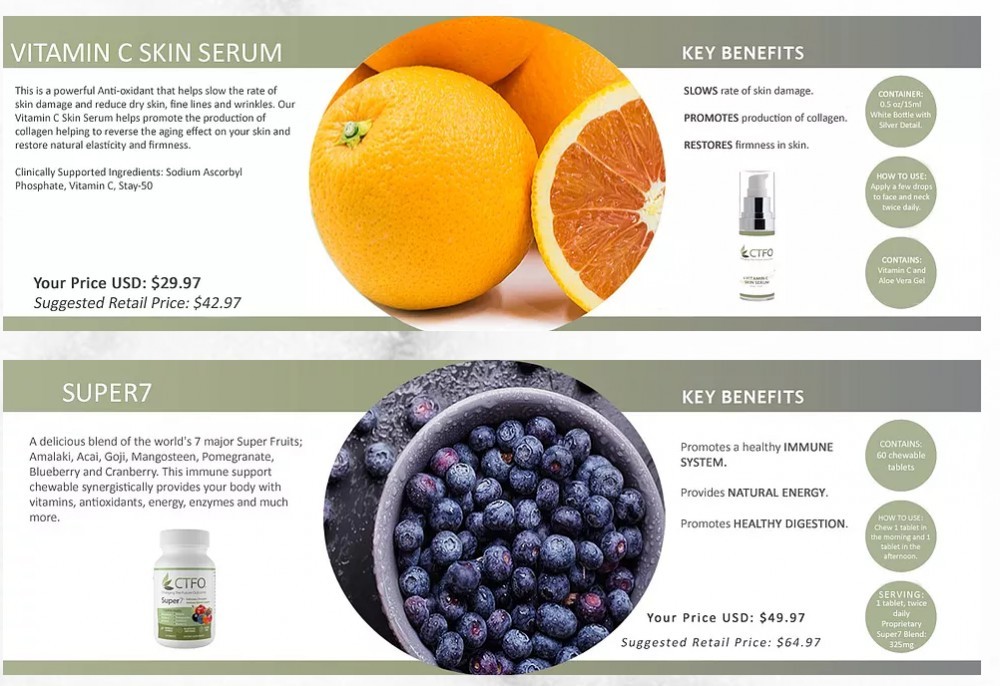 ---
See How I Earn An Online Income Using My Simple 4 Step Formula
CTFO Review – Changing the Future Outcome
---
Is CTFO a MLM?
Although CTFO claims that they are different from most MLM's, they are indeed a Multi-level marketing (MLM) company with a typical MLM pay structure. They may not be like a traditional MLM, such as the one you would read about in my Princess House MLM Review. One thing that makes them different is that you can start your business for free. This allows you to earn 20% commissions for each of the products you sell. You can sell the products at retail and generate a profit, or you can earn commissions from people who join and enroll in their auto ship program.
There are essentially two different ways to join CTFO. Option A and Option B.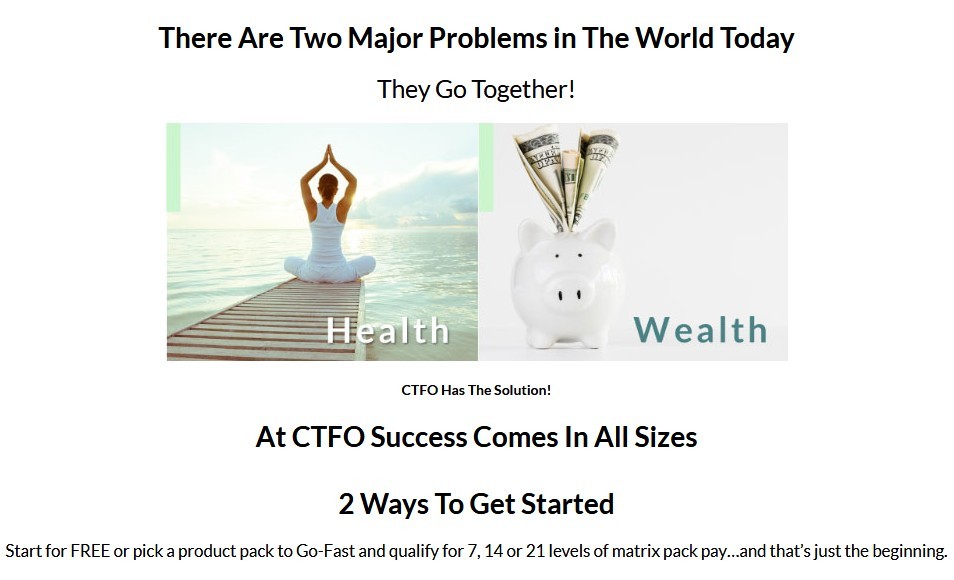 Option A is getting started as a free associate. As a free associate member, you can earn 20% of any products sold from your free website. As a free member you get a free website to promote and access to your personalized back-office so that you can manage and check your commissions and access any of the training calls that are available to you.
Option B is called the "fast start business builder package". There are actually three different packages or entry points available here, Silver, Gold or Platinum. This option qualifies you for 7,14 or 21 levels of matrix pack pay. These Builder Packs include the biggest discounts off retail plus more savings and more products. The idea behind the builder packs is for people "to make more money even faster". Each pack that you purchase qualifies you to earn commissions for life.
You purchase the pack one time and this qualifies you for commissions on these products for life. So, here are the details of each pack.
CTFO Business Builder Packs
The Silver Pack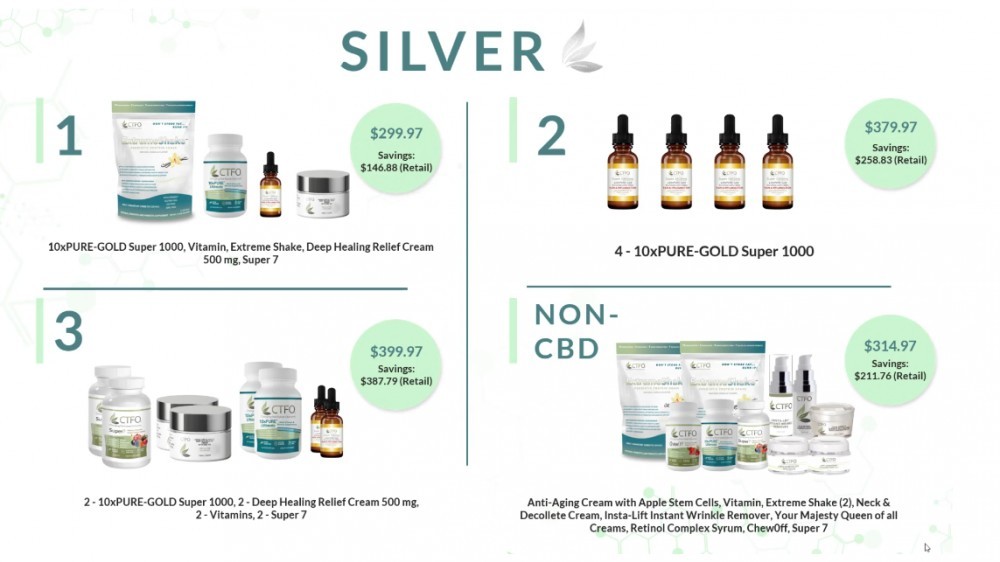 The above image is a snap shot of what the silver packs would look like. As you can see they include of sample of the CTFO products in a price range between $300 and $400. Purchasing the Silver pack offers you a fairly good discount on the products. For example, in the first sample, you save $146.88 off of the original retail price. you also qualify for fast start pay and 7 levels of Matrix Team Pack pay for life. So, the way I understand it (it is a bit confusing), you can earn by selling the product at retail in addition to potential earnings from your team down 7 levels.
The Gold Pack
In the Gold pack you get a larger range of the products and a deeper discount on the products. The price of these packs range from $600 to $700. Purchasing these packs qualifies you for fast start pay and 14 levels of Matrix Team Pack Pay for life.
The Platinum Pack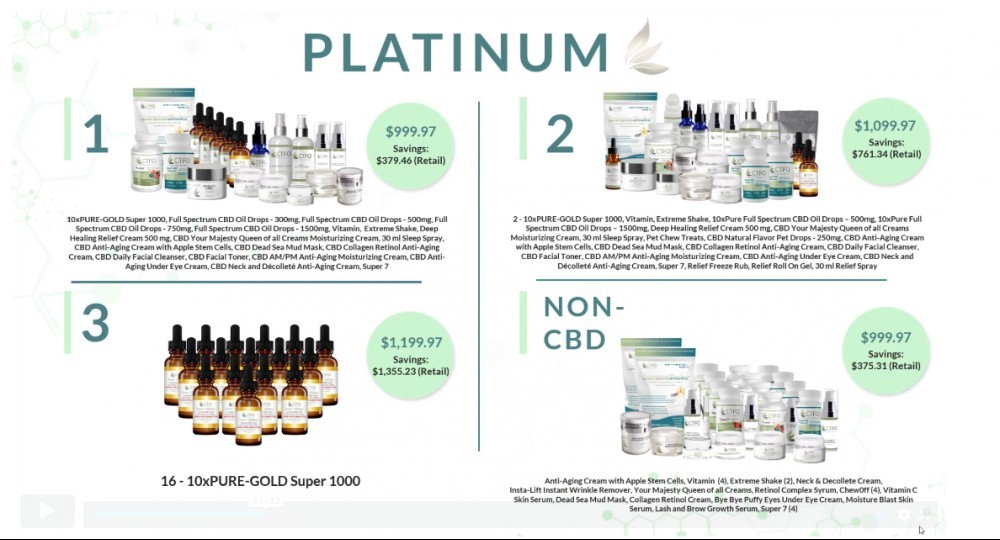 Then there is the Platinum package, which is for the serious business builder. Purchasing these packages offer even a deeper discount on the products and 21 levels of Matrix Team Pack Pay for life. As you can see from the image above, these packages offer a larger selection from the product line and, of course, a larger price point as well. The discounts are much deeper and you can imagine at this point, how much the price of the products are being inflated. This is typical of an MLM product structure.
Can You Make Money With CTFO?
If you are good at recruiting team members and "spreading the word", and you have a good contact list of people who are interested in either purchasing CBD related products or are interested in getting involved with an MLM type of business, then the answer to this question is yes. The compensation plan is set up for someone with these qualifications to make a good amount of money. Let's take a look at the compensation plan.
CTFO Compensation Plan
The real money is in the above mentioned business builder packages. There are essentially two different ways to get paid from these packages.
Fast start pay is based on the number of packages sold. The amounts differ depending on the pack level. Silver being the lowest and Platinum being the highest. For the silver package, you can potentially earn $25 for each pack sold for your first three packs sold. When you sell your fourth pack, and on, you can earn $100 for each pack sold.
For the Gold package, you can earn $50 for each of the first three packs you sell. When you sell your fourth pack and on, you can earn $200 for each pack sold.
For the Platinum Package, you can earn $100 for each of the first three packs you sell. When you sell your fourth pack and on, you can earn $400 for each pack sold.
Take a look at the image below for the details of the Fast Start Pay structure.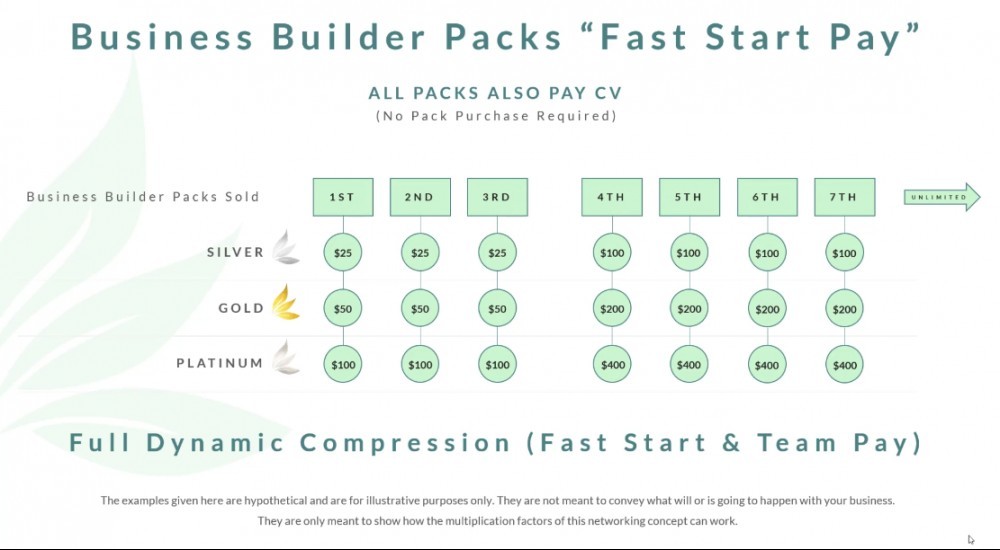 There is also, what is known as "full dynamic compression" for both fast start and team pay. What this means is that when a pack is sold, the system looks for the next person in line who owns the particular pack that is being sold. In other words, you have to own the product to earn these fast start commissions. This is one of the disadvantages of selling CBD products through an MLM structure. This would not be the case if you were simply selling CBD products as an affiliate marketer. We will mention that method later on. It is indeed a much better way to earn an income online.
Now Team pay, gets a bit more complicated because it is based on levels. These levels, of course, depend on which pack is being bought and sold. For example, the silver pack pays down to 7 levels, whereas the Platinum pack pays down to 21 levels.
Below is an image that lays our all the details of how the team pay works for the first 7 levels.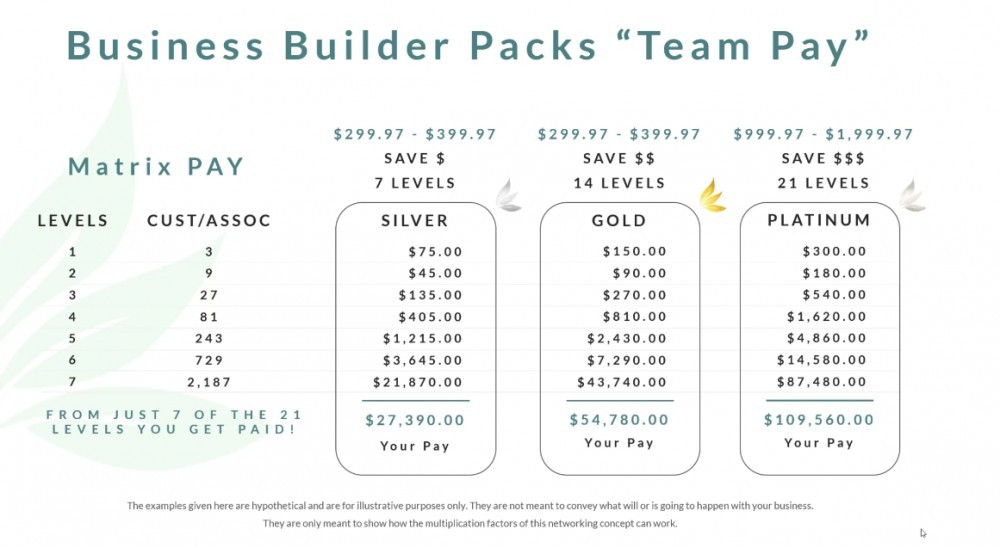 As mentioned below, the compensation plan is a bit complicated. There is still a few more details that are covered in the video below. For example, a free member can get paid without purchasing products, but, there is a big incentive to become a paid member. There is also an auto ship incentive. So when you sign up for an auto shipment of selected products, it is theoretically easier to earn commissions. Watch the video below for more details.
Compensation Video
Pros and Cons of CTFO
Pros:
Appear to have a good product line: I have not found any negative comments regarding the CTFO product line. There are quite a few good reviews concerning the effectiveness of their products. The only negative feedback I have seen is the price compared to other CBD company's. This is typical of the MLM type of structure. The prices tend to be a bit inflated in order to maintain commission payouts.
The ability to start off as a free associate: This is different from most other MLM type of programs where you have to pay an initial fee to get started. Most MLM company's require you to buy a "kit" or a monthly membership fee
Cons:
Your overall success depends on your ability to recruit other members :Like many other MLMs or Network Marketing company's, your overall success depends on your recruiting ability as well as how successful the people you bring in to the company are. This is a constant battle, especially when many people you bring into the business quite after a short period.
Price: While most reviews online agree that CTFO has a good product line, there are a lot of people who complain about the prices of these products compared to other company's who offer similar products. Again, this is the case with most MLMs in general.
Legal Challenges: I am not saying CTFO specifically has legal issues, it is just that MLM programs are frequently the target of action by the FTC (Federal Trade Commission) and SEC (Security Exchange Commission) for deceptive business practices. This is mainly because of the matrix type of payment structures that are similar to the CTFO business model. MLM programs tend to have risk associated with them and you should take caution when looking at whether you should promote their products or not. Affiliate marketing may be a better option which we will discuss more about that below.
Confusing Payment Structure: CTFO has a very long video that goes over how their commission structure works. It is difficult at best to understand it fully.
So, Is There a Better Way To Sell CBD Products?
As discussed above, being successful with an MLM type of program is more about your ability to recruit others into the program. It is also about your teams ability to recruit others as well. It is really not about your ability to sell CBD products. The good news is, there is a much better way to take advantage of the popularity of CBD products and to get involved in one of the hottest markets on the internet. It is called affiliate marketing. You can market CBD products without the pain of recruiting others into a program. One simply needs to learn how to sell CBD oil online.
There is a great place to learn more about creating your own affiliate marketing business online. You can Visit my top recommended resource to get all the details. Once inside, you will learn how to create an online business that will provide you with a full time consistent passive income. I have been a member of this community since 2015 and am here to help you every step of the way.
CTFO - Changing The Future Outcome
$300 to $1000