Travel is a huge niche and may seem too competitive for an affiliate marketer to handle, especially the beginner. However, if we narrow down this niche into a sub-niche, you can still claim a big piece of the travel industry pie. As you may know, there is a lot of money to be made in booking hotels. That is where good Hotel Affiliate Programs come into play. When you get into this sector of the travel niche, you can leverage the market share by realizing that almost anyone who travels is going to want to book a hotel. You might as well earn some extra cash helping them find the right hotel in the location they want at the price they can manage.
In this post I would like to introduce you to what we believe are the top 5 hotel affiliate programs to join in 2020 that will help you achieve your affiliate marketing goals.
#1 – Hotels.com Affiliate Program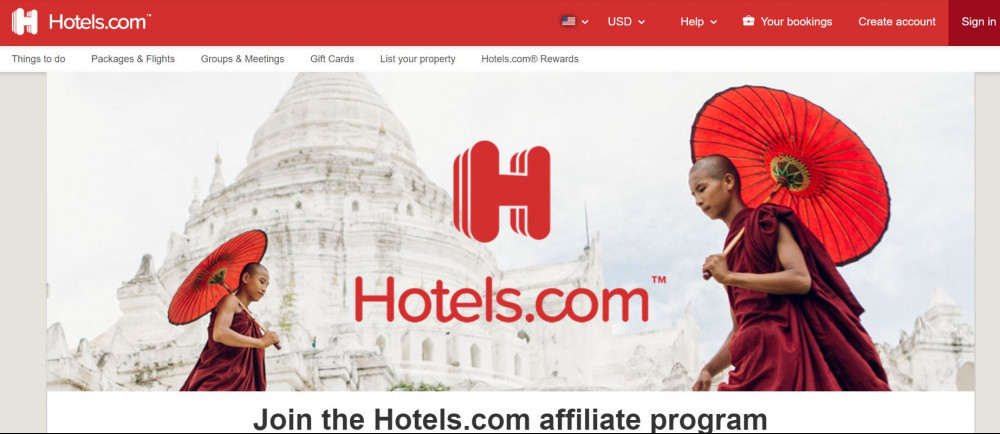 One of the biggest advantages of joining the Hotels.com affiliate program is that Hotels.com is a very strong brand and a leading provider of lodging accommodations worldwide. These accommodations range from international chains to all-inclusive resorts. Even to local bed and breakfasts. Their website is localized across 85 different websites around the globe and is available in over 35 languages.
On the Hotels.com website a user can easily and quickly search for hotels and compare not only price, but quality, rating, location, and amenities all available in real time. Plus they have a price guarantee. If you find a cheaper price somewhere else, they will match it. Plus, they have a loyalty program has over 15 million members!
Hotels.com is actually part of Expedia Inc, one of the largest travel companies in the world.
So, why should you become an affiliate with Hotels.com? Besides having a strong brand, they offer their affiliates 4% commission for each hotel booking that becomes a completed stay. You get paid once the check out date has passed and has been confirmed. This is pretty cool, because they can add up as you promote them on your website. The affiliate program is free to join and there are no referral requirements to remain as an affiliate.
To get more information about the Hotels.com Affiliate Program go here.
Want to Earn From Affiliate Programs?
You Need a Traffic Producing Website to Convert Readers into Buyers
Let Me Show You My Exact Method
Booking.com Affiliate Partner Program

Booking.com is actually a travel meta search engine for booking reservations. Their website has over 28 million listings and the website is available in 43 languages. So, yes, people have heard about them and it is a very well-known brand name. This certainly gives the affiliate an advantage. But, there are other reasons you may want to consider joining their affiliate partners program. Go ahead and watch the video below for some details of how the Booking.com Affiliate Partners Programs works.
As you can see from the video Booking.com does offer a lot of benefit for their affiliates. It is a great way to drive traffic to your website, especially since they have their very own search engine and a huge variety of tools that you can use to promote their product portfolio on your blog or website. There is even a WordPress plugin you can use to help drive even more traffic. So, let's break down some reasons you may want to promote their products and services on your site.
affiliates are paid through a standard commission scale
Commissions start at 25% and can scale up to 40%
Affiliate Partners Program is free to join
tips and tricks to optimize performance
SEO tips and how to get traffic to your website
Tools and meta-search engine you can place on your website
One of the most attractive feature about the Booking.com Affiliate Partners Program is that the commission structure is based on a sliding scale and rewards you for increased bookings. Check out the table below to see the correlation between number of bookings and the commission rate.

As you can see there is a huge opportunity for the affiliate to earn great commissions and is rewarded for the efforts. This is definitely an affiliate programs that you want to incorporate with other hotel affiliate programs on your website.
For more information about the Booking.com Affiliate Partners Programs click here.
Want to Earn From Affiliate Programs?
You Need a Traffic Producing Website to Convert Readers into Buyers
Let Me Show You My Exact Method
Orbitz Affiliate Program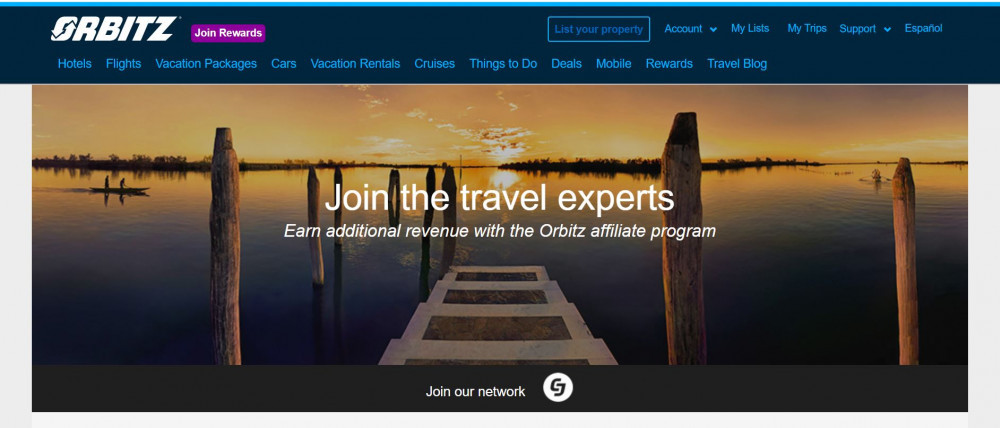 Here is another hotel booking giant. Orbitz drives over 60 million unique visitors to their website each and every month. Even if you had a fraction of that traffic coming to your website, you could easily earn a full time passive income through affiliate marketing. The possibilities are endless.
That being said let's explore some benefits of adding the Orbitz affiliate program to your portfolio. They have over 260,000 bookable properties available, not to mention over 400 bookable airlines, 150 websites in over 70 countries worldwide. They also brag about having over $39 billion dollars in annual gross bookings. These stats make it hard to resist adding to your affiliate portfolio. This would also be a good program to fit with the top travel agent affiliate programs.
You can definitely leverage the popular Orbitz brand to serve the current visitors on your website plus attract new ones as well. You would simply feature links on your site to their sales, promotions, and huge inventory. The Orbitz affiliate program is powered by CJ Affiliate. Below are some highlights of the program:
Wide selection of banner and text links
7-day cookie duration
Access to promotions and offer newsletters
The Payout structure allows you to earn as follows:

$3 per Air booking
$4 for Car
Retail Hotel – 3%
Merchant Hotel – 6%
Merchant Hotel with Promo Code – 2%
Cruise – $30
Activities – 5%
Packages – 4%
Packages with promo codes – 2%
As you can see, you not only benefit from the hotel aspect of the programs but other travel packages as well. This adds nicely to an overall travel blog. For more information regarding the Orbitz Affiliate Program click here.
Why Affiliate Marketing?
As you can see by looking at the benefits of these three affiliate programs, that there is a lot of money to be made online. The opportunities are better now than they have ever been. More and more people are starting to realize that they need to generate extra income or even get to the point where they can replace a full time job. Today's environment is showing us that we cannot simply rely on the traditional ways of earning a living. We see that there are unforeseen threats to our off-line livelihoods.
Affiliate Marketing allows the affiliate marketer to explore areas of interest, such as the hotel industry, travel industry, pet industry, music industry and many, many more. As the giant retailers are learning that getting their products online and offering affiliate programs is crucial to their growth and sustainment, the average Joe understands that they can take advantage of those retailers and offer valuable content and drive traffic to these affiliate programs.
Learning how to earn a passive income through affiliate marketing is not that hard and is certainly worth the time and effort in acquiring the skills associated with it.
Final Thoughts
As you can see from the above list of above of the top 3 Hotel Affiliate Programs , this is a very lucrative sub-niche within an even larger travel niche. It is not too competitive to get into because the internet is huge and offers opportunities to all. Travel happens throughout the year, even though certain seasons are better than others, it is still considered an evergreen niche. This means you can generate a passive income throughout the year and beyond. People are conducting searches all the time, so you may as well take advantage of that potential traffic to your website. If you do not have a website or lack the knowledge to put one into place, don't fret, it is very easy to learn.
If you are ready to jump in and learn how to benefit from the hotel and travel industry, or any other niche for that matter, check out my top recommended resource. Once you are there, we will show you step by step how to build your very own profitable online business and earn passive income online in the hotel niche. As you can see there are affiliate programs available that offer you the tools you need for that specific program in addition to the tools and resources we offer you and show you how to use and apply. There is an endless amount of opportunities available in the affiliate marketing space and there are literally over 4 million people here to help you every step of the way, including myself, your affiliate marketing coach.
Having an affiliate marketing coach is a huge assess and is what has helped me rank my website in Google and other major search engines. There is also great social media training that includes Pinterest, Twitter, Instagram, and, of course, Facebook. Should you have any questions pertaining to these affiliate programs or Affiliate Marketing in general, feel free to leave a comment below. I will certainly answer you and we can discuss. Take care!