Different trends may come and go, but one thing is for certain. People will always want to travel. Whether it be for work or pleasure, they will spend gobs of money on travel. Plus, they will always look around for the best deals online. This is great news for the affiliate marketer, for as you may know, an evergreen niche for the affiliate marketing is golden and the travel industry is one great evergreen niche. In this post, I would like to discuss the top 5 travel agent affiliate programs so that the affiliate marketer can find the information necessary to choose a great travel agent affiliate program.
Last year alone showed that people spent over 500 billion dollars on travel purchases online. This should excite anyone who is looking for a great niche to get started with.
Below is our top 5 choices.
The travel niche is a huge niche.  Many affiliates claim that the travel niche is way too competitive to pursue. Although I disagree with this because I believe that the internet is big enough for everyone to have a chance to earn commissions within this huge money making niche. That being said, you may also want to look into other affiliate programs that are included in the top 3 hotel affiliate programs as well as a sub-niche to the travel industry.
1 – Agoda Affiliate Partners Program
Agoda offers over 900,000 places to stay globally. This includes both private rentals and hotels, offering your potential customers a huge variety of choices. The Agoda affiliate program is very easy to join and set up. This is great for the non-techie type of person. They have great tools to use on your website that are easy to implement. These tools include:
Hotel data file
Text links
Search box
banners
The Agoda Affiliate Partners Program has a 5 tier affiliate commission plan that allows you to increase your commission rate based on the number of bookings you complete. So, basically the more completed bookings you have each month, the higher the percentage of those bookings you get paid for that particular month. This is great because the more traffic you get to your website, the more income you will make. This can be an incentive to scale your business up with an increase in traffic.
Since Agoda offers so many places to stay, it is a great way to get this increased traffic because people use it to look for places to stay constantly.
The Agoda website offers a "show me the money" calculator you can use to see how much money you make with a certain number of bookings. As you increase the number of consistent bookings you raise to the next tier. The higher the tier level the more commission you make. Refer to the image to see how this works, and To learn more about the Agoda Partners Affiliate Program click here.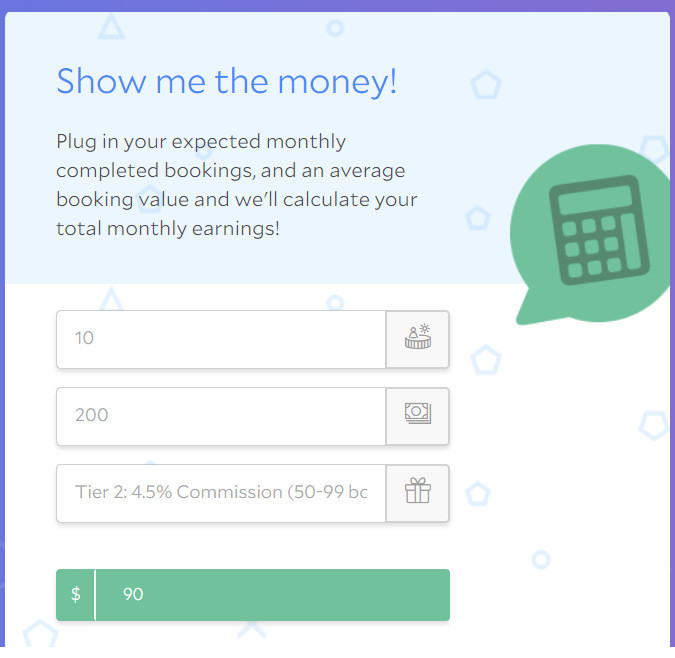 2 – HotelsCombined Affiliate Program
So, what exactly is HotelsCombined? It is actually a Hotel meta-search engine. It was founded in 2005 and is headquartered in Sydney Australia. What is really cool about the HotelCombined Affiliate Program, is that you can put their search engine on your website to draw traffic. This really works, because it is a very popular search engine and people use it with intent. Meaning when they search, they are intending to make a purchase. Which, of course, means you make money.
Their website operates in over 42 languages and deals with 130 different currencies and generates more than 2 million deals from a huge number (hundreds) of travel site and different hotel chains around the world, so if you have a travel blog or website, you will definitely want to add this program to your affiliate profile.
HotelsCombined offers a pay per lead type of commission program. You earn $0.50 to $2.00 per qualified lead. This is a great way to monetize traffic from your website since people can search and have access to all the travel sites at one time. These site include Booking.com, Expedia, Hotels.com, and more. When an affiliate joins the HotelsCombined affiliate program, they get access to links, banners, search boxes, and many other creatives to attract visitors through their search and booking accommodations.
To learn more about the HotelCombined Affiliate Program and how to get started click here.

Want to Earn From Affiliate Programs?
You Need a Traffic Producing Website to Convert Readers into Buyers
Let Me Show You My Exact Method
Travel Agent Affiliate Programs
3 – TripAdvisor
TripAdvisor is an online travel company that runs a website and a mobile app that provides an online comparison of hotel, transportation, travel experiences and transportation. The nice thing about being an affiliate with the TripAdvisor Affiliate Program is that it's an all in one source for all the customers travel needs. It is not limited to just hotels, although the affiliate commissions only apply to hotels.
Their affiliate program allows the affiliate to leverage the TripAdvisor well-known brand to their blog content and earn a steady income stream on hotel traffic because it provides the user access to over 795 million reviews and 1.4 million places to stay. That is what is known as leverage.
The affiliate program also offers a minimum of 50% commission payouts. This is an awesome commission rate and a great way to earn large commissions. Travel Agent Affiliate Programs typically do not offer this high of a commission rate. There are not minimum traffic requirements to become an affiliate for TripAdvisor, making it fairly easy to become an affiliate. They simply consider the overall feel of your website during the approval process. This makes it easier for the beginning affiliate who has created their own blog or website.
To find answers to all of your questions regarding the TripAdvisor Affiliate program visit their FAQ page here.

4 – Expedia Affiliate Program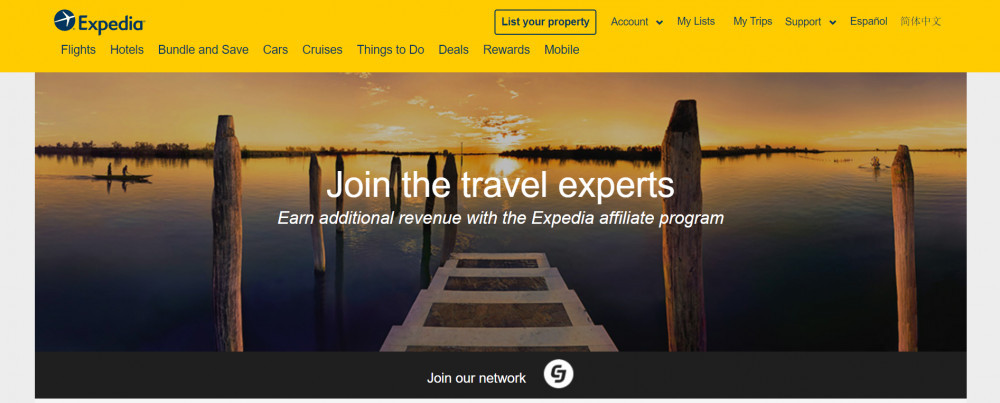 Here is another well-known name when it comes to the travel industry. Almost everyone on the planet has heard of this company. Many people use this service and is a great way for an affiliate marketer to take advantage of a familiar travel program to promote on their travel affiliate website.
The Expedia Affiliate Program offers a lot to its affiliates. Since they are so big, they have a very well-established program to help their affiliate partners succeed. This includes:
A world renowned affiliate team that provides solutions for integrating and promoting travel on sites like yours
Utilizes CJ Affiliate by Conversant
Powerful Brand
Pays out Monthly
Offers a RevShare type of earnings program
Commission amount varies, up to 12%.
Their affiliate program also offers tools, data feeds, and storefronts to their affiliate partners. Affiliate partners also receive newsletters weekly with new seasonal offers and new deals. They also provide the affiliate with search forms and dynamic widgets. They also allow you to generate links to any city for hotels, flights or vacation packages.
The only real disadvantage I see with these types of travel affiliate programs are the fact that you really cannot get the full picture of the commission structure unless you log into the CJ Affiliate Network. This may be a bit confusing to new affiliates, but once you join this network and login, it is fairly easy to navigate. This is true with most travel affiliate programs.
To get more information about the Expedia Affiliate program visit their affiliate landing page here.
5 – Kayak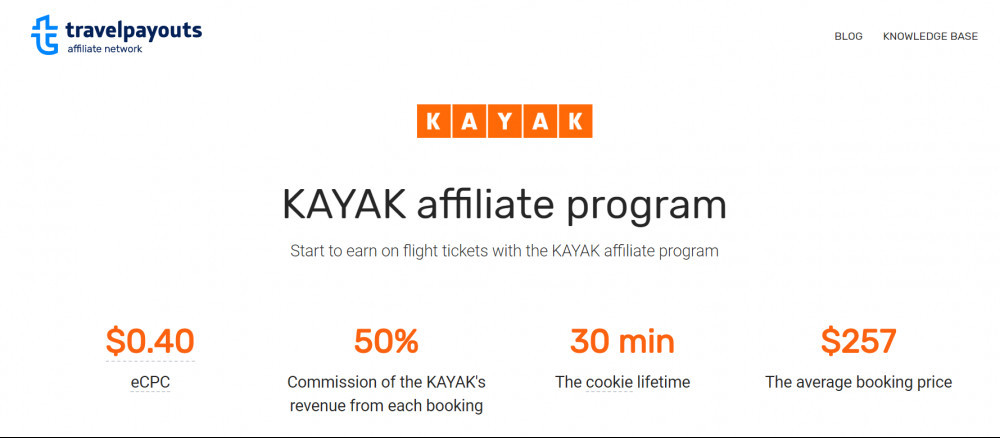 Kayak is a huge giant when it comes to the travel industry. They have more than two billion searches performed online on about 60 international sites each year. This gives you a great opportunity to monetize and earn revenue from your website's traffic and really boost your income stream by offering one of the best travel options for users globally. Kayak delivers brand awareness, plus one of the highest CPA and click-out commission rates in the travel niche. The brand also has a great TV presence in many markets.
The Kayak affiliate program offers 50% commission of their revenue from each booking. Plus, the average booking prices is $257. This can add up quickly and, as such, the more traffic you generate the more income you can make. You can revenue on flight tickets so the amount of money you can make is fantastic.
The affiliate Network that is associated with Kayak is known as the Travelpayouts affiliate network. When it comes to high commission rates, this is one of the best in the industry.
To get more information regarding the Kayak Affiliate Program and Travelpayouts go here.
Final Thoughts
As you can see from the above list of Travel Agent Affiliate programs, this is a very lucrative niche and one that you really should consider and pay attention to. It is certainly an evergreen niche, which means you can generate a passive income all year long. Plus, many people are searching every day for different travel options. You might as well be the website that they go to. If you think it may be too difficult of a niche to get into or that you do not have the expertise to thrive in this awesome niche, then you came to the right place.
If you are ready to jump in and claim your piece of the travel industry pie, even if you are a complete beginner, then check out my top recommended resource. Once you are there, you can learn step by step how to build your very own profitable online business and earn passive income online in the travel niche, or any other niche for that matter. As you can see there are affiliate programs available that pay out very high commissions and others that even pay out recurring commissions that you can also take advantage of. There is an endless amount of opportunities available in the affiliate marketing arena and we are here to help you every step of the way.