As you may know, Affiliate Marketing is the best way to make money online, hands down. Most online marketers would agree with this. But, one of the reasons many marketers turn to MLM as an alternative is that most MLM companies offer recurring commissions. This is very attractive to many marketers so they head down this path. This is unfortunate because of all the pitfalls you run into with this type of business mode. But, don't let this get you down because there are great affiliate programs that you can join that do offer recurring commission. In this post I will share with you our picks for the 3 best recurring affiliate programs that you can make a great passive income with that comes in each and every month.
We will also discuss some tricks of the trade when it comes to earning a full time income online without breaking the bank. As many of you know, MLM companies charge you a monthly fee in order to sell their products online. Many affiliate programs are actually free to join and the ones that do charge you offer you so much value that you will profit greatly in a very short period. So, without further ado, here are the best recurring affiliate programs.
GetResponse Email Marketing

GetResponse is an email marketing platform that offers its customers quite a few marketing tools. This can be for both online and offline marketers. They offer one of the best auto-responders on the market along with one of the largest selection of page builder templates with easy drag and drop features associated with them.
GetResponse is very well-known to marketers both online and offline. They have built a solid reputation over the years and have been in business since 1998. GetResponse has a very solid affiliate marketing program that allows their affiliates to earn a monthly revenue for as long as their customers continue to use the products and services available. The real nice thing about these types of tools is that once the customer starts using it, they don't normally stop because they end up building a mailing list through the tools and don't want to have to start that process all over again.
The GetResponse auto-responder has a very high delivery rate and is well-known in the market place for offering a great service to its customers.
GetResonse offers 33% monthly commission through a program known as the Affiliate Recurring program, as well as a one time $100 for every account referred, known as the Affiliate Bounty Program to their affiliate partners. Each of these programs is a great way for an affiliate marketer to earn online income. Especially since GetResponse customers tend not to quite their program. Plus it is totally free to join. You can read my full review of GetResponse email marketing here.
In addition to the 33% payout, they also offer:
Monthly payouts
Free marketing materials
real-time earning statistics.
To get more information about the GetResponse Affiliate Program, go here.
Want to Earn From Affiliate Programs?
You Need a Traffic Producing Website to Convert Readers into Buyers
Let Me Show You My Exact Method
The 3 Best Recurring Affiliate Programs
Unlock Your Hip Flexors
Unlock Your Hip Flexors is a product that allows the customer to instantly release their hip flexors for more strength, better health, and all day energy. It is a problem solving product that addresses the problem that is generated from hip flexor problems. These are usually the best types of products to promote online. One of the keys to success in affiliate marketing is to find a product that solves a problem and then promote to people who have that particular problem. This is the classic win-win situation in affiliate marketing. Both the promoter and the customer benefit.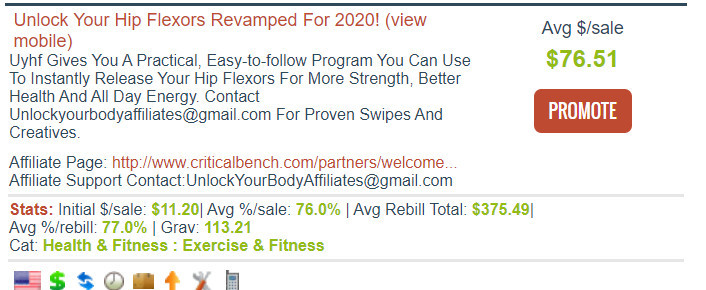 Looking at the image below, you can see that the average re bill total is $375.49. This is an amazing number and shows the average amount of recurring income that IS being generated by the sales of this product by affiliates. Also, you can see that the average Re bill is 77.0. Obviously this indicates that 77% of the purchases are recurring purchases allowing the affiliate to receive recurring income. Finally, the Gravity of 113.21 indicates that affiliates are successful in promoting this product. This is one thing I really like about Clickbank. They offer meaningful statistics. Affiliate marketing based on analytical data allows the marketer to easily scale up their income based on successful activity.
To get more information on how the analytical data works within Clickbank, refer to my post on how to find Clickbank Products That Sell here.
When you really understand how easy it is to promote affiliate marketing programs and products, you will also understand that it takes more work to get one time commissions and less work to obtain recurring commissions. That is why it is so important to choose some best recurring affiliate programs and put them into your affiliate profile.
Wealthy Affiliate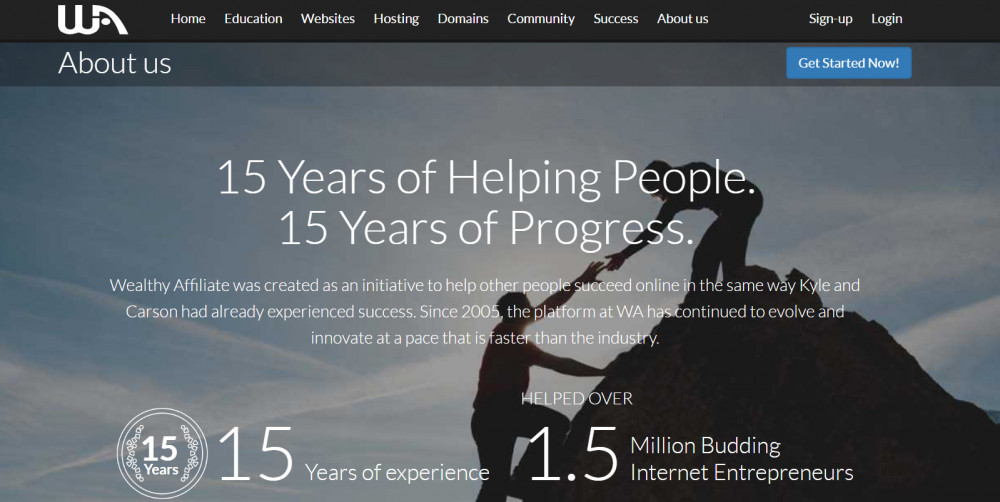 In a time of uncertainty and the realization that people cannot always rely on the typical 9 to 5 job, more and more people are turning to the idea of working from home. More and more people realize that affiliate marketing is the best platform to make this idea a reality.
That is where the Wealthy Affiliate Program comes in. Wealthy Affiliate is a program and website that teaches the affiliate marketer or the newbie how to run a successful passive affiliate marketing business online. Plus, it really does not matter what your skill level is. That is because they offer the industry's best training program that covers everything one needs from the basics of running a successful business online to more advanced strategies such as paid advertising and social media marketing.
One of the unique aspect of the Wealthy Affiliate (WA) Program is that they offer a lifetime cookie duration. This means that when you send someone over to the Wealthy Affiliate website, your potential customer is tied to your tracking cookie from that point onward. So, if someone chooses to sign up from your affiliate link 6 months to a year later, and just as long as they haven't cleared their cookies, you will receive a commission for the sign up. Many other affiliate programs brag about a 60-day cookie length. Amazon has a 24 hours cookie duration to put it into perspective.
Plus, WA also offers some most advanced and comprehensive affiliate marketing training in the industry with over 2 million members to date and more than a 15-year track record of helping affiliate marketers reach their online goals.
In addition to this training, WA also offers a very impressive set of tools that will help you and your team run a full-time passive income online. Some of these tools include a content management system, image utility search feature, thousands of royalty free images, one of the best keyword research tools, premium managed WordPress hosting and much, much more.
To get more detailed information about the Wealthy Affiliate Program visit my post entitled "A Wealthy Affiliate Review".
Final Thoughts
Learning how to earn an income from the internet can often times feel overwhelming to say the least. Plus, it can be very difficult and challenging to choose the best recurring affiliate program for both your audience and your online business. Taking the time to look over the ones I listed above is a great way to start because a recurring income verses one time incomes provide the affiliate marketer with the most leverage of both time and resources.
If you are having difficulties getting eyeballs to your niche website or are still confused because the internet is filled with information, some being misleading, take the time to check out my top recommended program to learn internet marketing using my simple 4 step formula. On that page you can find a step by step blueprint that has been responsible for the success of hundreds, if not thousands of affiliate marketers just like you. Plus there is a huge community of people who are willing to help you out.
Sometimes all you really need is someone to help you and be your personal affiliate marketing coach. That is where I come in. Once you join my top recommended resource, I will help you every step of the way to ensure you are headed in the right direction and all the resources you need to create a full-time passive income online. I have joined the thousands who are making a full time income from home (or wherever an internet connection exists). This is the type of income that has a solid foundation and will last you many years to come.