With all the uncertainties going on these days with the Pandemic still luring in the air, there is an ever-increasing desire people have to find a better way to earn a living. They are searching online for ways to take control of their own lives, realizing that businesses and government are certainly not the answer. In this Modern Millionaires Review, I would like to take a good inside look at how this program may, or may not, be the answer you are looking for. We will take a deep dive into the program to describe what is Modern Millionaires, who it is for, the pros and cons, how it works, and finally some final thoughts on this Modern Millionaire Review that will lead you the right informed decision.
People are turning to the internet and finding a plethora of opportunities to make extra money, or, in some cases, job replacing incomes. Is the Modern Millionaires the right opportunity for you? Let's dig in and see if we can answer that question specifically for you. We'll start our journey by learning exactly what is Modern Millionaires?
Modern Millionaire Review – Quick Overview
Name: The Modern Millionaires
Website: https://themodernmillionaires.com
Price: $4000. (Can be paid $500 a month), plus $359 base a month; other associated costs to running a business
Owner: Abjul Farooqu and Chance Welton
Products and Services: 80 out of 100
Training: 80 out of 100
Support: 90 out of 100
Cost Value: 50 out of 100
Overall Rank: 75 out of 100
What is Modern Millionaires?
The short answer to what is Modern Millionaires is that they are a training platform designed to teach you how to start your own Ad agency business.
They provide the training and products and services to teach you and provide the tools necessary to make this business happen for its customers. But, not without a cost. The program does offer sound training and it does give you access to the tools needed to run your own ad agency, but it is not cheap. The training program starts at around $4000. I say starts, because there are other costs associated with running your own ad agency as well. We can get into the details of these associated costs as we comb through what Modern Millionaires has to offer.
Once you sign up for the course you have access via your private login and this contains a combination of workbooks and videos. There is a total of four modules containing 6 sections which covers training from starting your own agency to management Pay Per Click (PPC) campaigns across different advertising platforms, such as Google Ads and Facebook Ads. You are essentially providing advertising for your clients and helping them gain traffic and sales to their businesses.
So, you are basically learning a skill, becoming an expert in that skill, and then helping other businesses leverage your skills by helping them draw in more customers. Of course, the training provides the knowledge and some resources for you to be successful at this and even teaches you how to get clients for your Ad Agency business. This is the birds eye view of how the program works. We will get into the details of how it works in another section in this post.
Who is Modern Millionaires For?
Modern Millionaires is for those of you who are looking to not only learn about Google and Facebook advertising, but to master these skills to the point where you can turn around and use your expertise to manage ad campaigns for other businesses. These businesses simply do not have the time, and/or the budget to hire a full time person or department to manage it themselves. So, they may want to hire your ad agency to manage it for them.
This could be a win-win for both you and the businesses you seek to offer your services to. Keep in mind, this is a training course and not a get-rich-quick scheme. So, you will need to have the desire and work hard in order to make it worth your time and investment. Because it is an investment. Not unlike buying into a franchise, except at a much lower cost. It may seem like a lot of money at first, but if you compare it to how much it would cost to buy your own franchise or another brick and mortar business, it is a relatively low start up cost.
From the price of the training to the costs of setting up your own agency, the financial barrier for entry may be too high for some people, but for those who are looking into an established business model to really excel with, this may be the answer they are looking for. It is certainly not for everyone.
How Does Modern Millionaires Work?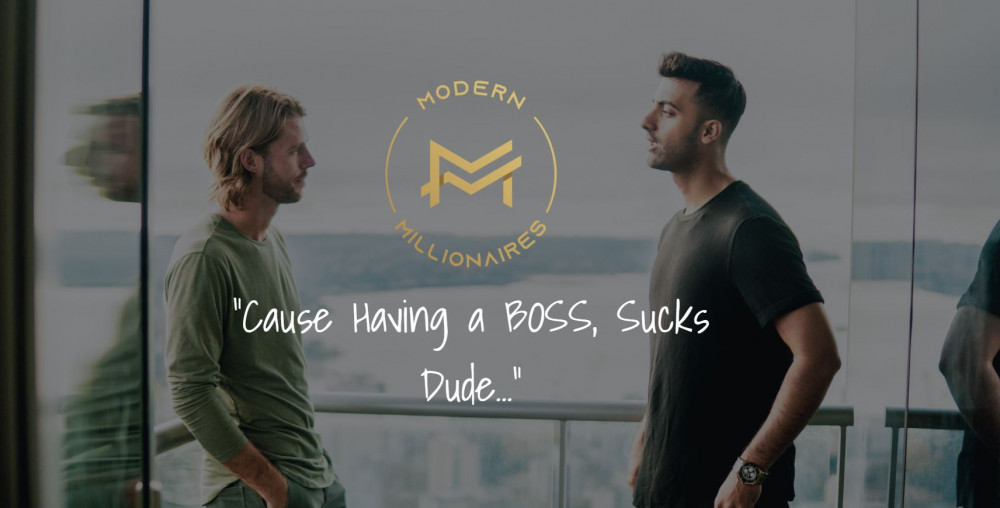 When you first land on the website you are introduced to the two business owners Abjul Farooqu and Chance Welton. They offer you a "stupid simple" solution for you to start your own business. They claim that if you have the drive to succeed, they will provide the right mentors and modern skills, because they say:

that the drive to succeed plus the right mentors plus modern skills equals success beyond your wildest dreams and that they provide two of these. You, of course, have to provide the drive to succeed.
You are then taken to a link that offers you free training. When you click on that link, you are required to enter your email address to access the training. Yes, you are put on their email list.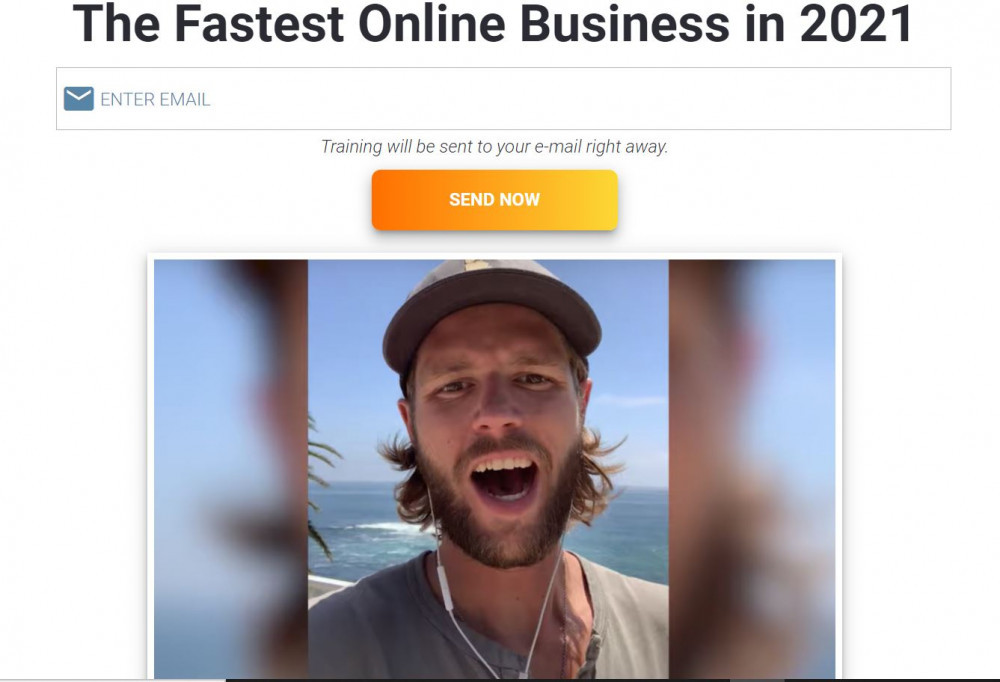 You are then taken to the training, entitled, "2 steps to start your own Ads Agency Business in 2021". It is a 14-minute video explaining how the business works. They talk about how much money they make per client and how much money they make, which is in the millions of dollars. They claim that you can do the same thing. They do admit you will not get rich overnight, but you can get your first client within weeks if you follow their program.
The two-step process includes generating phone calls for your clients that generate sales for them. They claim that once you get these phone calls, your clients will pay you month after month for these generated leads you get for them. So, your job is to "make their phone ring". They say to do this, you need to create the perfect online billboard ad. They say the online billboards are way more relevant the old school billboards you see going down the highway. Then they go on to say, the higher the ad ranks in Google, the more eyeballs are looking at it. They are very relevant, because potential clients are searching for this information. They are mainly talking about local ads to a specific location.
For example, they used the keyword "Dental Implants in Seattle". So, you learn how to create these ads and then get your clients phone to ring. They claim that most of these types of ads are very expensive and the business owners know this. But, they can teach you how to get these ads up on the first page of Google for "way less" than most other advertisers. They show examples of where some ads cost as much as $1000 a click, and then they show you how they are able to rank the same ad for around $30 a click. Then they say that businesses really get excited when you claim how low of a cost per click you can generate ads for. They are then willing to have you do their ads for them.
During the training you are told that they are able to generate these ads at a lower price because their techniques are proven to create ads that are more relevant that most of the other ads. This, of course, can be found in their training inside of their members area. So, what happens next?
towards the end of the free training video, a button appears to ask you to register for a "Private Breakthrough Call".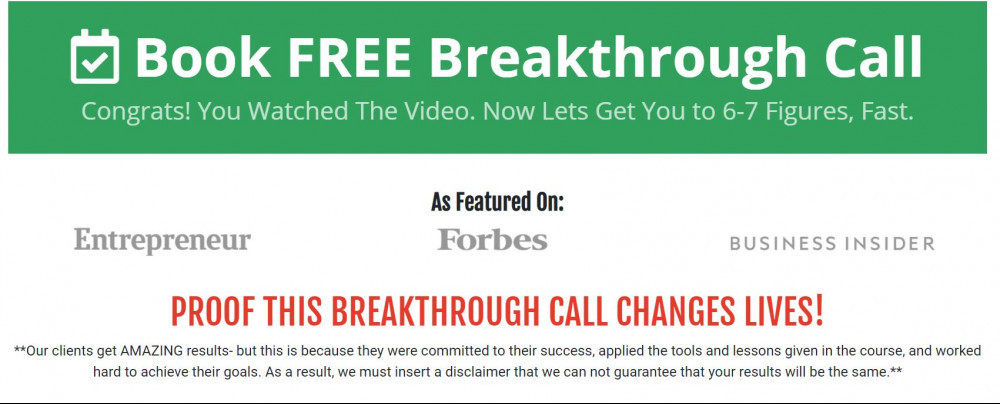 When you book the call, you will get someone on the phone who gives you the sales pitch to sign up for their all-inclusive training to learn step by step how to generate these types of ads and sales for your clients.
The modules included in the training are intended to establish best and exclusive practices for Google and Facebook ads, and training on how to set up your own agency and how to employ freelancers to continue the growth of your business.
They also offer you access to a private Facebook group that covers more training and other live training sessions with Q&A several times each month.
Pros and Cons
Pros
Good training
The idea of running your own Ad Agency is very appealing
Access to high level support
Facebook group gives good community support
Cons
Overpriced
There are other ways to accomplish the same goal that is much cheaper and more effective from a ROI perspective. Read further to get the details.
Is There a Better Way?
The short answer is YES!
The overall concept that is taught in The Modern Millionaires is a sound one, however, paid ads are not the only type of information that come up in the Google search results. For example, let's take look at their example of the keyword phrase "Dental Implants in Seattle". I pick this only because it was used as an example in their initial free training video. The same idea can work for many types of businesses and many keyword phrases.
I typed that search term in Google and found the following results after all the ads, and keep in mind, we are still on the first page of the Google search results. I don't know about you, but when I want real information on a particular subject, I usually skip the ads and go to what people actually have to say, knowing that the ads are, well, ads.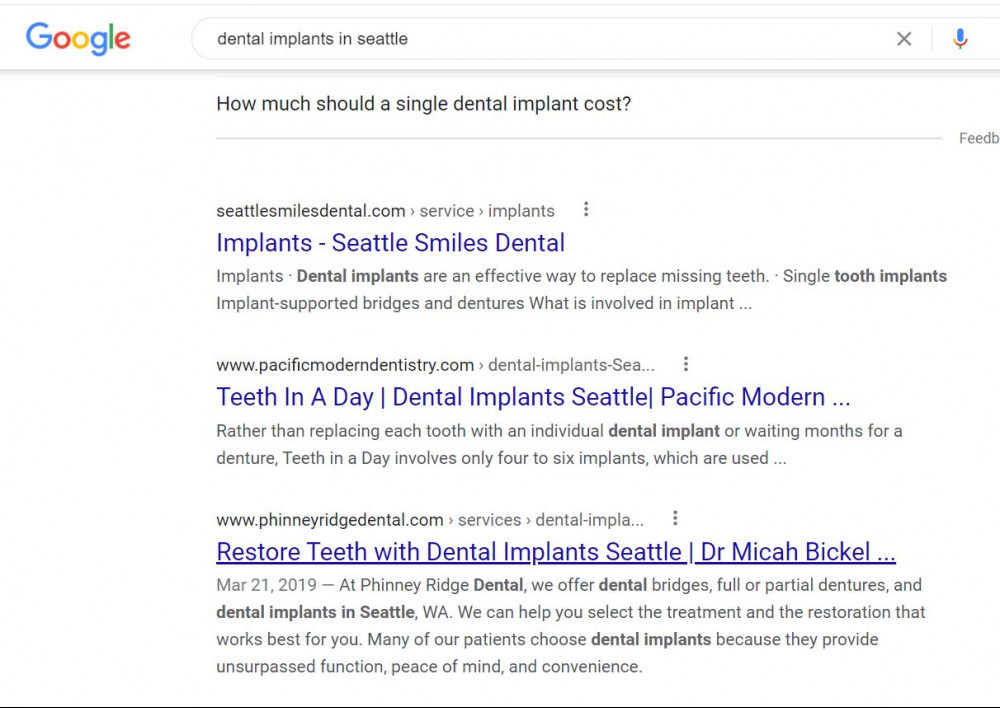 Now, my point is that these search results are the result of the use of content marketing strategies using Search Engine Optimization (SEO), specifically local SEO. The reason I say local SEO, is that ranking on the first page of Google using local SEO strategies is rather easy to do and it is FREE. Not only that, but you will, most likely, get better results because, like I said before, people tend to skip through the ads when they are searching for information about a particular search result. Just take a look at your own search habits. I bet you skip the ads as well and go directly to the "meat" of the information you are looking for.
Now, let's answer the original question. Is there a better way? Yes. You can learn exactly how to get search results like you see above with step by step training that is only a fraction of what you would pay for The Modern Millionaires. Not only that, but you would also get a host of other training and tools to earn an awesome online income in other ways as well. The image below is just one example of many training modules found within a training platform known as Wealthy Affiliate. This training, along with many others, is available to all Wealthy Affiliate Premium members. The cost of this membership is only around $50 a month! You also get tools, websites, training and a community of over 2 million people to learn from. They also give you private coaching by your sponsor.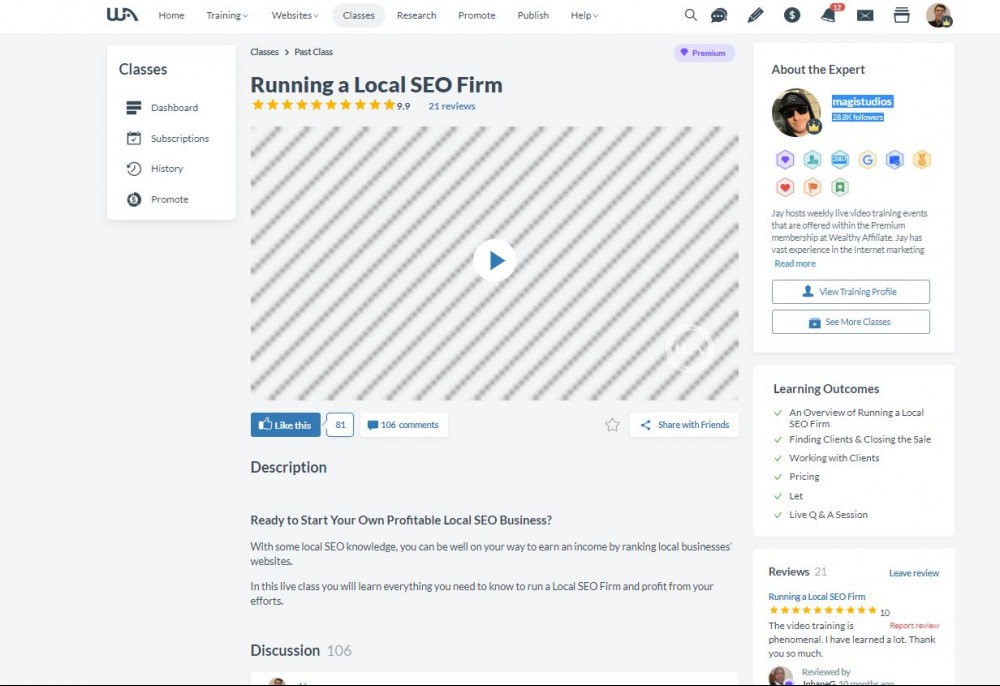 Now the gentlemen giving this particular training is Wealthy Affiliate's training coach Jay Neill who gives weekly training s just like this one on a plethora of different subjects all relating to how you can make a killer income online. I am a member of Wealthy Affiliate and now own two affiliate websites that rank for various search terms on the first page of Google. I have learned how to do this by going through the Wealthy Affiliate core training. Plus, as a premium plus member, I get access to hundreds of other training including the Weekly training held by Jay.
[wd_hustle id="12″ type="embedded"/]
There are other affiliate programs you can join that allows you to earn income by selling other company's products. Amazon has an affiliate program known as the Amazon Associates program. Also, there is the Walmart Affiliate Program where you can promote their vast product line for no cost at all. So, yes, there are other ways available to you to earn revenue without spending a huge amount of money.
Final Thoughts
As you can see from this Modern Millionaire Review, there are other options to learn how to earn a full time income from home without spending $4000 and up. Not only that, but the quality of training and resources are just as good, if not better. So, before pulling your wallet out and giving them the money, do your due diligence and research other ways to accomplish your goals. Whether that be making a job replacing income, or a side kick to supplement your current income. I have a Simple Four Step Formula that you can go through that will give you access to the Wealthy Affiliate program where you can try it out with no cost at all. Check it out, there is absolutely nothing to lose.