Doing your due diligence when it comes to online money making opportunities is certainly the right thing to do. While there is a huge amount of opportunities these days when it comes to working from home, there is also a lot of, let's say, less favorable opportunities and some out right scams. In this Online Team Builders Review, I would like to take the time to do a deep dive into whether this program has merit or if it is something you should stay away from.
I do not like to use the word scam very much because I really think that word is way overused and misunderstood. You see, it goes both ways. Everything can be considered a scam by some people and other people never learn when they do encounter a scam product. As marketers or business opportunity seekers, we need to be careful when it comes to calling a product or opportunity a scam. We must also be careful choosing the right opportunity to consider or even promote.
All of that being said, I have come across similar programs to Online Team Builders and I have done a lot of research into this program and feel I have enough incite to provide an accurate and thorough review. Many people have asked about this program and I think they deserve to be answered.
Online Team Builders Overview
Name: Online Team Builders
Website: onlineteambuilders.net
Founder: Nancy Rote
Price: $30 a month (As far as we can tell)
Overall Rank: 30 out of 100
The main reason for the overall low score is due to the overall lack of information and reviews seen from various people who have been exposed to the website. I explain this further in this article. The start here button on the website indicates that you have to have a password from your enroller. This in itself tells me about the company's transparency. It is also very difficult to find out who actually owns the company. I had to do way more investigation to find that out than is necessary in my opinion.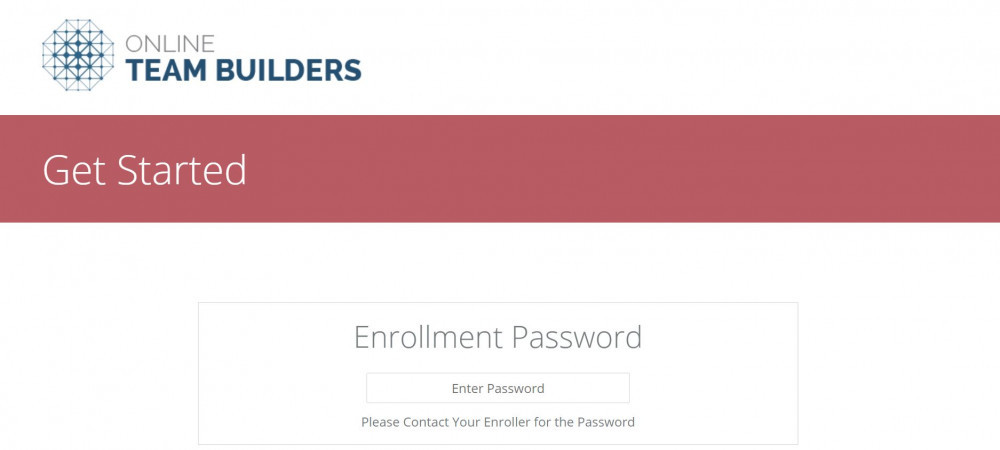 What is Online Team Builders?
Based on the information found on their website, Online Team Builders is an "easy to use, comprehensive web-based solutions for building your business".
They claim that their platform has been developed to help you as a business owner to help you build a successful business. They also claim that their system is a complete tool-set designed to organize and manage your business contacts. They claim that they are more than just a contact management system, but rather a "comprehensive prospect management and follow-up system, designed to make you more money in your business".
The platform is said to come loaded with a full featured set of marketing tools that simplify your day to day sales and business building activities. Based on a quick look at their provided detail screen, you see that they provide details of the activities of the prospect that enters into the system.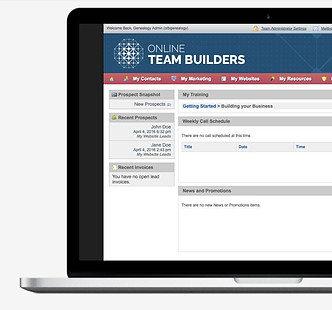 When I look at this, I really don't see anything that you cannot extract from a good email marketing auto-responders such as Aweber or GetResponse. These systems not only capture and sort this information, but provide a huge amount of training on how to track conversions and sales as well.
The Online Team Builders system also claims to provide pre-written email campaigns that you can use including follow-up emails that go out as far as a year in advance. These include video follow up emails and an email broadcasting feature.
The also discuss a Mobil App feature that responds to personalized text messages with views of their landing page. They claim you can send out pre-built messages to prospects via text or email.
How Does Online Team Builders Work?
Based on feedback from reviews on various websites, people are mysteriously contacted to participate in a job interview and this interview is pre-scheduled. Many people, who have experienced these interviews, claim that they are not really interviews at all. They are actually sales presentations that lead them into the website. This is most likely where you get a password to "take the next step" of the sales process.
I have seen quite a few negative reviews concerning the so called, interview process from people who have experienced it firsthand.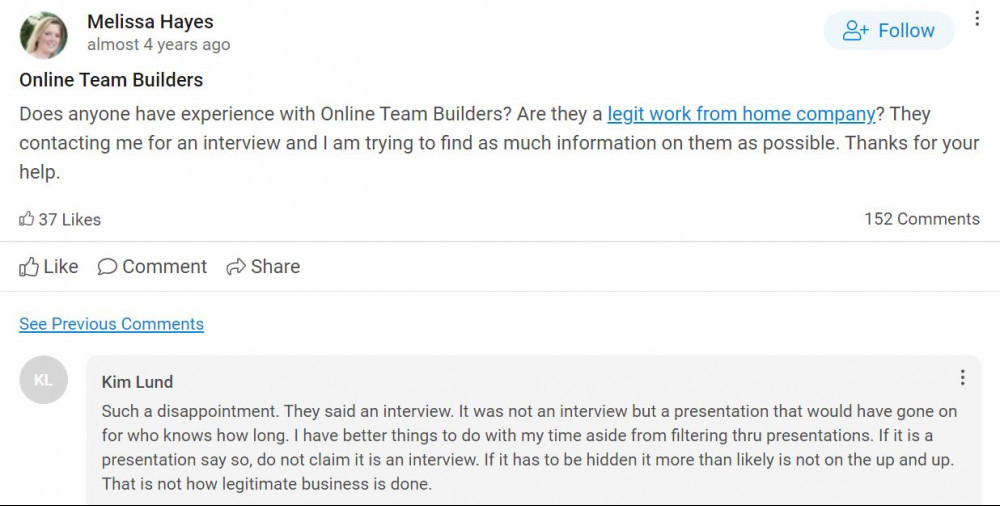 As you can see from the image above, there were 152 comments on this one site alone. There seems to be a lot of people asking about this company because they receive phone calls in regard to an online interview process that is really just a sales funnel into their marketing system.
This isn't the only website that has these types of Online Team Builders Reviews on it. Take a look at the image below for further reviews: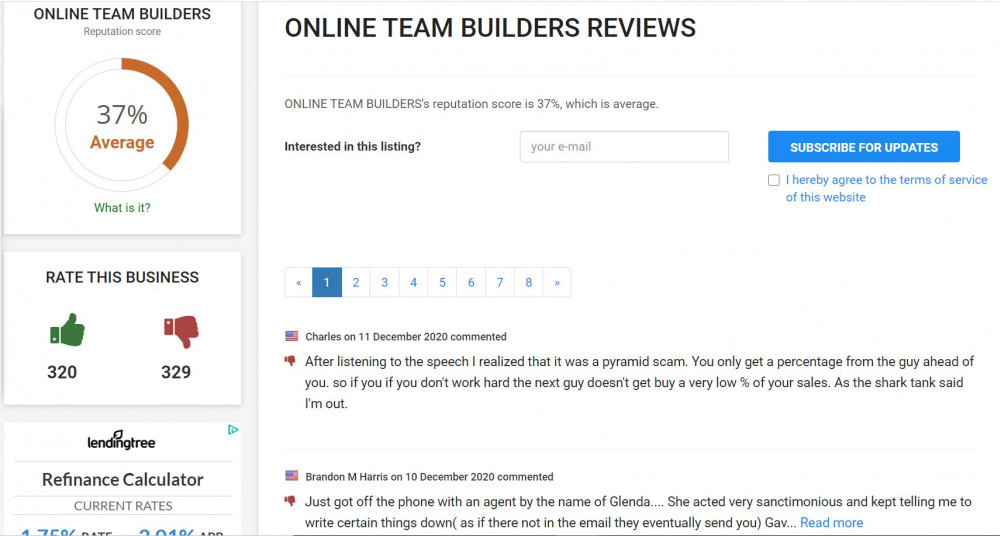 As you can see, it appears that from these reviews, that people are getting calls from Online Team Builders and then let to believe they are qualified for some type of online job. Then they find out that it really is not an interview but a presentation. I have no problem with the idea of being led to a presentation, but the company should be up front with the fact that it is a business opportunity presentation and not a job interview. These are two completely different types of niches.
[wd_hustle id="11″ type="embedded"/]
Who is Online Team Builders For?
I turn out as you look closer into this system, that this is really a prospecting system for one company in particular. And, that is a company known as Essante Organics, which was founded by the same owner, Nancy Rote.
This type of system is not new for the MLM and Network Marketing industry. I used to be a Herbalife Nutrition Distributor and they had several system like this that were designed to promote the business opportunity side of their program. The interesting part about this is that they also were very secretive to whom they were promoting for. They would call and identify themselves as the "Home Based Business Office".
So this aspect of the program brings into question the value they have to offer as a "comprehensive web-based solutions for building your business". The reason for this is that it is not really comprehensive at all. It really only applies to one company. This, in my opinion devalues them from their competition. I mentioned Aweber and GetResponce email marketing providers above, and I can tell you from experienced that their platforms work for any business and they provide fantastic training to boot. In addition to these email marketing services, there are also other affiliate programs like a 12 Minute Affiliate System, that also offer these types of email marketing platforms with prewritten email messages.
Pros and Cons
Drafting up pros and cons for this program is somewhat difficult since its main component or function is to promote Essante Organics. I do believe that as a company Essante Organics is a legitimate company and would require a standalone review. Which I may do, if my readers are interested in that. But, as far as Online Team Builders, it really seems like it is kind of misleading as a standalone company and the way they conduct their interview process is also somewhat misleading, although I cannot say that it is an outright scam.
As mentioned before, I don't like to use the word scam, because I have experienced firsthand of what a scam or Ponzi scheme really is. By definition, a Ponzi scheme is really a company that has no product to offer and only relies on recruiting to sustain itself. In this case they are really promoting the Essante Organics product line on the back end of their sales funnel. Although the quality of their product is diminished because it only works for one company and is, therefore, not worth the money in my opinion.
Pros
This may be a good system if you were promoting Essante Organics
Prewritten emails for a year
Good contact management system, again if you are promoting Essante Organics
Cons
Misleading recruiting tactics
Many poor reviews from people going through interviews
System only really promotes one system and they claim they are a "comprehensive web-based solutions for building your business"
Final Thoughts From this Online Team Builders Review
I have been in the Affiliate Marketing / Internet Marketing industry for a long time now and I simply love it. I really like the fact that we can start and grow our own business on the internet without the expense of a brick and mortar business. In the old days you would have had to spend a huge amount of money upfront and not generate an income for several years before you break even. But, now you can start a business from the comfort of your own home for a very small investment, but it is just that. In opportunity to start your own business. I should not be repackaged as a job or look like you are interviewing for something that qualifies you to earn an income for performing a task.
I believe a good affiliate marketing company has no issue with presenting themselves as a legit way to help people build an online or offline business and offer products and services for a fee, as long as they are offering value to their customers. I also am a living example of the fact that good marketing skill can be taught and there are great products and services available that will help you succeed in earning an amazing business online. I belong to a community of over two million people who have this opportunity and have created a business from that make me over six figures a year while a work anywhere that has an internet connection.
If you would like to do the same thing, then follow my simple four step formula just like I did.