If you have been involved with the affiliate marketing world any time at all, you are most likely aware that creating videos is a must for any marketing campaign. In this Screencast o matic review, I will share with you all the details of this software and what they don't really tell you.
There are many programs and software dedicated to the creation of video. Some are simple, some are complicated, some are expensive and few are inexpensive. Some video creation product focus on screen-share capabilities, while others focus on using a webcam, or a combination of the two.
Screencast o matic is a very well-known piece of software and along with other products similar to it, I have had the opportunity to use it to its fullest extent and can share with you what I have found.
Screencast O Matic Review Summary
---
Name: Screencast O Matic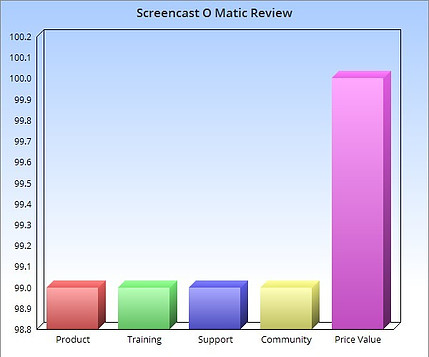 Website: https://screencast-o-matic.com
Price: Free , Solo Deluxe $1.50/mo,
Solo Premier $4.00/mo (both paid yearly)
Owners: Matt Champagne and AJ Gregory
Products and/or Services: 99 out of 100
Training: 99 out of 100
Support: 99 out of 100
Community: 99 out of 100
Overall Price Value: 100 out of 100
Summary: Here is where I will tell you what they don't tell you, and who are they? The owners, the website and the rest of the affiliate marketing community. I say this because I have seen and used a lot of different software in my affiliate marketing experience, and nothing has exceeded the price value as much as Screencast O Matic has.
What They Don't Tell You: The thing about this product is you don't see a lot of marketing hype telling you how great it is. I wish I had been told about this product a long time ago. I would have started creating screen share videos much sooner than I did, and I would have enjoyed the traffic I am seeing now much sooner, seriously.
TheAffiliateResource.com Overall Rating: 99 out of 100:
---
Since Screencast o matic is a great video creator for affiliate marketers who want to promote affiliate products (affiliate marketing), then below is my #1 recommendation to learn how to make money selling affiliate products:
---

---
Screencast O Matic Product Overview
---
If someone was to ask me is Screencast o matic worth the money you spend, I would have to say NO. Why, because it is worth way more than what they charge. Even the free version is worth way more than FREE.
The overall value of this product is simply amazing. You get a first-rate piece of software at a ridiculously low price and I say this in all sincerity. This product performs just as well, if not better, than its higher priced competitors by far. So, let's review the three different plans that the company has to offer.
Screencast o matic has three plans:
Free
Solo Deluxe
Solo Premier
Free Plan
---
The great thing about the free plan is that it is always free. It is not a free trial, it is simply a free version of the software. This is great for recording training s that you have or anytime you want to share your computer screen with an audience. You will see the Screencast-o-matic logo towards the bottom of the video. You can also choose between 3 different or random music tracks.
In addition to being able to screen share, you can also use a webcam to record yourself live. In either case you can always then upload your videos to YouTube. The free version limits the length of the video to 15 minutes.
Solo Deluxe Plan
---
This is a great plan especially if you don't want the watermarked Screencast-o-matic logo on the video. You get to use 20 different music tracks, overlays and a bunch of other features. Take a look at the image below for a full breakdown of all the features. There are too many of them to list here as text.
It is an intuitive program for editing text and the training is just as awesome as for all the plans.
Solo Premier Plan
---
This plan includes all the solo deluxe features mentioned above plus the ability to host all of your videos on a custom site. Plus, you can make your videos as long as you like. This plan also provides you a full digital workflow optimization.
I am an owner of the solo premier plan and have an example screen share video you can review below. I created this video with the built in camera on my computer. So no extra bells and whistles was use on this one. Notice there is no watermark on the video, it is clean and the audio is very clear.
Plan Features
---
The plans offered by Screencast-o-matic are broken down into three different features:
Recorder features
Video editing tools
Collaboration and sharing
Let's take a look at each of these features in detail as they pertain to the different plans.
Recorder features
As you can see from the image below, the recorder features are indicated for each of the plans that are offered by Screencast-o-matic. You can see what is offered by each of the plans. The big thing to note here is that each plan offers a lot of value. It is simply a matter of what features you need based on your video creation needs.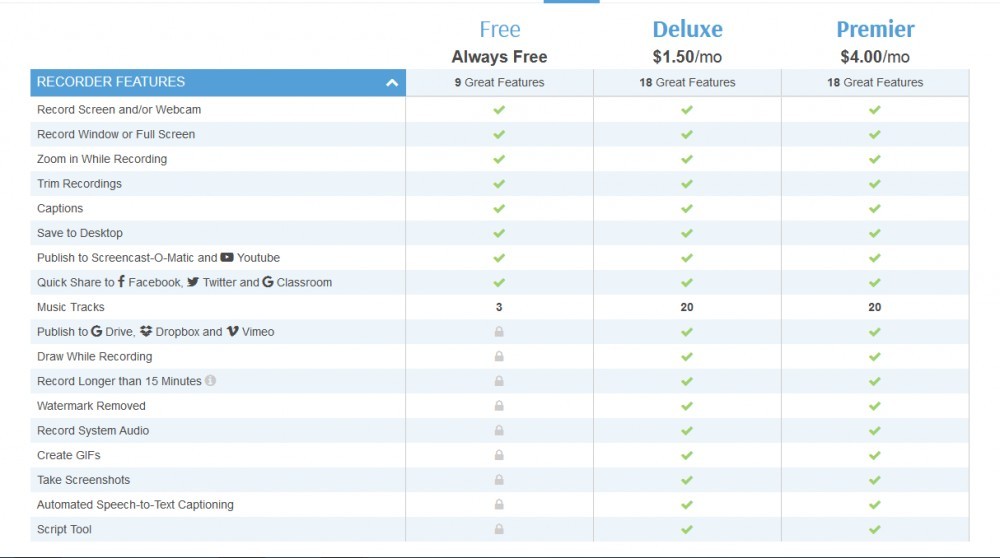 Video Editing Tools
It is in the video editing tools where the two paid versions shine. The free version is great if you simply want to create videos and then upload them to YouTube. This is one of the main functions of video creation that many affiliate marketers are interested in.
But if you want to take it a step further and edit your videos, this opens up a whole new realm of possibilities. You can mix videos. Copy and paste sections of recordings and a multitude of other video editing activities. Each of the two paid versions offer the same features for video editing as you can see in the image below.

Collaboration and Sharing
Both the free version and the solo deluxe plan offers 9 great sharing features integrated the major social media sites. The solo premier plan offers ad free play back pages, the ability to use your own brand and domain on video pages, and the ability to upload videos longer than 15 minutes.
Another main difference between the two paid versions is the amount of bandwidth per month. The solo deluxe plan offers 2GB (same as the free version) and the solo premier plan offers a huge 100GB of bandwidth per month. Check out the image below for all the details.
Again, as you can see, all three versions offer a great deal of value. I have chosen the solo premier version mainly because I do a lot of videos and like to have the ability to edit and may need the bandwidth at some point. Maybe not right now, but for the price, why not. You pay for it as a yearly fee, so it doesn't involve needless monthly fees.
Training and Support
---
In this section I would like to discuss what Screencast-o-matic has in the way of training and support. Like their overall value, the training and support are excellent. As you can see in my initial overview I scored them well in this area. On the main website, they have three tabs labeled as follows:
Each of these sections has loads of great information, training and support.
The blog has mountains of articles and videos about community, education, tips and tricks and is updated regularly. These include Community Updates, Product News, Tips and Tricks.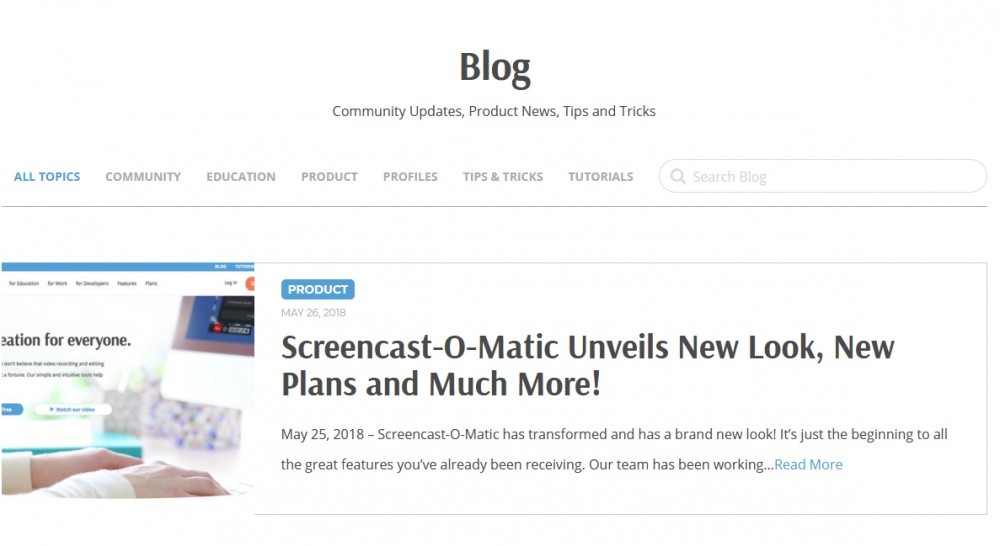 The tutorials section includes a compilation of step by step video tutorials designed to teach you different aspects of video creation. This include 10 very details videos describing such things as recording and editing intros, recording and saving uploads, draw and zoom and a host of other great tutorials.
It also goes into real good detail on video editing. If it wasn't for what I learned in this section, I think I would have been totally lost. I didn't realize how easy it is to edit videos. No need to start over when you can simply edit videos with smooth and clean results.
Now the support section is what I have used the most. Not that I have had any support issues, but they house a tab there that shows you exactly how to use Screencast O Matic. In that section are a huge number of FAQs showing you step by step of how to do, well, just about anything related to creating and editing videos.
So, between these three sections, you really get all the support and training you need to create, edit and share videos.
Conclusion
---
As you have most likely figured about by now, I highly recommend Screencast o matic for all of your video creation needs. Choose a package that best fits what you plan on doing with video. This is a program that will not break the bank and you really have no excuses not to use video in your affiliate marketing campaigns.
Video simply works. It is easy to rank videos and get traffic. People like to search on YouTube to find out how to solve their problems or how to do something, and if you get your affiliate product in front of them when they are looking for it, you stand a better chance of being a successful in affiliate marketing.