Have you ever wanted to know how to sell affiliate products online?
If you answered yes, then stick around and I will explain in detail exactly how this can be achieved. As you most likely already know, there is a massive amount of information on this topic and many techniques taught. But, again, a foundational approach is the best approach and is the one that will bring you the most success.
Theory is one thing and it certainly has its place, but this article will focus more on the practical side of things. Like, what to do and where to go for the information to actually earn an income online. This approach will work whether you are someone who wants to make a full time income online or if you are someone who wants to supplement their income while working a full time job.
This is the beauty of the internet, it allows total flexibility and, yes, it is possible to earn a substantial income on the internet while working a full time career. I have done it myself.
Is It Hard To Sell Affiliate Products Online?
---
Like anything else in life, it is only hard if you do not have an outline and a map of what to do and where to go. I will attempt to show you what to do and where to go to simply the process. Speaking of processes, one can complicate this making money online thing, or they can simply do what works, and one of the best ways to do this is get mentoring from people just like you who are currently doing it today (not yesterday).
The process of how to sell affiliate products online can be broken down into 4 main steps:
Choose and interest (we all have them)
Build a website (don't worry, you can do this in about 30 seconds)
Attract visitors to your website (again, let's not over complicate this either)
Earn Revenue (the best part indeed)
As you look at the above list you may be thinking that they sound pretty broad and would like some more detail. Well, if that is the case, YOU ARE RIGHT! They are broad and do need more detail.
But, we break it down this way so that you get the general idea that if you do it any other way, you are going down the wrong path. I say this because there is a huge amount of crap on the internet trying to sell you the idea that it is "so easy a 10-year old can do it", or "following my method is so easy, your grandmother can do it in 2 simple steps".
You may have seen ads like this… Stay away, I will repeat, a foundational approach is the best approach. You see this common theme throughout this website for a reason.
So, let's go ahead and give each of these steps some detail, shall we?
Choose An Interest
---
Choosing an interest is a little more than just picking a general interest and plowing forward.
You do need to do a little research.
Now, don't let the 'R' word scare you, it really isn't that difficult. You may be wondering why you would need to do research about something you are already interested in. Well, one reason is that you may be interested in something that does not earn revenue, which is the main reason to do affiliate marketing in the first place. Keep in mind, there are millions of ideas that you can tap into that will earn you revenue, and there are easy ways to find out which ones that meet three main criteria.
You have an interest in the topic
People are searching for information on the topic
There are affiliate products associated with the topic
So, how exactly do you conduct research on an interest to see if people are searching for information on that particular topic?
I use what is known as "the alphabet soup technique". No it is not a bowl of alphabet soup for lunch. It is actually a method that takes advantage of Google instant. What is Google instant you ask? Well it is what you see underneath the search bar as you type in a keyword phrase.
The idea of this technique is to get an idea of what people are searching for online. What appears under your search term are phrases that people are actually searching for. This means that you will see what topics people are interested in, hence, what affiliate products these same people are most likely to purchase. Give people information on what they are searching for is the best way to earn their trust so that you can recommend good affiliate products to them and earn revenue from doing so.
Watch the video below to see this "alphabet soup" technique in action, it is really cool.
How To Sell Affiliate Products Online – Alphabet Soup Technique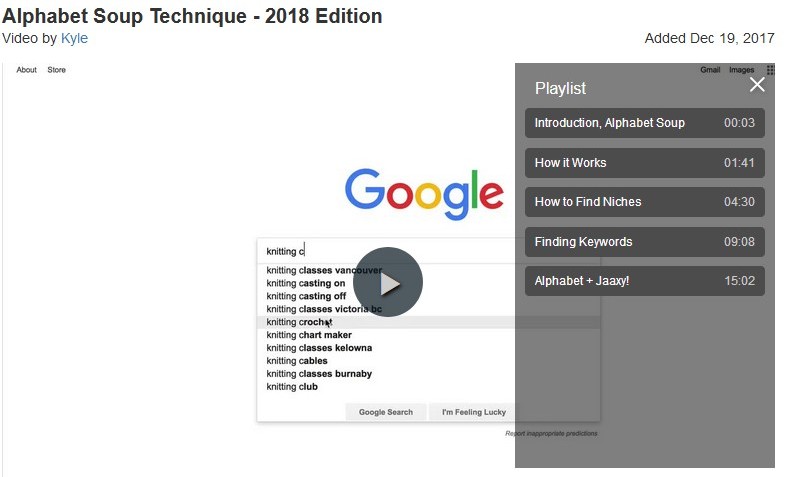 When using this technique you should never be without ideas on what topics or interests you can use to sell affiliate products online, the ideas are simply endless.
Once you have an idea for the topic, you can simply put that idea into a Google search and add the words "affiliate program" and you will come up with a huge amount of affiliate programs that you can join for free and find good and relevant products to recommend to your potential customers. We will dive into more detail with that later.
Build A Website
---
I know this might seem like a daunting task, but I can assure you that you can build a website in less than one minute. Well, maybe even less than 30 seconds if you try real hard…lol
The platform I recommend for building a website is the WordPress platform. It allows you a huge amount of flexibility and it is super easy to work with, and if you want automation, well, there is most likely a plugin for whatever it is you want to do. If you don't even know what a plugin is, that is OK, it does not matter at this point. We can show you everything you need to know about building a website through a free training program.
To get more information about this free training program, read my latest "A Wealthy Affiliate Review 2018" here.
I can describe each of the steps on how to build a website through WordPress, but it would be much more effective if you simply read my article on how to build a website from WordPress (in less than 30 seconds) HERE:
So, as you can see, it is not that difficult to build your own website. In fact, with technology the way it is today, it can be done in no time at all. What used to take weeks or even months, can now be done in less than a minute. Amazing isn't it? As you can see, these guidelines are a birds eye view to show you how easy it really is to sell affiliate products online. To get more information on how to make a great income online check out the best online university there is. By the way it is free to join. Check out my latest review on this amazing free training platform here.
Attract Visitors to Your Website
---
There are a number of ways to attract visitors to your website. They can essentially be broken down into two different categories. Free methods and paid methods. If you have done any research at all on the internet about how to make money online you have certainly come across differing views on how to drive traffic to a website.
These differing views also depend on the type of website you are using and whether it is a "funnel first" type of website or a "content first type of website". If this seems confusing, I detail the differences between the two in an article entitled Best Email Marketing Strategies. Feel free to head on over to that article when you have a chance. You will find it educational. You can never know too much when it comes to selling affiliate products online.
The best ways to attract visitors to your website using the "content first type of website" are:
Organic traffic through the search engines
Bing Ads
Organic Traffic
---
Obtaining traffic through the search engines is accomplished by writing good content about your interest using keywords that are searched within Google, Yahoo or Bing. The three top search engines. Google, of course being the top dog. This really isn't as complicated as it may seem. You simply use the alphabet soup technique discussed above to find keyword phrases and construct your article base on that keyword phrase. You then use simple techniques to "rank" your article in the search engines to obtain what is know as "organic search results".
The nice thing about this method is that it is completely free, however, it takes a little time to get ranked in the search engines and there is a slight learning curve (Which is taught, step by step within Wealthy Affiliate).
You know people are interested because they are searching for these terms. Then you simply recommend products and services that are relevant to that information.
Bing Ads
---
Bing ads is a unique platform. It is actually an ad network that incorporates three different search engines. Yahoo, MSN, and Bing itself. In other words, when you advertise on Bing ads, your ad shows up in all three of these search engines. These three search engines account for about 30% of the searches online, whereas Google gets the rest.
The advantage of using Bing ads as apposed to Google, is the cost associated with purchasing the ads. The other factor is that Google really doesn't like affiliate programs, especially if you directly link to them. Bing is starting to not like this as well.
You have heard me talk about the "funnel first" method versus the "content first" method. The reason this is important is that Google and Bing really are cracking down on the utilization of capture pages used in the "funnel first" method of advertising affiliate products. They prefer to see valuable content which can then lead to an affiliate page. Keep in mind they are in the business of providing good quality search results for people looking for good information. A good marketer will provide value before suggesting a good affiliate product.
So, basically the Bing Ads technique is to purchase an ad using a good keyword (competition does not matter in this case) that provides good free information. You then direct your prospect to a good article on your website relevant to that keyword phrase which then leads to a product recommendation with an affiliate link associated with it. This is where you make money.
The advantage of using Bing ads is that you get immediate results, however there is a cost associated with that as well. Not as high as Google Adwords, but a cost nonetheless.
I like to use a combination of organic search with Bing Ads. I recommend the 80:20 rule. Which is 80 percent organic traffic with about 20 percent Bing ads. It is the most cost effective way to advertise in my opinion. This approach will give you a steady flow of traffic to your site. This leads us to the best step of the process, yes, you guessed it, earn revenue.
Earn Revenue
This is really not quite a step of the process as much as it is a result of the process. The fruit of all your labor so to speak. Well, you may be wondering exactly where to you start the process? Where do you get the knowledge, support and training to earn a consistent income online without breaking the bank and without all the hype you see on the internet these days?
You need mentorship, training and direction in order to successfully sell affiliate products online. I have found such a resource that has been doing this sort of thing for many years now and has established a great reputation in the online affiliate marketing place. There is an actual affiliate marketing university that has ongoing support and mentorship and you can get all the nitty gritty details by fully digesting and reading this article. You do not want to miss this if you want to know exactly how to sell affiliate products online.
How To Start